Corsair Vengeance K95 Mechanical Gaming Keyboard Review
By
Using the Corsair Vengeance K95 and Conclusion
The Vengeance K95 is a good looking keyboard, even if its over the top in just about nearly every way. The brushed black aluminum, ridiculously bright backlights, and glowing effect from the lights spilling out from underneath the keys all come together to make a big statement.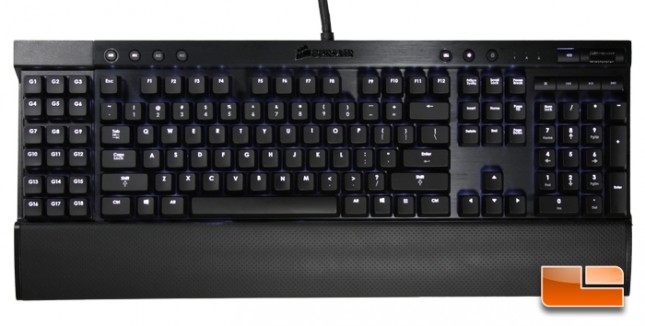 Since the Vengeance K95 and the K70, the latter which we also reviewed, are so similar, much of the experience was the same. The few feature differences are the K95s 18 macros and the K70s textured keys and spacebar. The two keyboards have the same 104-key layout and Cherry MX Red key switches and so typing on each generally was indistinguishable. 18 macros wont always be useful, but its a great luxury for hotkey lovers and gamers working with multiple console commands.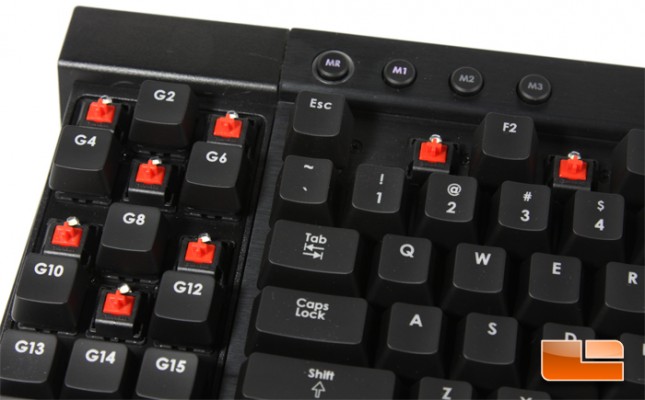 Like Corsairs other past and present mechanical keyboards, the choice of Cherry MX Red switches on the K95 is targeted toward a gaming audience. Among the popular Cherry MX switches, Red switches require the least force to press and are ideal for gamers who want a very responsive keyboard. On the other hand, these switches are the least forgiving with typing mistakes since so little force is needed to actuate keystrokes. Tactile feedback on the K95 like any other Red switch keyboard is achieved by bottoming out the keys. The K95s standard 104-keys have a hard bump due to the rigidity of the aluminum plate upon which the switches are mounted. The 18 macro keys however are mounted on plastic and bottoming out the switch both feels and sound softer than the metal mounted keys.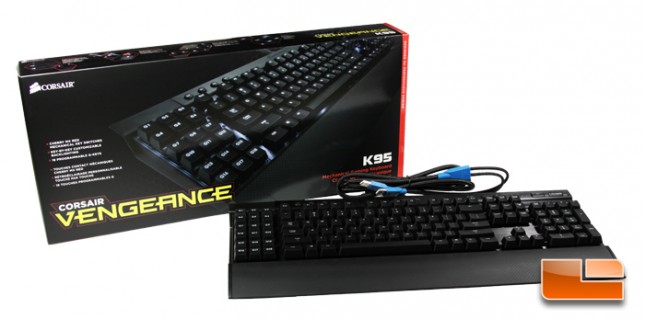 In our Corsair Vengeance K70 review, we gave that keyboard a Recommended Award. That would mostly extend to the K95 as well because the two keyboards are so similar. Of course, the K95 most notably has 18 macro keys, which are targeted to MMO gamers or hotkey junkies. The decision to use mechanical switches for the macro keys is an improvement to the older K90 at the trade-off of the K95 being much more expensive at $129.99 shipped. Its a good keyboard, but there are other more attractive options such as the K70 which are geared toward a broader group of gamers.
Legit Bottom Line: Big, bold, and beautiful, the Corsair Vengeance K95 keyboard is the expensive update to the already expensive K90.