Corsair PC2-5400UL DDR2 Memory Review
By
The Worlds First Low Latency DDR2 Memory

Legit Reviews first heard rumors of Corsair's PC2-5400UL memory back during the snowy days of early Feburary 2005 when we heard low latency DDR2 memory was on the way. We were delighted to hear Ultra Low Latency and DDR2 together in the same sentence for the first time since DDR2 came out. A couple weeks later Legit Reviews was in San Jose at Corsair's R&D lab looking at running 5400UL memory on the test bench. This was the first time that 3-2-2 timings could be seen at a level where production on a new part could begin in volume. On March 1st, 2005 LR broke the story to the community by letting enthusiasts and gamers know the first low latency memory was coming.
Corsair Memory officially announced PC2-5400UL memory modules the following month on April 7th, 2005. The reason Corsair waited a month to bring out the Corsair XMS2 PC2-5400UL series out was because they were the official nVIDIA C19 launch partner and wanted to do a joint marketing blitz with the graphics and digital media processor giant. When nVIDIA briefed us on their new chipsets they made it clear that Corsair's 5400UL could run up to 900MHz DDR2 (which the reference board allows). We got our first retail samples around this time period and for the next couple months seen Corsiar's 5400UL progress from being great memory to being the best DDR2 memory we have seen to date.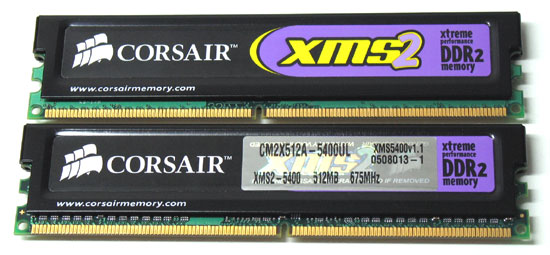 Let's take a look at the features to see if this memory should be considered for your system. Right now there are two XMS2 5400UL modules to choose from:
The above chart shows two different PC2-5400UL parts currently on the market. Both part numbers feature identical 512MB modules that run at 675MHz at 3-2-2-8 timings. The TWIN2X memory has been paired together during testing to ensure the modules can run at identical latencies without throwing memory errors (this is ideal for dual channel platforms). Our test modules are shown above and came individually as CM2X512A-5400UL memory modules.
Features:
The memory we are testing today have been specifically designed for the newest motherboards on the market. The boards that we used the memory on with great success were the nForce4 SLI Intel Edition MCP (C19) and the Intel 955x chipsets. The "older" Intel chipsets such as the i915, i925, i925XE don't have a strong enough memory controller and divider options to utilize the XMS2 5400UL to the fulliest potential, but the memory will still run fine on them. All Corsair XMS2-5400UL memory kits have been tested on leading DDR2 dual channel motherboards at 675MHz with 3-2-2-8 timings before being shipped to retailers. Since the XMS2-5400UL modules have such agressive timings they come shipped with SPD settings of 4-4-4-12, which means your system should boot without problems even if you have an older chipset board. Once the system is up and running you can lower the timings to 3-2-2-8 if all your other hardware can support these agressive timings.
The Corsair XMS2 5400UL modules are designed to be run at the DDR2-667/DDR2-675 memory BIOS settings and in overclocked systems. They do do carry a full lifetime warranty as long as you use them within warranty guidelines. This means that Corsair products are guaranteed to operate, as specified by their datasheet and in the operating environment for which they were intended, for the life of the product.
Now let's take a look at the memory without the heat spreaders!