Corsair Obsidian 250D Mini ITX PC Chassis Review
By
Corsair Obsidian 250D mITX Chassis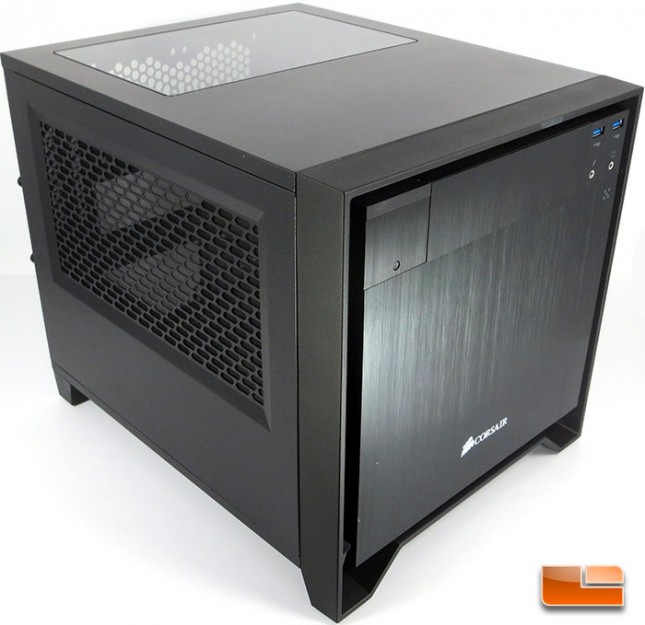 It doesn't seem that long ago that I was able to get my hands on the Corsair Obsidian 900D, AKA Godzilla. Without a doubt the Obsidian 900D is a massive case to say the least. It has all the bells and whistles and just an enormous amount of room to work with. Today we go to the opposite side of the spectrum of the 'Godzilla' case with the Corsair Obsidian 250D. Corsair has decided to take a step into the mini ITX chassis market, and with the release of the Obsidian 250D it looks like they are going to make a splash! The Corsair Obsidian 250D may be a mini ITX chassis but it isn't exactly a case of small stature, measuring 13.8″ x 10.9″ x 11.4″ it's certainly pushing the SFF boundaries. The Corsair Obsidian 250D hit the streets in January with a retail price of only $89.99!
The Corsair Obsidian 250D features the same great styling of the 900D and others in the Corsair Obsidian family, only smaller! The front panel is the same great looking black anodized aluminum panel that was on the Obsidian 900D last year. While it's smaller than the others in the Obsidian series, Corsair didn't cut any corners or sacrifice the ability to fit the components that you want in your system. Unlike many of the small form factor chassis out there, the 250D will fit a full size optical drive, a pair of 2.5″ drives and a pair of 3.5″ drives all at the same time. Corsair doesn't want us to have to choose between one or the other. The 250D gives us all we could want when it comes to storage, with the option for five drives, it seems to offer more than most mITX boards at this point in time. Most of the mITX motherboards only have four SATA ports onboard.
In addition to the storage options, Corsair felt that cooling was an important aspect. More importantly, the ability to run a 240mm radiator inside the Obsidian 250D. The difference between the Obsidian 250D and a case like the BitFenix Prodigy, you won't need to choose to leave out hardware if you want to run a 240mm radiator. The Corsair Obsidian 250D is more than capable of including it all!
Let's take a quick look at the Corsair Obsidian 250D specifications and then we can take a look at the packaging and start opening this one up!
Corsair Obsidian 250D mITX Chassis Technical Details
Warranty
Two years
Dimension
13.8 x 10.9 x 11.4 inches
Motherboard Support
Mini ITX
Expansion Slots
2
Form Factor
Mini ITX
Material
Black steel and anodized Black aluminum front fascia
Drive Bays
(2) 3.5/2.5 drive bays (2) 2.5 drive bays (1) 5.25 optical drive bay
Cooling
Front: 200mm, 140mm (140mm included) Side: Dual 120mm (single 120mm included) Rear: Dual 80mm (optional)
Front I/O
(2) USB 3.0 (1) Headphone (1) Microphone
Power Supply

ATX (Not Included)