Corsair K63 Wireless Mechanical Gaming Keyboard Review
By
Corsair K63 Wireless Mechanical Gaming Keyboard
Corsair recently expanded their already extensive lineup of mechanical keyboards with the K63 Wireless, which is one of the only tenkeyless keyboards on the market to offer Genuine Cherry MX switches along with a low latency 2.4GHz wireless connection. Most of the other wireless mechanical keyboards on the market use non-Cherry MX switches and a Bluetooth wireless connection, which operates at an inconsistent report rate. Even one of my favorite wireless mechanical keyboards that does feature Cherry MX switches, the Filco Majestouch Ninja Covertible, uses a Bluetooth connection. The Corsair K63 Wireless ($109.99 shipped) has been designed to give gamers a compact wireless keyboard that they can use without the fear of input lag wrecking their game.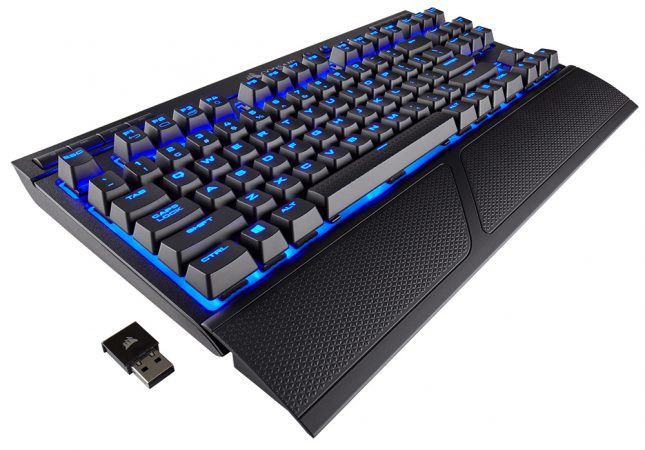 With its compact form, independent media controls and linear Cherry MX Red switches, the Corsair K63 Wireless may be the ideal keyboard for people who want to game on an HTPC without sacrificing latency or resorting to using a controller. With the NVidia BFGD's on the horizon, living room gaming may see increased popularity in the coming year, so it's not a surprise to see more and more companies throw their hats into the wireless peripheral arena. Let's not forget the crowd of users who simply want the cleanest aesthetic possible for their home computer setup, in which case a product like the Corsair K63 Wireless could help eliminate what is typically one of the hardest-to-manage cables on your desk.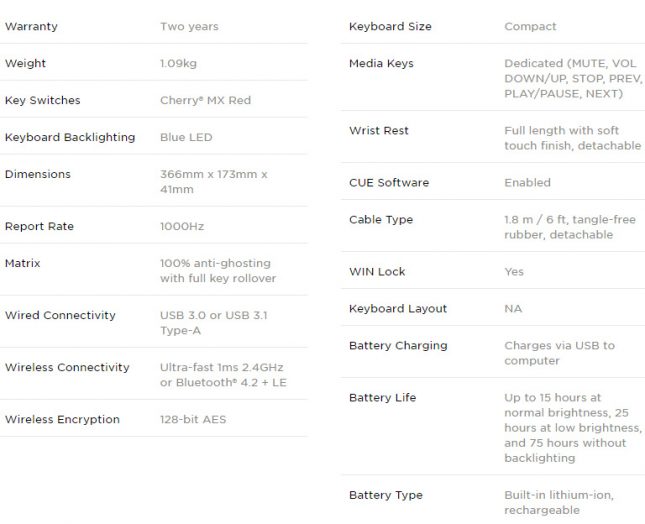 Corsair is offering a two year warranty on the K63 Wireless Mechanical Gaming Keyboard, which is a respectable warranty compared to other manufacturers of gaming keyboards, many of whom offer only one year warranties. Since the K63 Wireless is designed with an emphasis on portable gaming, it is more likely to see travel abuse than your typical keyboard, so a two year warranty is definitely something I like to see.
Corsair offers 128-Bit AES encryption on the K63 Wireless, which keeps your key-presses encrypted to avoid snooping. The 128-Bit AES encryption on the K63 Wireless adds a very slight amount of input delay (.1ms-.4ms) that won't be perceivable to anybody, save for maybe The Flash. I have to admit that encryption isn't something I'd ever considered when using wireless keyboards, but it's good to know that my key presses are encrypted, as sending non-encrypted key-presses over wireless would be a very good way to get your information stolen.
The Corsair K63 Wireless is actually available in two slightly different models, with the standard Blue model pictured above on the left, with the Special Edition Ice Blue model on the right. The model I am reviewing today is the standard K63 Wireless, which is available from Amazon for $109.99 shipped, while the Special Edition Ice Blue K63 Wireless is available at Amazon for the same price of $109.99 shipped. I am not sure why Corsair went with two varieties of Blue for the K63 Wireless that look very similar to each other instead of offering two different colors, but perhaps they will do that down the road, or figure out how to make an RGB model feasible. As it stands, RGB lighting would reduce battery so much that Corsair couldn't consider it for use on a wireless keyboard.
The K63 Wireless Mechanical Gaming Keyboard comes packaged in a black box with yellow accents along the sides, fitting the standard for packaging that Corsair has been using for years. There is a large sticker noting that Cherry MX Red switches are being used on the K63 Wireless, but this sticker can be swapped by Corsair easily so that other switch types can be added in the future, should the K63 Wireless prove popular and warrant consumer demand for more switches. I think that Cherry MX Red was the right choice of switch for a keyboard aimed primarily at gamers, though the Cherry MX Silver switch is my current pick when it comes to linear switches for gaming. The rear of the box is filled with more detailed and information and Corsair has done a great job of utilizing the space on the box to provide images of the keyboard paired with useful, detailed information.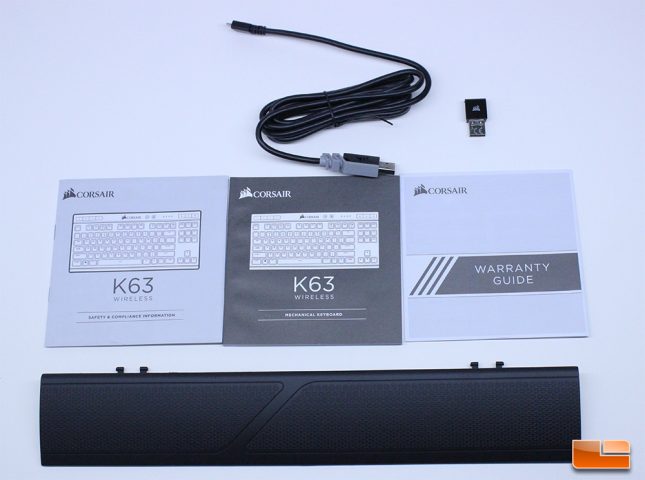 Corsair ships the K63 Wireless with user guides and warranty pamphlets that will likely be tossed aside by a majority of users, but good on them for being thorough with their documentation. Of course, you also get the required accessories for the K63 Wireless like the 2.4GHz USB receiver, a dongle for the receiver and a six foot long Corsair-branded USB cable.
Corsair also includes a basic plastic wrist-rest that has a soft-coat textured surface with the K63 Wireless. The wrist-rest connects to the bottom of the K63 Wireless securely with tabs. I am not a huge fan of textured surfaces for wrist rests, as they generally cause more discomfort than a foam pad, but they do offer more support than not having a wrist-rest at all. The Corsair wrist rest has rubber stabilizers on the bottom to help keep it stable during use and the hollowed out plastic is pretty sturdy while remaining lightweight.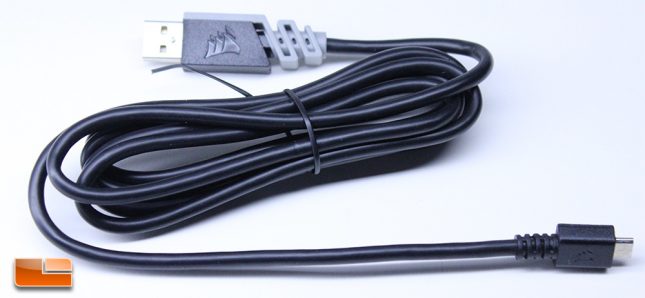 The rubber-coated USB cable that is included with the K63 Wireless has Corsair branding at both ends is six feet tall, which should be more than adequate for most users. This cable is flexible and easy to work with, while also wrapping up nicely for storage when it isn't being used. I do wish that Corsair would have gone with a braided cable for aesthetics, but since the cable isn't a permanent fixture on the K63 Wireless, this isn't a big deal at all.
The Corsair K63 Wireless comes with a proprietary 2.4GHz USB receiver and dongle for low latency communication with the PC. A Corsair logo is on both the USB receiver and dongle for easy identification. The dongle will allow you to position the receiver closely to your keyboard to eliminate potential interference. This receiver is paired with the K63 Wireless from the factory and is necessary for the keyboard to operate in wireless 2.4GHz mode. Corsair doesn't include any holders in the keyboard for the wireless receiver and dongle combo to be stored as Logitech did with their wireless G613, so you will need to make sure to store it properly so it doesn't get lost during transport. Should the USB receiver get lost, you can get a replacement from Corsair Customer Service while you use the K63 Wireless in USB or Bluetooth mode.
The Corsair K63 Wireless has a basic but complete presentation and Corsair has made sure to include everything you'll need to get started. Unfortunately, nothing like a set of textured key caps was included with the K63 Wireless, though the added wrist-rest is a decent addition. Let's take a closer look at the Corsair K63 Wireless Mechanical Gaming Keyboard.