Corsair Hydro Series H80i GT AIO Liquid Cooler Review
By
Corsair Hydro Series H80i GT AIO Liquid Cooler
At CES 2015, Corsair announced that in the first quarter of 2015, they were updating their AIO liquid coolers with a higher efficiency radiator, and a new design. The Corsair Hydro H80i GT is Corsair's smalled AIO liquid cooler and can be found online under part number CW-9060017-WW for $99.99 with free shipping. It features two 120mm fans, a 49mm thick radiator, Corsair Link compatibility, fabric mesh covered tubes, lower cost and a five year warranty from Corsair. If a larger AIO liquid cooler is preferred, Corsair also updated their 240mm system with the H100i GTX, it costs a little more at $119.99 with free shipping. Today, we will be focusing on the Corsair Hydro Series H80i GT, recently Legit Reviews took a look at the H100i GTX.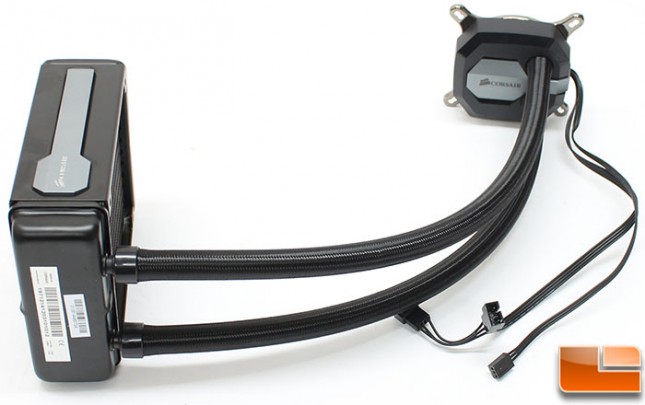 If you are familiar with AIO liquid coolers, the overall design of the H80i GT should be familiar . It follows the general principle of an AIO cooler, with a radiator, that connects to a pump and cooling block with rubber tubes; nothing unusual about the overall design. What Corsair did was make the radiator thicker than most coming in at 49mm where the original H80i used a 38mm radiator. The H80i GT supports dual 120mm fans for a push/pull configuration, Corsair provides two SP120L PWM fans with the H80i GT. These are high static pressure fans, and are designed for AIO liquid coolers.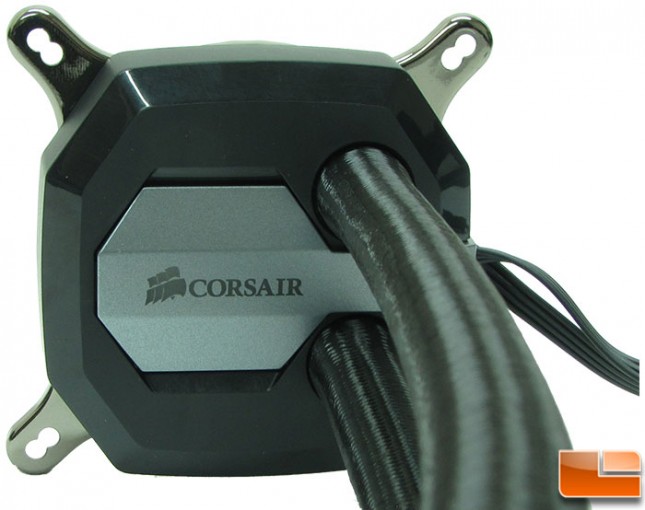 The baseplate uses an integrated pump, and using Corsair Link you can adjust the speed of the pump depending on your specific needs; by default it spins around 3000RPM. Being a totally sealed AIO system, it is virtually maintenance free, which makes installation a breeze compared to a custom liquid cooling solution. Corsair has changed the design of the pump cover, and how the tubes connect to the baseplate, we'll take a closer look at these changes after we get to know a little more about the H80i GT. In addition, Corsair has covered the tubes with a braided fabric mesh which makes it look better.
Corsair H80i GT Features and Specifications:
Extra-thick radiator – The 120mm radiator works with standard 120mm fan mounts for wide compatibility, but has a depth of 49mm for increased cooling surface area and faster, more efficient cooling.
Built-in Corsair Link – You can customize cooling performance, monitor coolant and CPU temperatures, and change the color of the RGB LED lighting from the default white to match your system or to change color based on temperature readings and other inputs.
Customized cooling performance – You can select the speed of the dual SP120L PWM fans via the Corsair Link control panel or any standard fan speed utility. And, you have options: use just one fan to save space, or install both in a push-pull configuration for extra cooling efficiency.
Corsair Hydro H80i GT Specifications
Water Block
Copper
Fan
Model: SP120L PWM (2 included)
Dimension: 120 x 120 x 25mm
Speed: 2435RPM
Noise Level: 37.7dBA
Max Air Flow: 70.69CFM
Connector: 4 Pin
Radiator
Dimension: 154 x 123 x 49mm
Material: Aluminum
Tube
Length:
Material:
Large-diameter, low permeability
Compatibility
Intel: LGA 2011 / 2011-3 / 1366 / 1150 / 1155 / 1156
AMD: FM2 / FM1 / AM3 / AM2
Warranty
Five Years
Let's take a quick look at unboxing the Corsair Hydro H80i GT and the test system before we install the AIO liquid cooler.