Corsair Flash Voyager GTX 128GB USB 3.0 Flash Drive Review
By
ATTO, & AS-SSD, Anvil and CDM Benchmarks
ATTO v2.47
ATTO is one of the oldest drive benchmarks still being used today and is still very relevant in the SSD world. ATTO measures transfers across a specific volume length. It measures raw transfer rates for both reads and writes and places the data into graphs that can be very easily interpreted. The test was run with the default runs of 0.5KB through 8192KB transfer sizes with the total length being 256MB.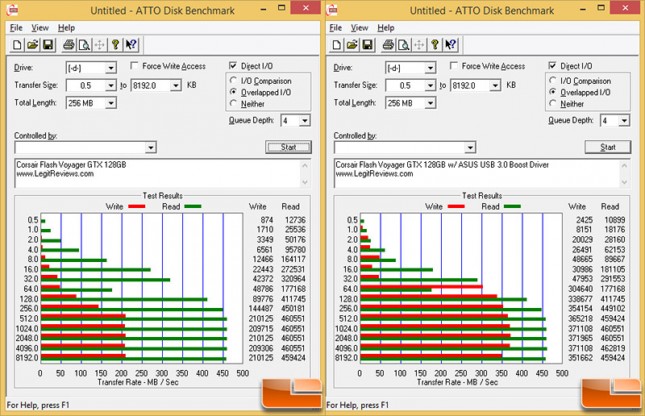 Benchmark Results: ATTO showed the Corsair Flash Voyager GTX 128GB thumb drive maxing out at 460 MB/s read and 210 MB/s write speeds on the standard overlapped I/O benchmark without the ASUS USB 3.0 Boost drivers. With the ASUS USB 3.0 Boost drivers we were getting 463MB/s read and 372MB/s write speeds . The retail packaging for the drive says that Corsair gets 450MB/s read and 360MB/s write speeds on ATTO, so we are right where we expected to be with the proper USAP drivers installed on the Windows 8.1 operating system.

AS-SSD (1.7.4739.38088) Benchmark:
We have been running the AS-SSD Benchmark app for over some time now and found that it gives a broad result set. The programmer has worked very hard on this software and continues to make updates often so if you use it, show him some love and send him a donation. There are now three tests that are found within the tool and we'll show the results from all three of them.
Windows 8.1: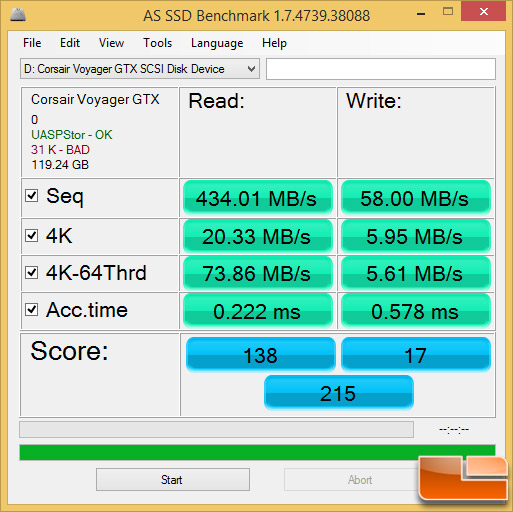 Windows 8.1 w/ ASUS USB 3.0 Boost: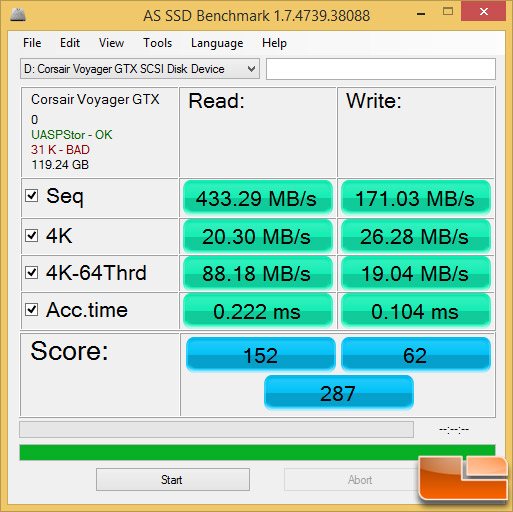 Benchmark Results: AS SSD showed the Corsair Flash Voyager GTX 128GB topping out at 434.01 MB/s read and 58.00 MB/s write in the sequential benchmark with a clean install of Windows 8.1. Once we installed the ASUS USB 3.0 Boost driver we found the sequential write speed jumped up to 171MBs/s and all other write scores were greatly improved.
Anvil Storage Utilities 1.1.0
Along with the move to a new platform, we decided to make a change in one of the benchmarks. There's a relatively new benchmark called Anvil Storage Utilities that is in beta but close to production. It's a very powerful tool that measures performance through a variety of tests which can be customized. Since some of the tests more or less duplicate what we get from other benchmarks we use already, we decided to use the IOPS (Input/Output Operations Per Second) testing on 4kb file sizes at a queue depth of 4, 16, and 32. IOPS performance is something SSD makers tout quite a bit but we generally don't do a lot of IOPS testing because frankly a lot of users can't relate to IOPS metrics as well and it tends to be more meaningful to the enterprise/server crowd. Still, it is another performance indicator with relevance and while some drives post good MB/s numbers, their IOPS scores aren't always commensurate which this test will prove out.
46% Compression (Windows 8.1):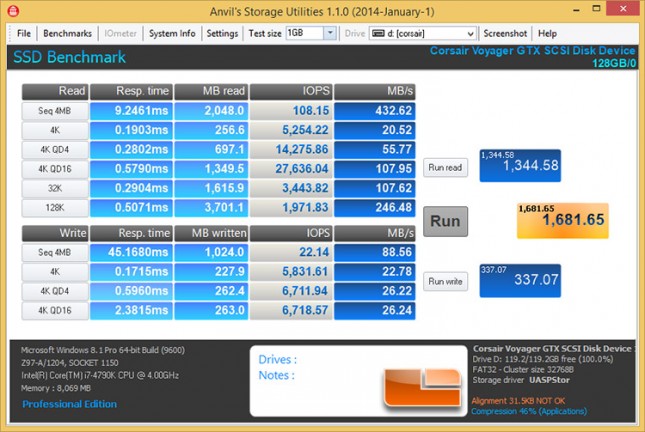 46% Compression (Windows 8.1 w/ ASUS USB 3.0 Boost):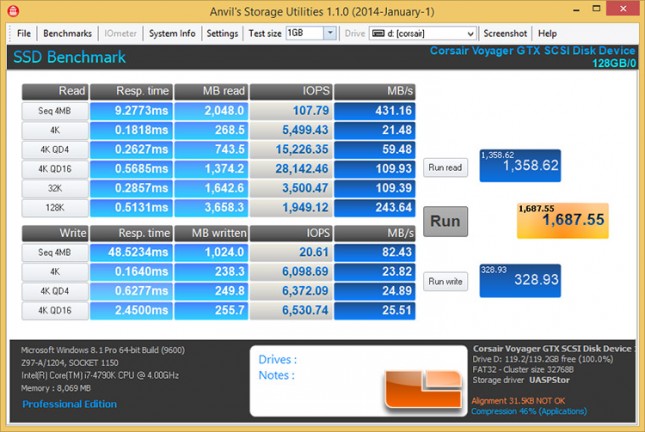 Benchmark Results: The overall Anvil SSD Benchmark score for the Corsair Flash Voyager GTX 128GB thumb drive was right around 1.700 with the applications preset (46% compression). We didn't find a significant difference between the UASP drivers on this benchmark utility.

CrystalDiskMark 3.0.3 x64
CrystalDiskMark is a small benchmark utility for drives and enables rapid measurement of sequential and random read/write speeds. Note that CDM only supports Native Command Queuing (NCQ) with a queue depth of 32 (as noted) for the last listed benchmark score. This can skew some results in favor of controllers that also do not support NCQ.
Windows 8.1: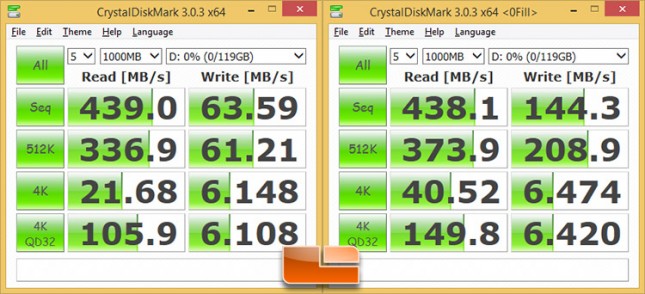 Windows 8.1 w/ ASUS USB 3.0 Boost Drivers: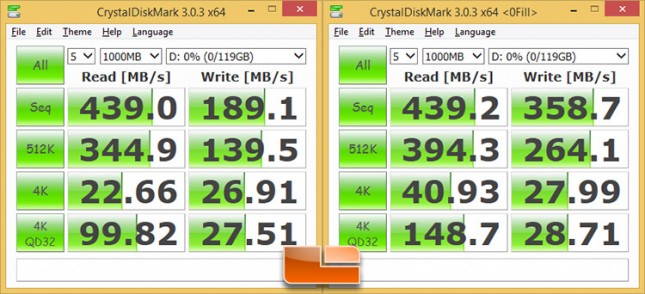 Benchmark Results: The Corsair Flash Voyager topped out at 439MB/s read and 63.6MB/s on the sequential test with the benchmarks default settings and hit 438MB/s read and 144MB/s write with the benchmark running in 0fill mode without the ASUS USB 3.0 Boost drivers. With the ASUS USB 3.0 Boost drivers with the optimized UAS Protocol the write speeds jumped up to 189MB/s write in the standard benchmark and 359MB/s in the 0Fill benchmark. Corsair says we should be getting around 430MB/s read and 190MB/s write speeds on the sequential test, so we are spot on with the proper drivers installed.