Corsair Dominator Platinum 16GB 3300MHz DDR4 Review
By
Corsair Dominator Platinum 16GB 3300MHz DDR4 Memory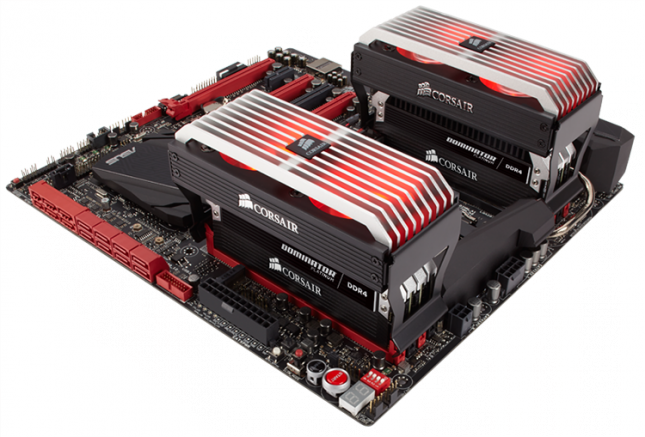 Corsair currently has 16 different DDR4 memory kits available in the mainstream Vengeance overclocking line and also the high-end Dominator Platinum series. Last week we looked at the Corsair Dominator Platinum 16GB 3200MHz DDR4 memory kit. That kit of memory offered pretty impressive performance, but it is not the fastest DDR4 memory kit that Corsair has to offer. Corsair has a Dominator Platinum DDR4 memory kit clocked at 3300MHz and that is the fastest memory kit that Corsair currently offers. Corsair calls this the World's fastest production memory kit and that appears to be true. The only memory company that is able to compete at this level would be G.Skill, but we can't find any 3300MHz or 3333MHz DDR4 memory kits by them available to purchase online. Corsair remains the industry leader when it comes to high performance DRAM as you can order this kit today online and it is in-stock and ready to purchase.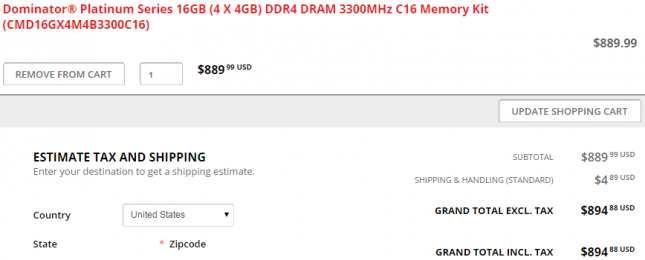 How much will a 16GB (4 x 4GB) kit of 3300MHz DDR4 memory cost? It comes with a paltry $889.99 plus shipping price tag. Add in your basic shipping & handling charges and your grand total on this kit is $894.88 shipped. So, you have the likely the World's fastest and most expensive 16GB DDR4 memory kit! Here is a breakdown of the Corsair Dominator Platinum DDR4 line and what the costs are for each kit.
Corsair Dominator Platinum Series 16GB (4 x 4GB) DDR4 Lineup:
Corsair Dominator Platinum Series 32GB (4 x 8GB) DDR4 Lineup:
Corsair uses hand-picked ICs on this series and you most certainly pay a price premium for that. The lowest priced Corsair Dominator 16GB memory kit will run you just over $429.99 for a 2666MHz kit with CL16 timings. If you want to step up to a 2666MHz kit with CL15 timings it will cost you an extra $30 or about 7% to have a kit that is guaranteed for life to be able to run with CL15 timings on the X99 platform. To step up to a 2800MHz kit you are looking at $40, then another $125 to go up to 3000MHz, $125 to move up again to 3200MHz and then $140 to move up to the flagship 3300MHz memory kit. If you want a 32GB kit of memory you better be ready to dig deep as a 2666MHz kit ranges from $800 to $850 depending on if you want C16 or C15 timings. The fastest 32GB kit is a 2800MHz kit with CL16 timings that runs a cool $1079.99. These memory kits aren't aimed at the masses, but rather the disconcerting enthusiast that is willing to pay to have the best memory with the most frills. .

Corsair sent over the Dominator Platinum 16GB (4 x 4GB) 3300MHz DDR4 desktop memory kit that is sold under part number CMD16GX4M4B3300C16. This memory kit runs at 3300MHz with 16-18-18-36 2T timings at 1.35V. This series features hand-screened DDR4 IC's, DHX (Dual-path Heat Exchange) heat spreaders, Dominator Airflow Platinum LED fans and the Corsair Link interface that allows you to monitor IC temperatures, voltages along with the fan speeds and colors if you are running the fans. We didn't receive a retail box with our kit, but the retail kits will come with two Corsair Dominator Airflow Platinum LED fans. The Dominator Airflow Platinum fans work with Corsair Link. This means you can install the Corsair Link software, which gives you the ability to control PWM fan speed directly from your Windows desktop, change the built-in LEDs from their default red to any of 16.8 million colors to indicate fan speed, ambient system temperature, or something along those lines. Both sides of the Corsair Dominator Platinum DDR4 memory modules are the same as you can see in the image above.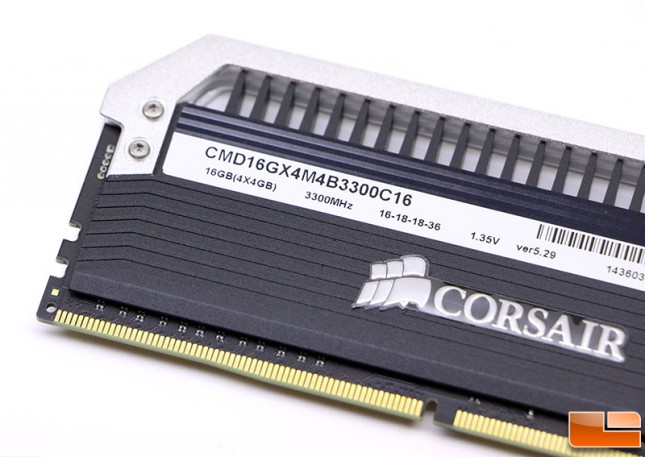 The labels both sides of the module lists the capacity, timings, voltage, clock speed, part number, version number and the kits serial number. This might come in handy down the road when you have several kits and need to make sure you have the right modules together. We won't be taking these modules apart, but we have been told by Corsair that they are using SKhynix H5AN4G8NMFR DDR4 memory IC's for this memory kit due to how well they overclock to high clock speeds.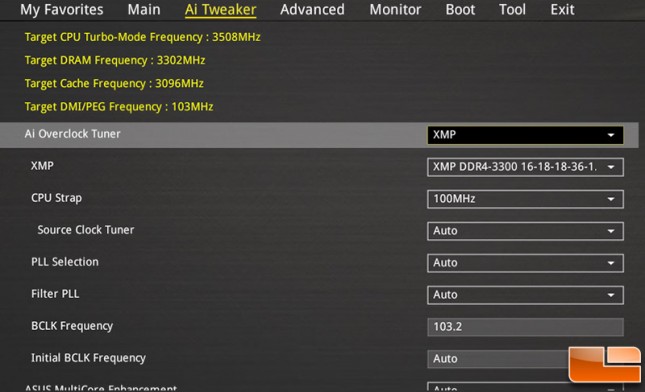 All Corsair Dominator Platinum Series DDR4 memory kits come with one or two Intel XMP 2.0 memory profiles. This just means that you need to go into the UEFI and enable the XMP profile to get your memory kit up and running with the factory settings. Once you enable the Intel XMP 2.0 setting, the motherboard will automatically make all the needed changes for the memory kit for it to run at the advertised speeds. If you don't do this you'll be running at JEDEC default speeds, which isn't what you want to do with an enthusiast overclocking memory kit. You can also set everything up manually if you are comfortable going into the UEFI and finding what settings to change and making the appropriate modifications.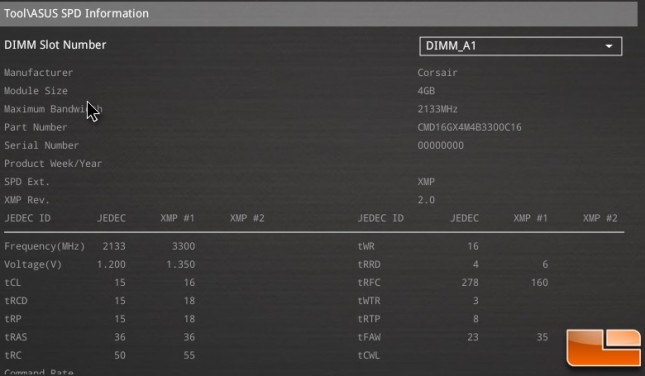 Here is a closer look at the Intel XMP 2.0 settings on the Corsair Dominator Platinum 16GB 3300MHz DDR4 memory kit as seen from the ASUS SPD Tool on the ASUS X99 Deluxe motherboard we used for testing. The kit has 2133MHz clock speed on the JEDEC profile and then 3300MHz settings on the XMP #1 profile. Corsair did not program an XMP #2 profile on this memory kit, so those values are blank. It should be noted that Corsair does set the CPU ratio to 35, increase the cache/uncore ratio to 31 with this particular memory kit and raised the base clock (BCLK) from 100 to 103.2MHz in order to get 3300MHz as that can't be reached with a divider alone.
Now that we know the basics about this memory kit we can take it for a test drive and overclock it to see how much faster and tighter we can get it.