Corsair DHX Technology 'Dominator' Overview and Interview
By
The Internal Performance Numbers
Corsair did publish some performance number with and without the DHX heat sinks and provided them to the press to look over. The first testing they did was using the AMD AM2 platform.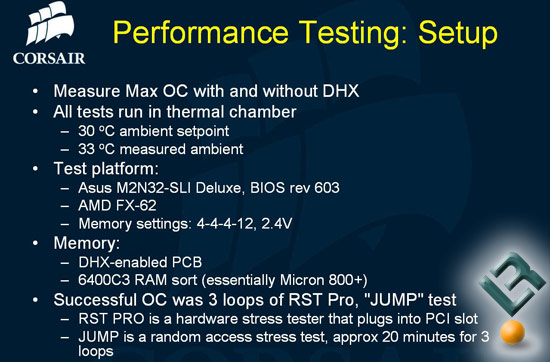 The test system was a retail ASUS M2N32-SLI Deluxe motherboard running an AMD FX-62 processor and the latest and greatest modules from their labs.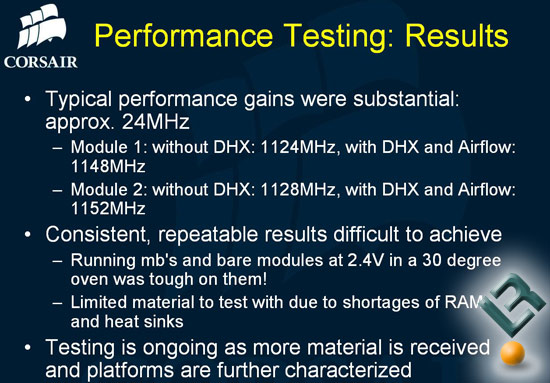 Testing with and without heat sinks showed roughly a 24MHz difference in frequency gains thanks to using heat sinks versus nothing. Corsair is still testing like this and is killing a ton of hardware testing in an oven like this, so the results are taking a long time to achieve.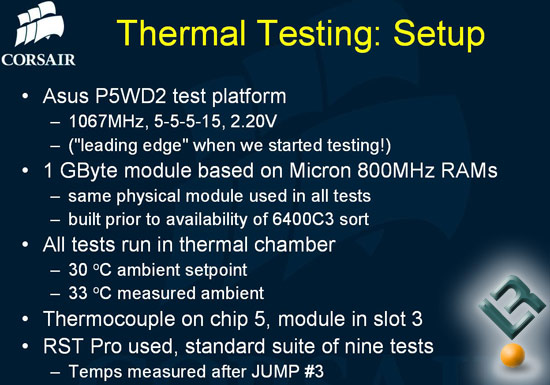 For the next test they ran it on the Intel based ASUS P5WD2 motherboard to look at the thermal aspects of the new heat sink design. For this they measured temperatures in the middle of the module in slot number three, which is normally one of the hotter modules in the system as it's the furthest away from the airflow caused by the processor and case fans.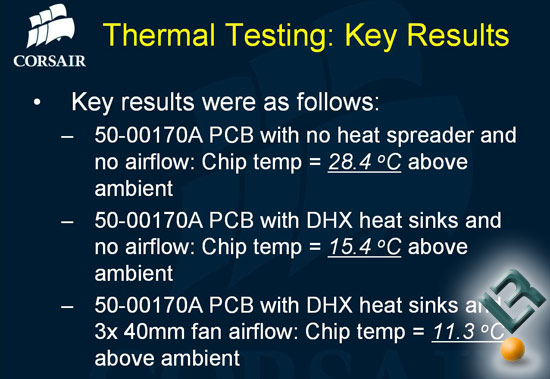 They didn't test against the Pro or XMS heat spreaders, but did run a test against a module with no heat spreaders at all. Adding active cooling was good for another 4C as the final test showed. What's all this going to cost you?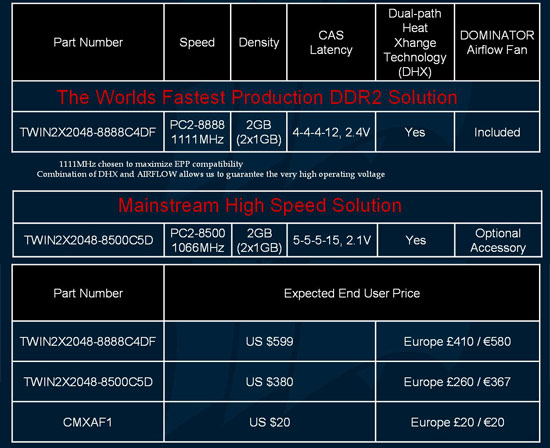 If you want the new PC2-8888 modules that run at 1111MHz you will be happy to know they come with the Dominator airflow fan, but also have an MSRP of US $650 with an expected end user price at US $599 as the retailers set their own pricing.
If you like the heat spreaders and don't have $600 to spend on memory Corsair offers the Twin2X2048-8500C5D modules for just $10 to $20 more than regular heat spreaders would cost you. An extra $20 for an innovative design like this doesn't seem too bad seeing how it's different from the PCB up. The PC2-8888C4 modules are now the best IC's that Corsair sells besting the sort on the PC2-6400C3's. Rumor has it that the only 50% of the IC's that pass screening for PC2-6400C3 modules would make the cut for PC2-8888C4. If we had to make a random guess we would expect the fallout on the Micron IC's would be between 95-97.5% for these modules, which is why Corsair charges so much for these modules. The IC's that didn't pass screening for PC2-8888C4 modules has to go someplace!