Corsair DHX Technology 'Dominator' Overview and Interview
By
Introducing Corsair DHX Technology
In case you missed it on Monday Corsair Memory unveiled the latest innovation in high performance module design, Dual-path Heat Xchange (DHX) technology. From the outside it looks like Corsair changed their heat spreader, but it's a bit more complex than a minor heat spreader switch!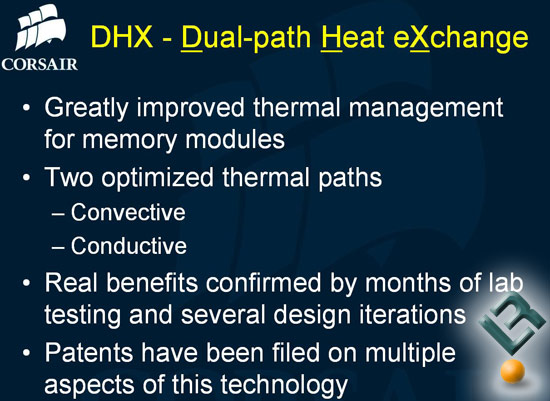 It looks like the PCB is based on the PC2-6400C3 module that overclockers around the world crave and has a taller PCB. This extra PCB has a partially exposed copper layer that actally connects straight to the a heat sink that will later be attached. This layer is known at the "thermal pad" and is where the magic happens.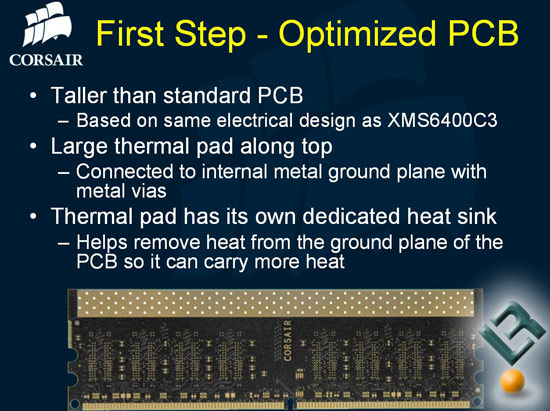 Due to the thermal pad the Dominator series has four heat sinks attached to each module as you can see in the side view below.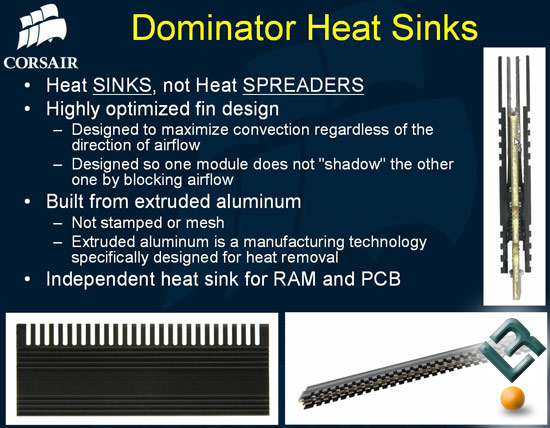 To get a better view of what all is going on this cut away view is worth a million bucks.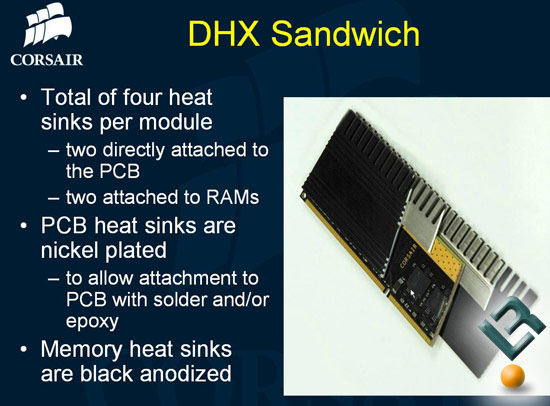 According to this slide Corsair actually designed the heat sinks to be attached to the PCB by either solder or epoxy. The production modules will all be attached by epoxy which will allow for easier rework if something goes awry during it's life.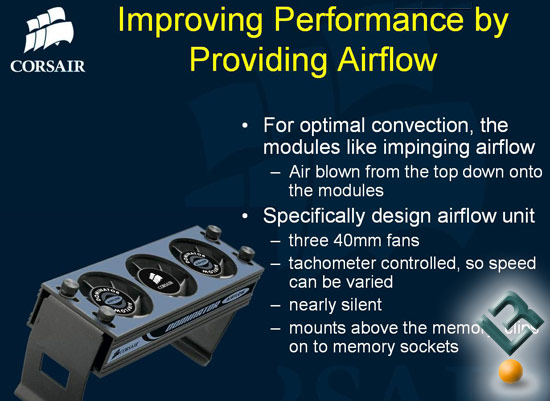 If you have a heat sink you must have a fan right? Corsair has a clipped on triple fan cooling unit that will help cool off the heat produced by the memory. Why does all this matter? Corsair has officially launched DHX XMS2 DOMINATOR PC2-8888 C4 memory. This memory runs at 4-4-4-12 timings at 2.4 Volts, which tends to get warm during periods of long use. Corsair has been able to overclock modules with Dominator heat sinks to over 1250MHz on retail motherboards!