Corsair Carbide 600C Inverse ATX PC Case Review
By
Corsair Carbide 600C Inverse ATX Mid-Tower Case
Corsair spent most of its infancy as a DRAM memory maker and made a name for itself in this arena by becoming one of the premier makers of consumer PC memory. They later diversified and started making other PC related products like flash memory storage devices and high quality power supplies. In 2014, they launched their gaming brand along with peripherals such as keyboards, mice and audio products. Before that, they started into the crowded computer case market to which their offerings have been very warmly accepted by the PC building community. If you check many enthusiast publication lists of system builds, quite often Corsair cases are the chassis of choice in budget systems all the way up to high-end systems. In fact, I can state up front that I personally own two systems built Corsair cases one is built in a black Graphite 600T and the other with a white Carbide 500R. Each have been excellent system chassis that I purchased a few years ago and have given me no issues to date so I have high expectations going into this review. As it happens, I recently damaged the singular front USB 3.0 port on my Graphite case when I banged into an inserted USB stick (Im shocked this doesnt happen to me more often) so when Corsair offered us the chance to give the new Carbide case a look, I promptly volunteered.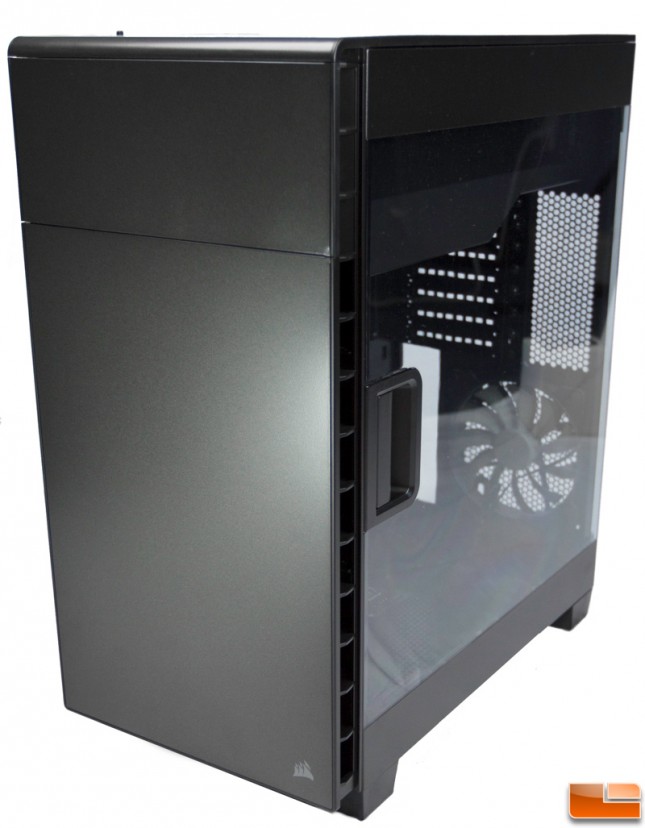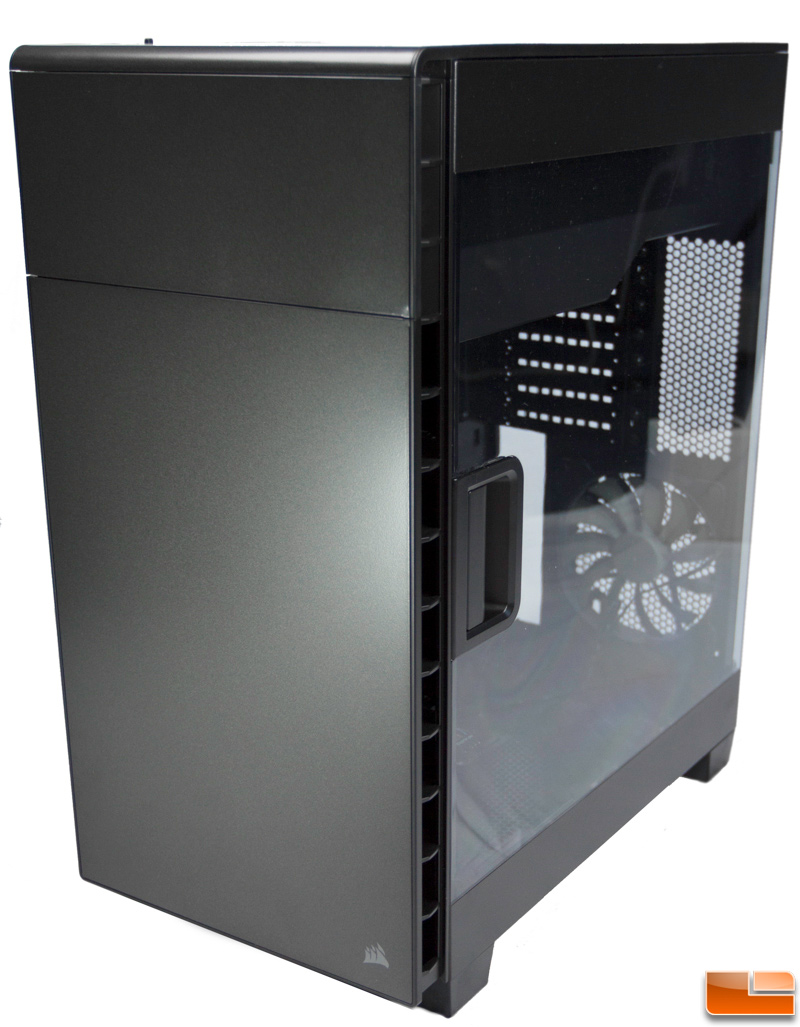 There are actually many variations of the Carbide cases outside of this newest model. Some are more budget friendly while others are smaller form factors or high air flow models. The new 600C/600Q cases are the top tier models in the Carbide lineup and are mid-tower sized and are geared towards those who typically have components that demand the extra space such as high-end graphics cards and water cooling. There are two variations of this with the 600C having the clear acrylic window in the side panel and the 600Q which skips the window in favor of sound dampening panel. Obviously, the clear 600C version caters to the bling crowd who like to show off their rigs and the quiet 600Q will woo those with a desire for low noise while providing ample cooling. We received the 600C version to check out.
While much has changed with this iteration of the case, the biggest change is probably the inverted placement of the motherboard which is a first for Corsair. This has it's pros and cons as I'll get into but it better shows off the GPU, which is now oriented so the heatsink is facing up and more visible than the dull PCB board on the back being the prominent view as in most typical cases. It also allows them to keep the top of the case closed off without negatively impacting case temperatures.
Corsair Carbide 600C/Q Mid-Tower ATX Case Features and Specifications:
Form Factor
ATX
Retail SKU
600C
CC-9011079-WW
600Q
CC-9011080-WW
MSRP
600C
$149.99 + tax/149.99 incl. tax
600Q
$149.99 + tax/149.99 incl. tax
Dimensions (H x W x D)
454mm x 260mm x 535mm (17.87 x 10.24 x 21.06)
Drive Bays
Front
2x 5.25 tool-free (hidden behind door)
Internal
3x 2.5 tool-free, 2x 2.5/3.5 tool-free
Cooling
Front
2x 140mm AF140L fan (only one installed in 600Q; extra fan included in accessory kit)
Rear
1x 140mm AF140L fan
Top
–
Side
–
Bottom
Supports up to 3x 120mm fans or 2x 140mm fans
Radiator

Support

Front
Up to 240mm/280mm
Rear
Up to 140mm
Top
–
Side
–
Bottom
Up to 280mm/360mm
Expansion Slots
8
I/O Port
2x USB 2.0
2x USB 3.0
Headphone and mic
3-channel, 3-speed fan controller
Power Supply Standard
ATX (not included)
Clearances
Heatsink
200mm
PSU
210mm
Graphics
370mm
Drive and PSU shield Two tool-free 5.25 drive bays, two tool-free 3.5 drive bays, and the power supply all hidden by a stylish, removable shield
Side-vented fascia Clean front panel hides side openings, dampening sound while maintaining airflow
Dual 120mm/140mm or 240mm/280mm radiator support Comes with two 140mm fans (only one installed in 600Q), but allows for mounting a radiator
Inverse ATX layout Inverting the ATX standard allows users to show off their hardware, provide direct airflow on hot components, and seal the top of the case, preventing noise from escaping
120mm/140mm fan mount Comes with one 140mm fan with support for up to 140mm radiators
Up to 360mm radiator support Install up to three 120mm fans, two 140mm fans, or a 240mm/280mm/360mm radiator, with open mounts for adjustable fitment
Hidden power supply bay Removable bracket allows you to slide the power supply into the rear of the chassis, where cabling is hidden from the primary chamber
2x USB 2.0, 2x USB 3.0, and 3-speed fan controller Multiple USB ports on the top of the case and an integrated switchable three-speed, three-channel fan controller
Rear-loading 3.5 drive trays Tool-free 3.5 acoustically-dampened drive trays concealed in primary chamber
Rear-mounted 2.5 drive trays Tool-free 2.5 drive trays arranged behind motherboard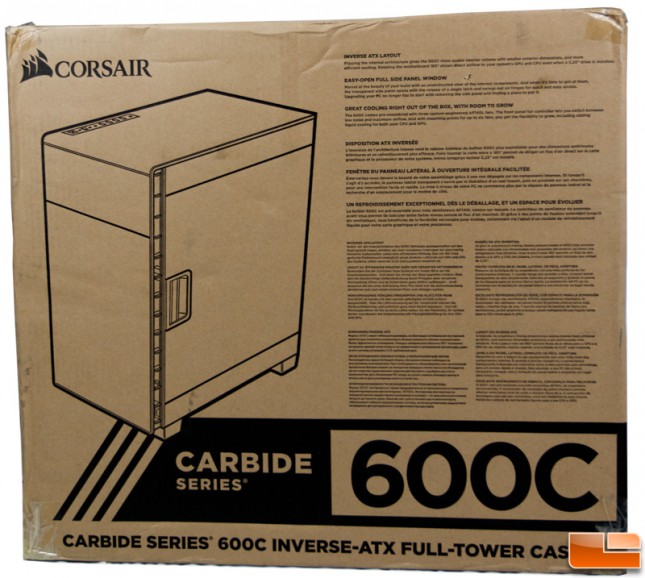 The case was packaged nicely in a fabric bag and nestled in the usual Styrofoam blocks to cushion its journey. The acrylic panel and control panel were each covered with clear plastic for an extra measure of protection. Though the box looked a little dinged up from transit, the case itself was undamaged and in perfect condition.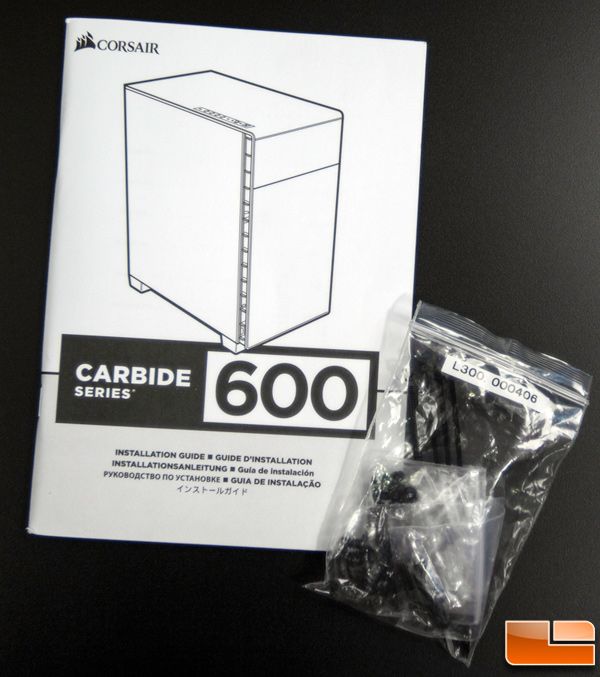 Along with the case was a manual and the usual assortment of screws for the motherboard and drive bays.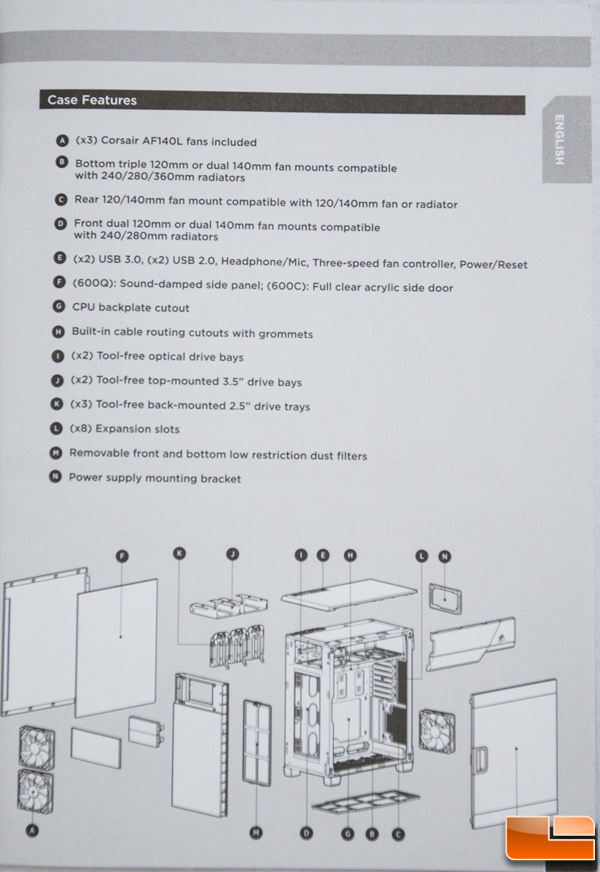 The manual also provides a nice exploded diagram of the case for reference. Let's have a closer look!