Cooler Master MasterCase Pro 3 Review
By
Cooler Master MasterCase Pro 3 Review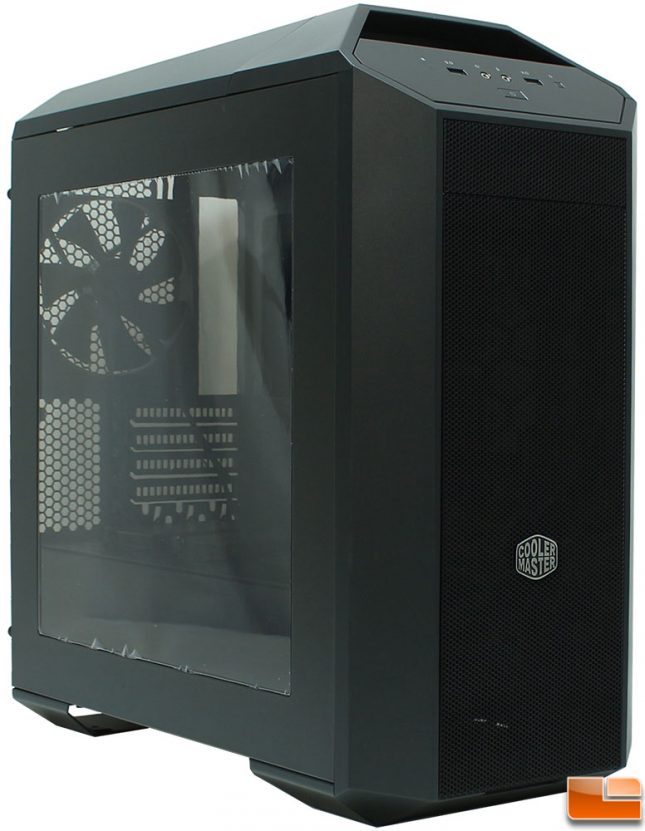 Cooler Master has a long history of manufacturing high quality enthusiast level cases and CPU coolers. Last year, they introduced their MasterCase 5 line, which was a mid-tower designed to allow a wide range of customization and upgrades. After the success and recognition of the MasterCase 5 line, they introduced their MasterBox line, which was a lower cost alternative to the MasterCase, but still retained a high degree of customization options. Now, Cooler Master is further expanding the MasterCase line with the little brother to the MasterCase 5 line, the MasterCase Pro 3. The Cooler Master MasterCase Pro 3, will be available on September 6th from Amazon for $99.99 shipped.
Where the previous models of MasterCase and MasterBox were designed for ATX motherboards, the MasterCase Pro 3 is geared to the smaller microATX motherboards. It maintains the flexibility of the MasterCase Pro 5, allowing the end user to determine which components are desired, and remove the unnecessary parts.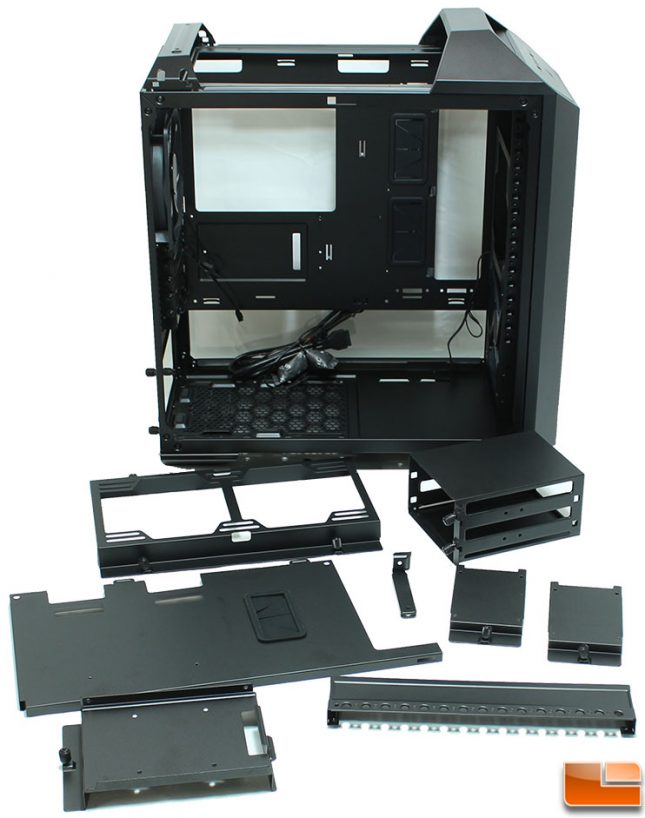 Maintaining their maker theme where you "Make It Yours", using their FreeForm Modular system nearly all the major parts of the case can be removed for modifications or upgrading. Cooler Master sent model MCY-C3P1-KWNN, which is a mini-tower allowing the use of micro-ATX or mini-ITX motherboards with hard drive support with 2x 2.5″ SSD trays, a 3.5″ hard drive cage with two trays that also support 2.5″ SSDs. There is a place for a 5.25″ device as well, but there is an obstacle to that, which we will discuss later.
Cooling is provided by two 140mm fans that are placed in the front and the back of the case. This can be expanded to support up to three additional 140mm fans. Otherwise you can choose to use liquid cooling, with a maximum support up to 280mm radiators! Other components such as CPU cooler height and GPU length aren't much of a concern either as the MasterCase Pro 3 has a lot of room inside.
Features and Specifications:
Sliding Clip & Click Panel – Mount in two positions for HDD and accessories or completely remove for more space
Removable Dual Chamber Design – Removable partition panel isolates power supply and cables for clean management
Dual Graphics Card Support – Five PCI slots allow adjustable space for up to two graphics cards
Removable Top/Front Cooling Brackets – Allows external fan and radiator installation
Magnetic Paneling – Top panel fit snugly with a magnetic grip
Slip and Clip SSDs – Two pockets with three mounting positions – behind motherboard tray and top of partition
Cooler Master MasterCase Pro 3 Specifications
Net Weight
9.1Kg / 20.1lbs
Dimensions (LxWxH)
467 x 235 x 505 mm
Motherboard Type
MicroATX, mini-ITX
5.25″ Drive Bays
0
3.5″ Drive Bays
2
2.5″ Drive Bays
2 + 2
I/O Panel
USB 3.0 x 2, Audio In & Out (supports HD Audio)
Expansion Slots
5
Cooling System
Front:

140 x 25mm fan, 1,200 RPM (pre-installed)

140 x 25mm fan (optional)

Rear:

140 x 25mm, 1,200 RPM (pre-installed)

120mm fan x 1 (optional)

Top:

120mm or 140mm x 2 (optional)

Radiator Support
Front: 120mm, 140mm, 240mm, 280mm

Rear: 120mm, 140mm

Top: 120mm, 140mm, 240mm

PSU Type
Bottom Mount, ATX PS2 (Maximum length 200mm)
Compatibility (Maximum)
Graphics card length:

370mm / 14.57in (without 3.5″ HDD cage)

258mm / 10.16in (with 3.5″ HDD cage)

CPU cooler height: 190mm / 7.48in

Material
SECC, Plastic
Colors
Dark metallic grey exterior with black interior
Warranty
2 Years
The MasterCase Pro 3 arrived, extremely well packed, I was very surprised at how it was packed; whether that was just for the review sample I'm not sure. All the sides were reinforced with very heavy duty cardboard, held together by straps, and then wrapped in several layers of plastic wrap. With all that removed, we can take a look at the box for the MasterCase Pro 3, which gives a high quality feel as it is in full color, and provides plenty of information for the user to know exactly what the case is capable of.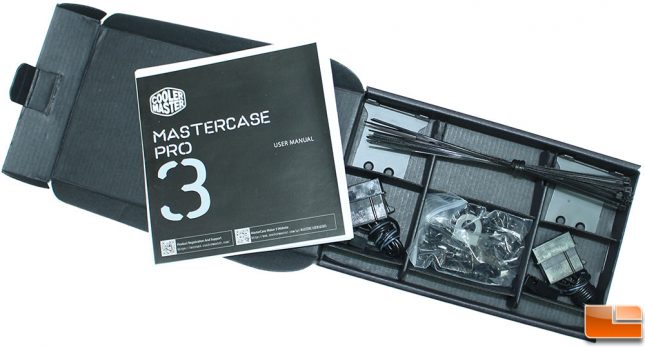 Immediately when opening the box, you are presented with a smaller black Cooler Master box that houses the various accessories. Included is the standard screw pack, and a number of cable ties. There are also two brackets that allow you to install a lightweight fan controller in the front 5.25″ bay. Two 3-pin fan to 4-pin Molex adapters are also provided, which is helpful for smaller motherboards that might not have a large number of fan headers. Documentation that is included with the MasterCase Pro 3 is a well thought out and detailed user manual, and the warranty sheet.
Next, let's take a closer look at the MasterCase Pro 3's external features before opening it up.