Cooler Master MasterBox 5 Review
By
Final Thoughts and Conclusion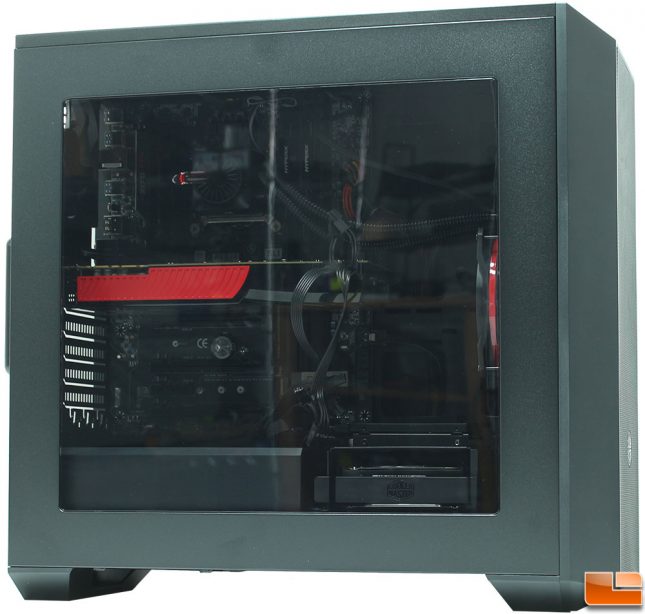 The build quality of the MasterBox 5 is exactly what you would expect from a top tier case manufacturer, flawless and engineered for years of use. The cable management options and space alloted behind the motherboard tray (25mm – 35mm of space) means that there is no excuse to have messy cables. While the model we reviewed comes with support for 2x 3.5″ hard drives, and one 2x SSD cage, you can add additional space by purchasing drive cages from Cooler Master. In addition, if the lack of a 5.25″ device bay is an issue, there is a model of the MasterBox 5 that supports 5.25″ devices. Other customization options will be determined by Cooler Master; we just have to wait to and see what Cooler Master comes up with to truely make this a modular case.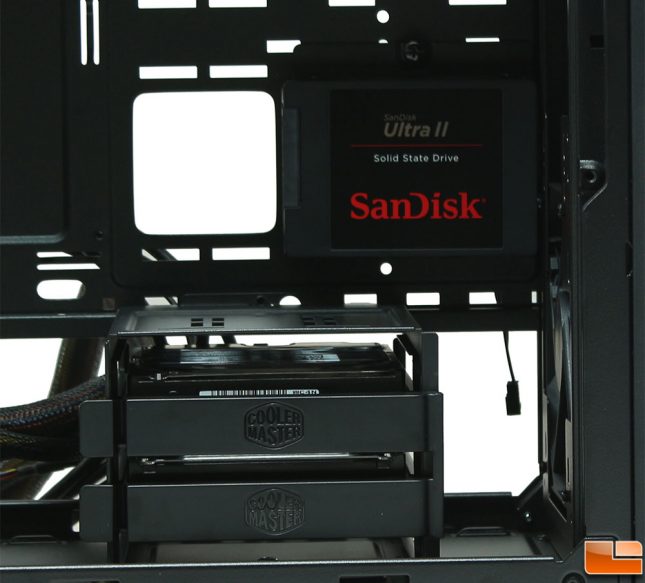 While the MasterCase system was designed to fully customize the exterior and the interior, the MasterBox focuses the customization on the interior. For example, the ability to move the 3.5″ drive cage over, allowing for up to a 280mm radiator with 52mm of space to be installed at the front panel. While the 2.5″ SSD cage can be mounted in three locations in front of the motherboard, on top of the 3.5″ drive cage and behind the motherboard tray as well. No matter where you mount the drive cages, cables are easily routed thanks to the large number of cable management holes provided. One place it seems that was overlooked at a mounting location for the SSD cage would be on top of the removable power supply cover.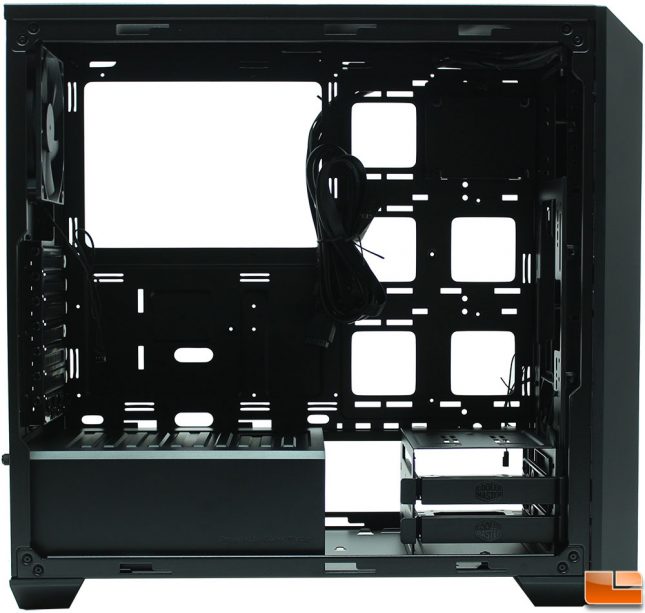 The MasterBox 5 that we reviewed, MCX-B5S1-KKNN-01, was the black version that is available for $69.99 with free shipping. Cooler Master also offers a Black & White version of the MasterBox 5 under part number MCX-B5S2-WWNN-01 that is also available for $69.99 shipped. Alternatively, Cooler Master also offers both MasterBox 5 models with an additional 3.5″ and 2.5″ HDD & SSD kit for $79.99. While the more advanced models that include 5.25″ device support and top mounted exhaust will increase the price of the case; these have not been formally announced.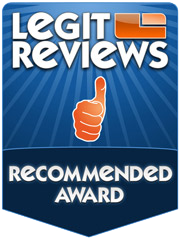 Legit Bottom Line: The Cooler Master MasterBox 5 has a sleek exterior, while the interior allows the user to customize the placement of the 3.5″ drive cage and the 2.5″ SSD cage. If offers everything necessary in a modern modular enthusiast grade case with support for the largest CPU air cooler, up to 280mm radiators and the largest GPU.