Cooler Master CM Storm QuickFire XT Mechanical Gaming Keyboard Review
By
Looking Closer at the Quickfire XT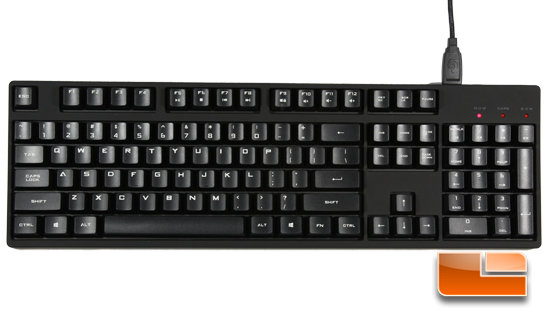 The QuickFire XT has a standard 104 key layout with dimensions of 17.3(L) x 5.2(W) x 1.1(H) inch / 440(L) x 122(W) x 29(H) mm and weighs 2.43 lbs. (1100 g.) The keyboard enclosure is made of plastic with a matte coating that feels like smooth rubber. The finish hides dust and fingerprints very well and gives a nice grip when picking up the keyboard.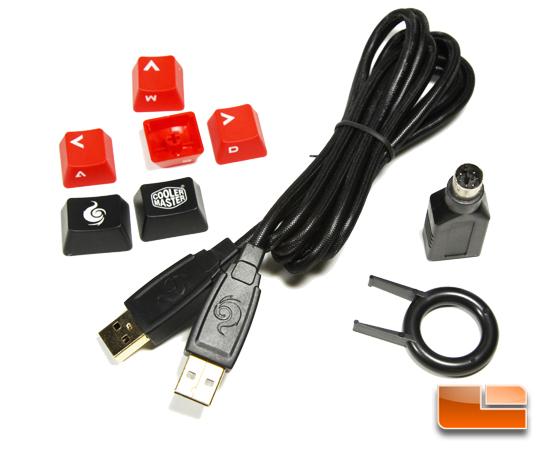 Were giving a closer look at the package contents which are four red arrow keycaps, alternate modifier keycaps, a keycap puller, a 1.8 m braided USB cable, and a USB to PS/2 adapter.
When the QuickFire XT is plugged in with USB, only six keys can be pressed at a time though thats more than adequate for most applications. The PS/2 adapter allows a seemingly unlimited number of keys to be pressed simultaneously. Either interface doesnt have key ghosting issues.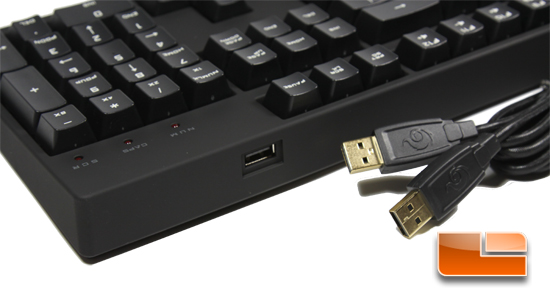 The 1.8 m (6 ft) braided USB cable is detachable allowing for easy transportation of the QuickFire XT. The cables thinness and flexibility makes it easy to cable-manage.
Indicators for Caps Lock, Num Lock, and Scroll Lock are illuminated by red LEDs.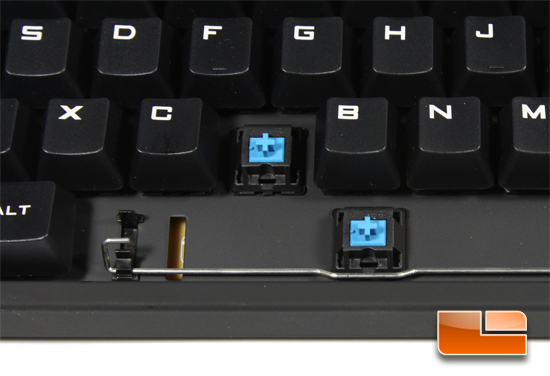 The QuickFire XT is a fully mechanical keyboard, available in four different Cherry MX switch types. We have the Blues which are fantastic for typing. The other three types available to QuickFire XT buyers are Red, Brown, and Green. This is huge to those who have a definite preference for a certain switch. Those unfamiliar with mechanical keyboard switches may want to take a look at Overclocks mechanical keyboard guide.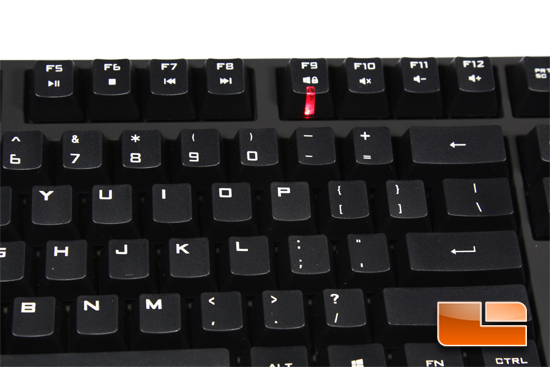 Some F-keys have alternate functions as multimedia keys when the FN modifier key is pressed. F9 + FN toggles game mode during which a red LED underneath F9 is illuminated and the Windows keys are disabled. This is valuable to gamers who make the mistake of interrupting their game by accidentally pressing the Windows key.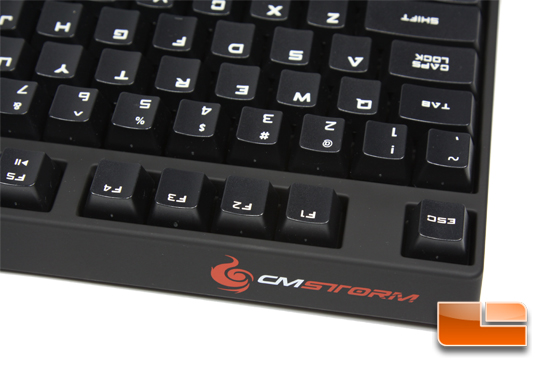 The QuickFire XT enclosure takes a minimalistic approach. The thin bezel and toned appearance is very presentable at a workplace. The branding on the QuickFire XT is largely out of sight on the edge facing away from the user.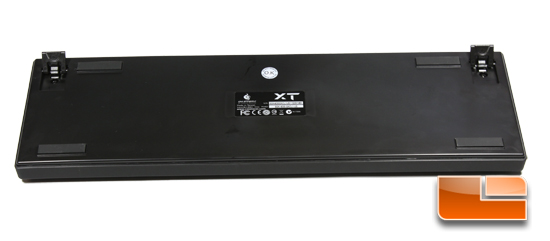 The underside of the QuickFire XT is standard. Four rubber grips provide substantial friction on surfaces and two risers can be flipped out to tilt the keyboard.