Cooler Master CM Storm QuickFire XT Mechanical Gaming Keyboard Review
By
Cooler Master CM Storm QuickFire XT Mechanical Gaming Keyboard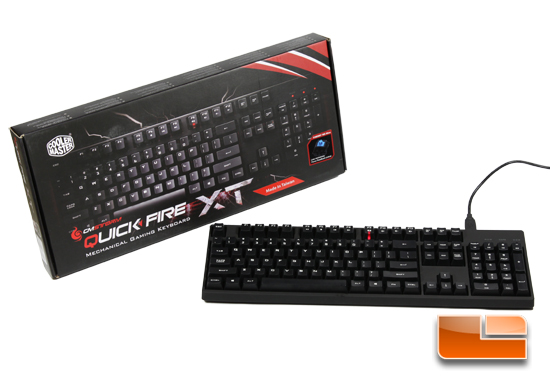 Cooler Master, a premier computer case and cooling manufacturer, has made quite a presence in the mechanical keyboard market. While long time keyboard enthusiasts bide their time looking for legacy IBM Model Ms and Filco keyboards, the CM Storm QuickFire keyboards have helped to bring new recruits to the mechanical keyboard camp. Like most other Cooler Master products, QuickFire keyboards have gained a reputation for their affordability, durability, and straightforwardness.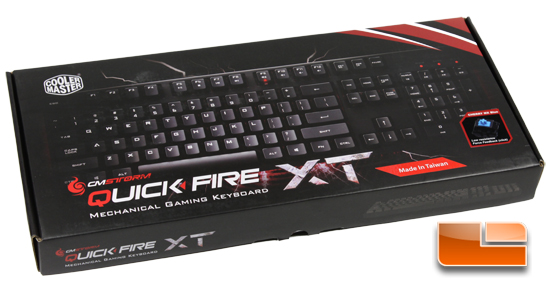 Compared to our other mechanical keyboard reviews, there wont be as much to talk about because the QuickFire XT isnt banking on premium features. Appreciably, this makes for a more reasonably priced mechanical keyboard. For a computer keyboard, the QuickFire XT is still quite expensive and appropriately, it was apparent upon unboxing that its not cheaply constructed.
There are four types of QuickFire XT keyboards each featuring a different Cherry switch. As summarized by Cooler Master:
CHERRY MX Blue: Low resistance; force feedback (click)
CHERRY MX Red: Very low resistance; linear feedback
CHERRY MX Brown: Medium resistance; force feedback (bump)
CHERRY MX Green: Strong resistance; force feedback (click)
The QuickFire XT with Blue switches can be found for $89.99 shipped on Amazon and is the model we have for review. Otherwise, the choice if switches is a matter of personal preference.
Aside from the selection of Cherry switches, all QuickFire XT models carry the same features including multimedia keys, Windows key disable, and detachable braided cable.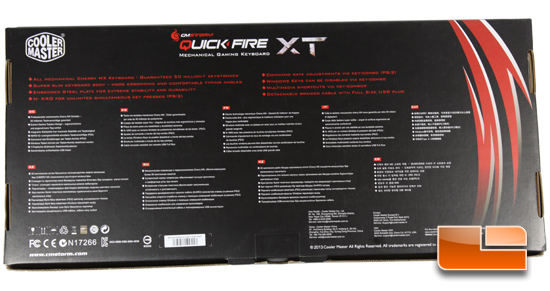 CM Storm QuickFire XT Features and Technical Specifications:
All mechanical Cherry MX Keyboard – Guaranteed 50 million+ keystrokes
Super slim keyboard body more ergonomic and comfortable typing angles
Embedded Steel plate for extreme stability and durability
N- KRO for unlimited simultaneous key presses (PS/2)
Command rate adjustments via key-combo (PS/2)
Windows Keys can be disabled via key-combo
Multimedia shortcuts via key-combos
Detachable braided cable with Full Size USB plug
Dimensions: 440(L)x132(W)x29(H) mm / 17.3(L)x5.2×1.1(H) inch
Weight: 1100 g / 2.43 lbs
Warranty: 2 Years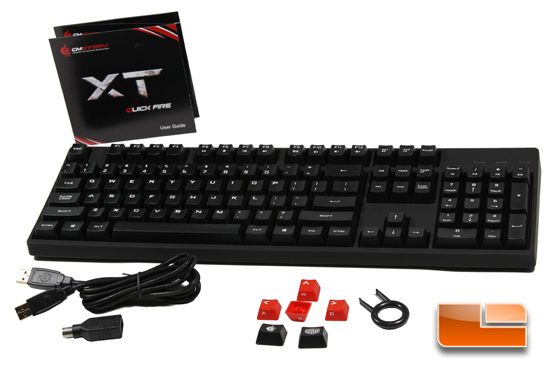 Inside the box, the QuickFire XT keyboard package includes a user guide, four red arrow keycaps, alternate modifier keycaps, a keycap puller, a braided USB cable, and a USB to PS/2 adapter. Now, lets take a look at the keyboard!