Chaintech Apogee A-FX71
By
Overclocking:
We have heard and seen that the newer 5600 Ultra cores have been putting out good figures, so we were looking forward to good overclocking results from the core and the Chaintech cooling solution. We added the Coolbits crack to the registry and began overclocking our video card.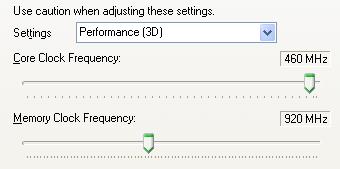 The next thing I do when I overclock a video card is find the max of the core. With the core at 460MHz and the memory at 920MHz we were able to achieve a stable overclock! This was a 60Mhz increase on the core and a 120MHz increase on the memory. As we noted before, the Hynix memory was rated to 900MHz, so we were able to pull off a 20MHz overclock beyond their rated tolerance with 100% stability in our test system! This provided a nice performance boost for the video performance.
Conclusion:
Since nVidia has updated the 5600 Ultra core the card is able to perform on the same level at the ATI Radeon 9600 Pro series. This is great news as you are able to get great gaming performance with a middle level price tag. The bundle that Chaintech provided is above and beyond what is needed, so it adds to the reason to buy their card over another brands that have a lacking bundle. Also the additional features like the blue LED lighting really do look sharp in cases with a window.
We are happy with the overall image quality and gaming performance the Chaintech A-FX71 delivers and find it hard not to recommend to the "DIY" consumer that is considering building a solid system on a decent budget. Die hard nVidia fans will be happy to know they can upgrade their older Geforce2/3/4 series cards and jump on the "eye-candy" band wagon as AA and AF performance on the 5600 Ultra passes up that of the "old" nVidia Geforce 4 series. As always there is no question that die-hard gamers should go with the more powerful and expensive ATI 9800 PRO or nVidia FX 5900 Ultra to keep pace with other top gamers!
When comparing this card to other 5600 Ultra's that we have seen it can be noted that the Chaintech A-FX71 offers good performance and a bundle that is hard to not to like! Therefore it would be hard for us not to give the Chaintech A-FX71 our editor's choice award.