Chaintech Apogee A-FX71
By
Features:
The Chaintech A-FX71 has a very unusual cover on it, so you can hardly see the actual cooling solution on it. Once the cover is removed you can see that the cooling solution is along the lines of the more common heat sink and fan styles that are available on many "performance" video cards. The memory is also covered with passive cooling fins on the front and a solid non-finned plate on the back. Since the Chaintech A-FX71 uses the newer nVidia .13u core and not the .15u core we have seen better performance as well as much improved temperatures. This means less noise and less power consumption! Something almost every computer user should want!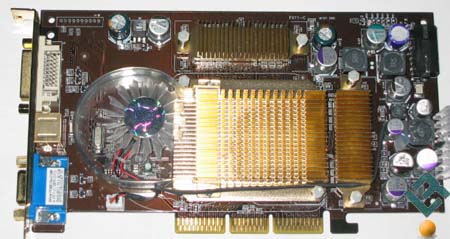 The Chaintech A-FX71 uses 128mb of Hynix BGA modules on this card that is rated at 900MHz. We found this out by looking up the model number off of Hynix's website. The photo below shows the model number as HY5DU283222 AF-25 which runs at 2.5v. Chaintech has the memory clocked at 800MHz from the factory, so in terms of overclocking our results should not be too limited by the memory!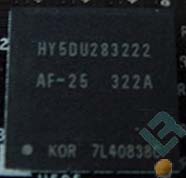 The heat sink is nicely designed and tightly secured to the card. The good cooling design should allow for some decent overclocking, but due to the design of the "Gas Turbine" heat sink, you will lose the PCI slot directly below the AGP slot due to the thickness of the cooling solution.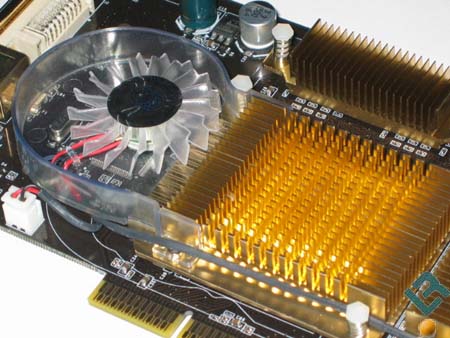 As one can see in the image below, the Chaintech A-FX71 requires a 4-pin molex power connection for added stability. This is something fairly common on the newer and more power hungry video cards. Chaintech has also included two blue LED's to spice up the A-FX71 5600 Ultra a little bit. More and more we are seeing a move to more "pre-modded" products and the Chaintech A-FX71 is a good example of this trend in progress.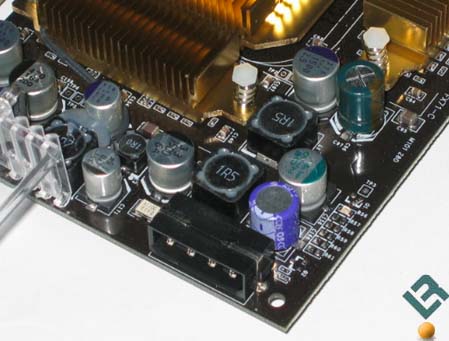 Card Specifications:
0.13u process technology
128-bit memory interface
256-bit graphics architecture
88 Million vertices/ sec
1.4 Billion texels/ sec fill rate
12.8 GB/sec memory bandwidth
CineFX Shading Architecture
400 MHz engine clock
800 MHz memory clock
400 MHz internal RAMDAC
128-bit studio-precision color
High-performance, high-precision 3D and 2D Intellisample Technology
Advanced Display Pipeline with full nView Capabilities
Digital Vibrance Control (DVC) 3.0
NVIDIA nView multi-display technology
Support for dual-link DVI
Unified Driver Architecture (UDA)
Integrated NTSC/PAL TV encoder support resolutions up to 1024×768
DVD and HDTV-ready MPEG-2 decoding up to 1920x1080i resolutions
Now let's move on to see how this card performs!