BitFenix Shinobi Window Case Review
By
BitFenix Shinobi Window MidTower
I have built a lot of custom PCs in the last 15 years for myself, my friends and family, and even large corporations. Regardless of whom I am building a new PC for I always start the same way, with the PC Case. The case sets the mood of the build and forces some key decisions in that process. Is it going to be a gaming rig or something for my father in law to surf the web? Will I be over clocking and possibly water cooling meaning I need a lot of space and extreme air flow? Can it handled long video cards and a bunch of hard drives or am I going to be banging my knuckles to get that last SATA connector placed? Finally, the big question, what is my budget. I want to be able to build my next rig with a nice balance of features and cost. To address these and other questions today we are taking a look at a new case, the Shinobi Window from BitFenix.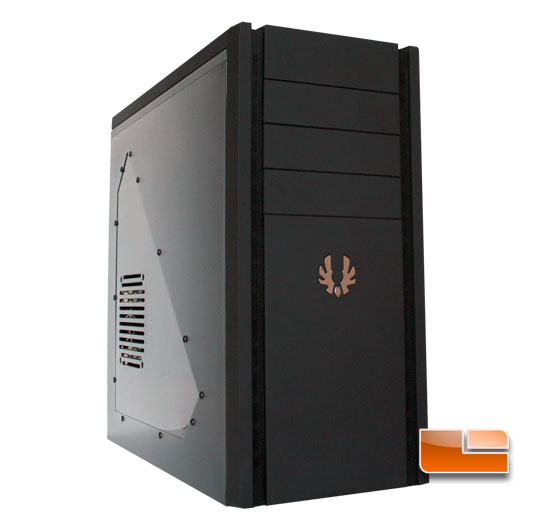 The Shinobi is the third release from BitFenix and the first of their budget line since the company was launched in April of 2010. This case rounds out the line up with the top of the line full tower Colossus Black and their mid priced mid tower offering Survivor. For those of you who have not heard of BitFenix they are a venture formed by a significant proportion of the team which launched the Cooler Master Storm series, such as the HAF , as well as former A-bit employees. Simply put, they know cases , especially gaming cases which is evident in across their entire line up with a lot of attention to detail on the little things that make your build go that much smoother.
The Shinobi is offered in two flavors, the basic model that has no window simply called the Shinobi at a MSRP of $59.00 and the version we have today, the Shinobi Window with an MSRP of $69.00. Since this is a new case and in limited supply I was not surprised to find it online as high as $85.00 but dont worry you can order it direct from BitFenix or several other sources for $69.00. I am sure as time goes on and the e-tailers get stock we will see prices stabilize.


I am sure you are wondering if it is worth another $10.00 to add a bit of bling by purchasing the BitFenix Shinobi Window instead of the plain BitFenix Shinobi, but you actually get some really nice must have features besides the bling. First there is the vent right above where the extra hot GPUs will be with mounting holes for a 120mm fan if you chose to add one. Further, the Shinobi Window version is tool-free which makes the initial build that much easier with future upgrades a no brainer. If you are like me and change components frequently you know how much nicer a tool-free design can be when you just want to add another 3TB of hard drive.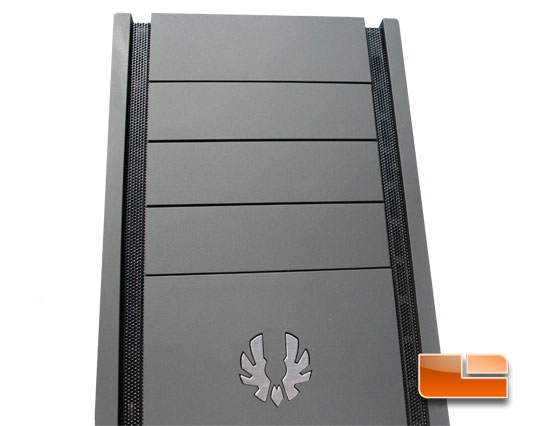 Being a case for gamers on a budget I had expected it to be short on features but BitFenix actually loaded up this case with a lot of the currently most popular features.
BitFenix Shinobi Window Mid Tower Case Features:
Materials: Steel (SECC), Plastic (Top and Front)
Color (Int/Ext): Black/Black
Dimensions (WxHxD): 205 x 460 x 490 mm (ATX Mid Tower)
Motherboard Sizes: Mini-ITX, mATX, ATX
5.25″ Drive Bays: x 3
3.5″ Drive Bays: x 8 (1 x external, using 5.25″ adapter)
2.5″ Drive Bays: x 1 (using 5.25 adapter)
Cooling Front: 2 x 120mm (1 x 120mm included)
Cooling Rear: 1 x 120mm (included) or 1 x 92mm (optional)
Cooling Side Panel: 1 x 120mm (optional)
Cooling Top :2 x 140mm or 2 x 120mm (optional)
Cooling Bottom: 1 x 120mm (optional)
PCI Slots: x 7
I/O: 4 x top mounted USB2.0 and Audio
Power Supply: PS2 ATX (bottom, multi direction)
Side Panel: Tinted window with 1x 120mm (optional)
Extras: Tool-free drive locking mechanisms