BitFenix Ronin Mid-Tower Case Review
By
BitFenix Ronin Mid-Tower Case
BitFenix is a fairly new name to the enthusiast case market, however their cases have been getting a lot of attention as providing great cases for budget builders. Their main focus is on building high quality enthusiast grade cases, offering a multitude of features while keeping the price down. The case that we are looking at today from BitFenix is called Ronin. Ronin features a dark, stealthy design with wide hardware compatibility to suit your ever changing gaming rig. Micro-mesh strips provide additional ventilation, while the large window side panel with innovative Stealth Cover allows you to show off your hardware you want or hide away the parts you dont.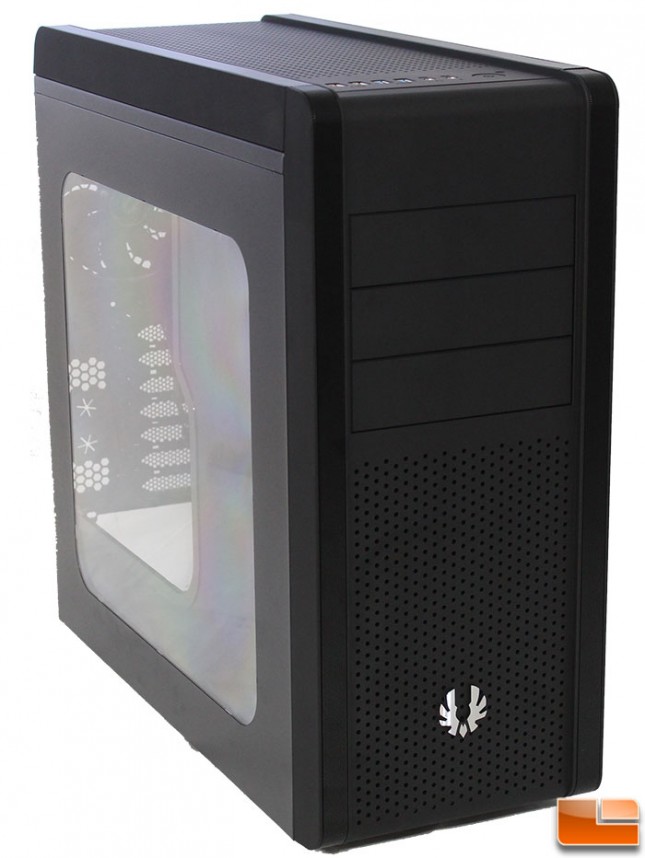 The BitFenix Ronin is a mid-tower case, measuring 205 x 483 x 505mm (WxHxD). For those looking for alternative color options, the Ronin is only available in black. Externally, it has many common features with three 5.25″ drive bays, a large side panel window, and a front I/O cluster that includes both USB 2.0 and SuperSpeed USB 3.0. Internally, it features six 3.5″ drive trays, room for a standard ATX motherboard, support for extra long video cards and other enthusiast grade features. Like most cases, the Ronin comes with a 1 year warranty.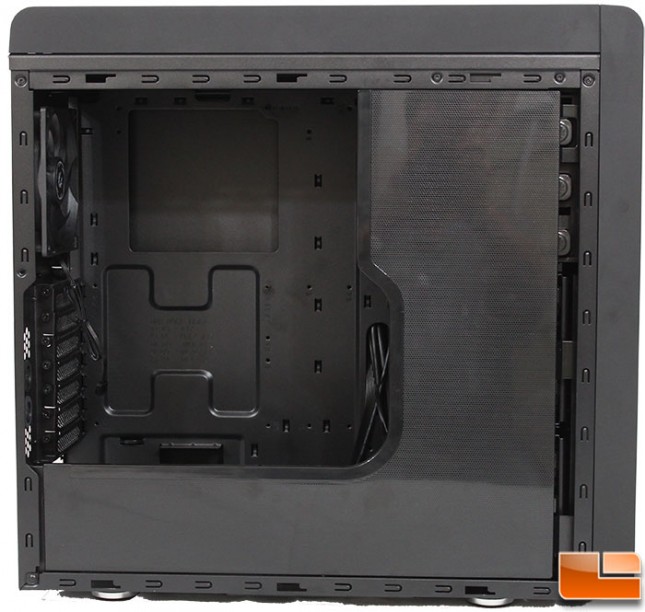 The BitFenix Ronin is sold under part number BFC-RON-300-KKWSK-RP and can be found at Newegg for $99.99 plus $9.59 shipping. For right around $100 online, the Ronin has some advanced features going for it; one feature is the Stealth Cover. It covers up the drive bays and the power supply area, so all that can be seen through the side panel window is the motherboard. Not only does this allow the motherboard and video card to be seen through the window, but it also provides a layer of depth to the view. I can see this being an easy mod to give the case a little personality.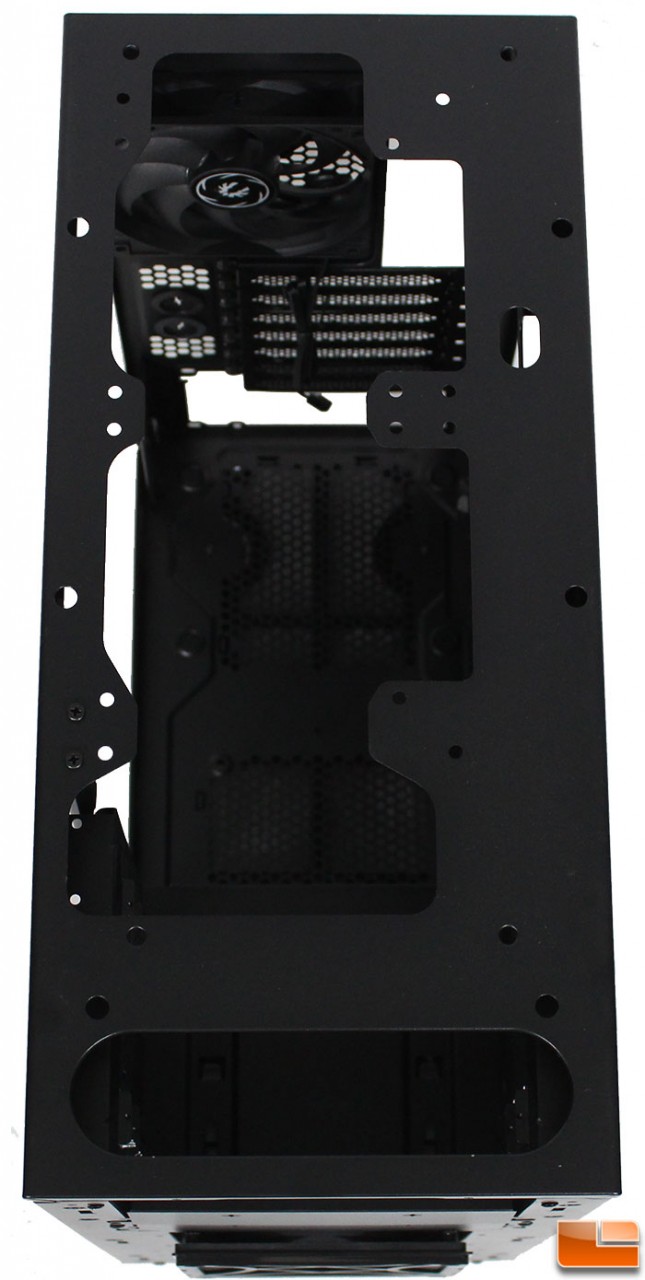 BitFenix takes cooling options into consideration on the Ronin. With room for 6 fans, 2x front, 2x top, 1x back, 1xbottom, air cooling options should be more than sufficient; keep in mind that BitFenix only provides two 120mm Spectre fans with the Ronin. For CPU air cooling, maximum CPU cooler height is 167mm, enough space for even the Prolimatech Megahalems. However, if liquid cooling is your cooling method of choice, BitFenix has that covered as well. Under the top bezel, there is room for a 240mm liquid cooling radiator. Another liquid cooling option is an external solution, with two ports in the back for the tubes.
BitFenix Ronin Features:
Sleek Modern Design

Subtle curves, contrasting textures and clean lines – Ronin brings forth all the hallmarks of the BitFenix design philosophy. Swappable micro mesh strips serve as additional ventilation while offering a perfect complement to signature BitFenix SofTouch Surface Treatment for unmatched styling.

Window Side Panel with Innovative Stealth Cover

One must see clearly for an effective attack, which is why Ronin comes with a massive window side panel and our specially designed stealth cover. This combination allows you to show off the hardware you want while keeping unsightly hardware out of view all while providing a unique multi-layered look.

Water Cooling Ready

Revenge is best served cold. Ronin provides spots for up to five system fans, as well as enough space on top for radiators up to 240mm in length to ensure your system stays frosty when the action heats up.
BitFenix Ronin Specifications
Materials
SofTouch, Plastic, Steel
Colors (Int/Ext)
Black/Black
Dimensions (WxHxD)
205 x 483 x 505mm
Motherboard Sizes
ATX, mATX, mini-ITX
5.25 Drive Bays
x 3
3.5 Drive Bays
x 6 (3 + 3)
2.5 Drive Bays
x 6 (using 3.5″ trays)
Cooling Front
120mm x 2 (1 included)
Cooling Rear
120mm x 1 (included)
Cooling Top
120mm x 2 (optional) or 140mm x 2 (optional)
Cooling Bottom
120mm x 1 (optional)
PCI Slots
x 7
I/O
2 x USB 3.0, 2 x USB 2.0, HD Audio
Power Supply
PS2 ATX (bottom, multi direction)
Extras

Stealth Cover, SofTouch surface treatment,
filtered intakes, tool-free drive locking

Model Number
BFC-RON-300-KKWSK-RP
Note
LED lighting not included. Sold separately
Now that we know a little about the BitFenix Ronin, let's take a closer look.