AZIO Armato Backlit Mechanical Gaming Keyboard Review
By
AZIO Armato Backlit Mechanical Gaming Keyboard – How Does It Stack Up?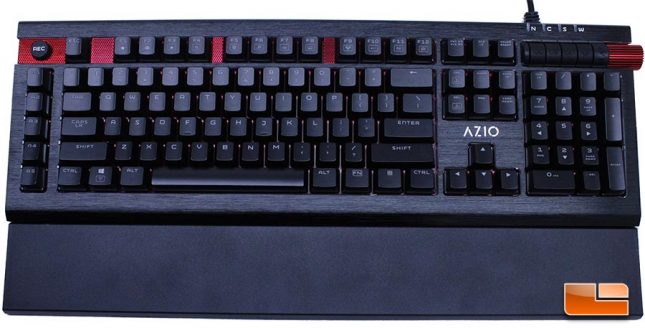 The Armato Backlight Mechanical Gaming Keyboard, with its very clean design and solid build quality, is certainly a quality keyboard that will be welcome on many desks. The implementation of Cherry MX Brown switches has been done well, with the Armato offering minimal flex and a refreshing, tactile typing experience. The backlighting has been done well, though we found it to be slightly uneven on larger keys like Enter and Shift, with the light not extending across the full text of the key. The aluminum volume knob had consistent clicks and smooth motion across the entire volume range and complemented the solid build quality of the Armato. The media controls have also been implemented properly, with the buttons providing crisp, tactile feedback. The font on the keycaps stands out and is very gamer-centric, but they do fit the unit well and also make it easy to identify the different toggle keys for LED lighting and NKRO. Macro support is really awesome and Azio has done a great job of making recording macros on the Armato simple. The thirty character limit for macros should allow for plenty of customization, though not being able to integrate mouse clicks into macro recording is a let down.
Azio missed the mark on a couple of areas with the Armato, but there is nothing that stands out as things that would be deal breakers for most users. The thick USB cable that comes out from the frame could have been removable and had the location moved center-frame to give the Armato a more stealthy look, in addition to being more easily manageable. The cable is certainly high quality, but it's thick and obtrusive, which may be a turn off to many users. In my case, the cable came out and hit my monitor base and couldn't be oriented to slide under the base, so it didn't sit as far back on my desk as I'd prefer. Recent keyboards like the MasterKeys Pro L from CoolerMaster, with removable USB cables, have left me spoiled and resentful of thick keyboard cables. There is also no USB pass-through on the Armato, which isn't a major deal-breaker, but at the $129 price point of the Armato, it isn't unreasonable to expect to see this feature. The Cherry stabilizers used for the spacebar and shift keys allowed for a little bit of play, though this is totally fine and only something typing extremists would likely even notice. I'm not going to mention the lack of RGB as a downfall, because this keyboard is designed to be a crimson beast and it does that very well.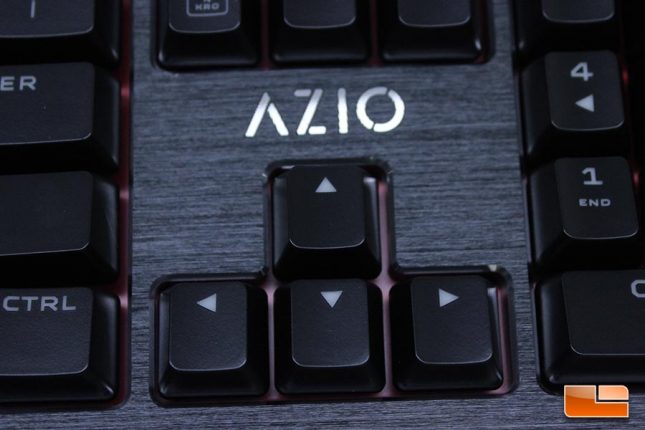 Azio took care to design a keyboard that hits all of the right marks for PC gamers with the Armato and overall, it's as good as any other keyboard that I've typed on in recent memory. The main thing working against the Azio Armato is that the current price point of $129.99 shipped isn't what I would consider a terrific value. Don't get me wrong, the Armato is an excellent keyboard that is well-built and attractive, but customers can find Cherry MX-based gaming keyboards with similar features available for $40 or $50 less. Right now, the Corsair Strafe can be had for between $78.99 and $89.99 on Amazon, depending on switch type you go with. The beloved Logitech G710+, which has been around for years and is highly regarded, is also available for just $76.99 shipped on Amazon. While neither the Logitech or Corsair match up with the Armato in terms of overall build quality or aesthetic, they both are right there when it comes to functionality. The Armato, however, offers a very clean look and a solid overall feature set that makes it stand out as a solid choice, even when compared to the Logitech and Corsair units. Once the cost of the Armato tapers down from the initial $129 price point, we have no doubt it will move like hotcakes. The current price may prohibit it from flying off of the shelves due to heavy competition, but the Azio Armato is a great mechanical gaming keyboard battling in an extremely crowded segment.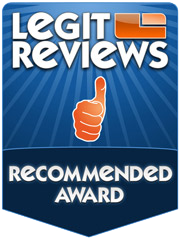 Legit Bottom Line: While the price is a bit prohibitive in the competitive market that is mechanical keyboards, the AZIO Armato Backlit Mechanical Gaming Keyboard earns our recommendation for being a great looking, solidly built, well thought-out keyboard designed for PC gamers.