AZIO Armato Backlit Mechanical Gaming Keyboard Review
By
AZIO Armato Backlit Mechanical Gaming Keyboard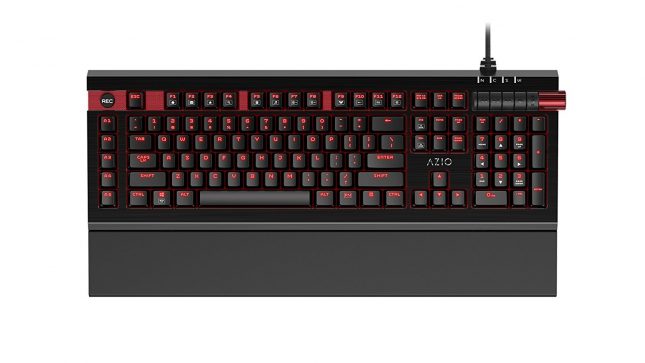 Designed in City of Industry, California, Azio products are known for their unique, visually appealing designs that don't trend towards normality. Their MK Retro keyboard is a great example of this, as it is a mechanical keyboard with a decidedly retro typewriter-esque design. Azio has recently begun making a push towards the PC gaming market with several product releases in the mechanical keyboard and mouse market. Currently, Azio develops products under their Lifestyle and Gaming labels, which will help users differentiate and find products suiting them. The Azio Lifestyle label includes Mac compatible keyboards and products aimed at traditional PC users, while the scope of their Gaming lineup is self-explanatory.
The mechanical keyboard market for PC gamers is so competitive that getting a foothold can be hard for a new brand. With Corsair, Razer and Logitech being long cemented as top brands, how can a brand like AZIO come in and make waves? With the Armato, the key is in the overall design and value that they can bring to the table. This is a very attractive keyboard that offers a very clean aesthetic in the traditional red and black gaming motif that some have grown to hate, but that most are still completely fine with. Does the Armato fall into the right price category and offer the right mix of build quality and features to make it a player in the ultra-competitive PC gaming mechanical keyboard market? Let's check it out.
Azio Armato Gaming Keyboard Specifications:
INTERFACE: USB
SWITCH TYPE: Cherry MX Brown
BACKLIGHT: Crimson Red
N-KEY ROLLOVER: Full NKRO
CABLE: 6 ft. Braided
OS SUPPORT: Windows XP, VISTA, 7, 8, 10
DIMENSIONS: Keyboard / 6.519.0×1.2 in Palm Rest / 2.819.0×0.5 in
WEIGHT: 3.0 lbs / 1361 g
BOX CONTENTS: Armato Keyboard / Palm Rest / Key Puller /
Thank You Card / User Guide
WARRANTY: 2 Year Limited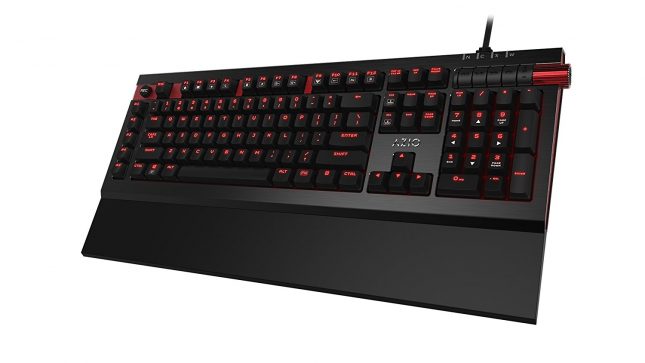 The Azio Armato Backlit Mechanical Gaming Keyboard retails for $129.00 at Amazon. With features like an aluminum faceplate along with Cherry MX Brown switches, macro support and a magnetic wrist rest, Azio is targeting a high- end market with the Armato. Of note, while only Windows OS support is listed, there isn't any software needed for the Armato and I was able to verify that it will work within Ubuntu Linux. The Armato also worked just fine as an input device on my Nvidia Shield Android TV. A 2 Year Limited warranty is decent and on-par with the competition in this arena, though longer warranty coverage is always welcome. Two years is an acceptable warranty period for a manufacturer to stand behind a keyboard that can be subject to full-on abuse like an upset teenager pounding relentlessly on the keys, or a liter of Mountain Dew coming crashing down upon it.
The Azio Armato is not available with anything other than Cherry MX Brown switches, which happen to be my personal preference. In an insanely competitive market, it is important to cater to as many users as possible. AZIO is a company that has been making a lot of headway in the PC gaming market, so we're sure they can easily address this issue and make the Armato Backlit Gaming in Cherry MX Blue and MX Red varieties. In fact, with the Armato having crimson red backlighting, I am a bit surprised it isn't available with a Cherry MX Red switch, already.
Macro capability and Full NKRO are here, with the NKRO functionality being able to be toggled from Six-Key to Full via function keys. AZIO has implemented a very simple way to record up to five macros on the Armato and the macro keys are placed in such a way that they are easy to reach. Since there are only five macro keys, their presence doesn't add much to the overall footprint of the Armato. It is very easy to record a macro, with the process involving pressing the record button, followed by the specific macro key you wish to assign and then, the macro. Software gives much greater control over macro functionality, but the Azio Armato and it's ability to record macros on the fly, without any software necessary, might be more desirable to certain users. During testing, I discovered that macro recording is limited to 30 characters.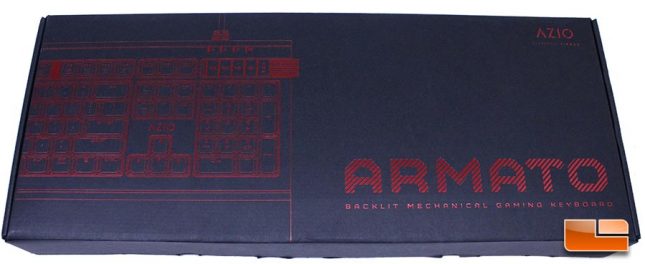 The Azio Armato came packaged in a black box with an outline of the keyboard in red on the front, along with the "Armato Mechanical Gaming Keyboard" text in a cutout-style font. The box is sturdy and will hold up well to shipping and being on store shelves.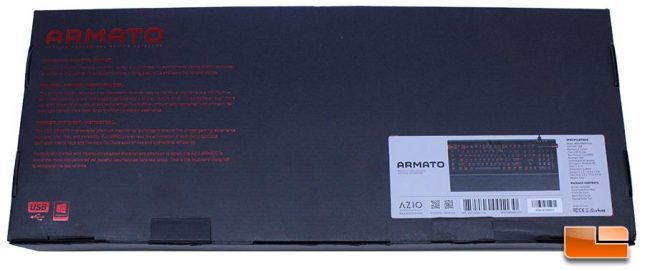 The back of the box features some text hyping up the elegant design and crimson red backlighting of the Armato. On the bottom right corner there is a sticker that outlines some of the features of the Armato, such as the switch type and backlighting, in addition to the package contents.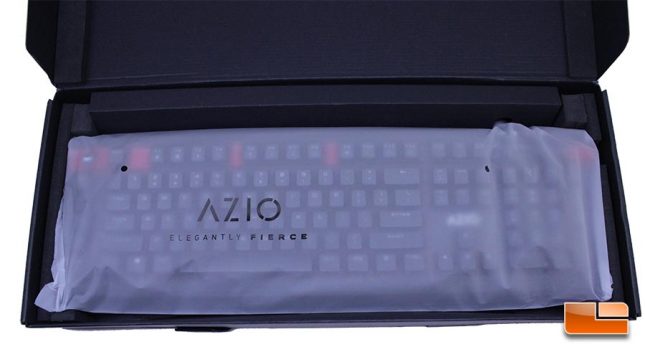 When opening the box for the Armato, we find the keyboard wrapped in a nice plastic wrap that has a smooth feel to it. This wrap does an excellent job of protecting the Armato from scratches during shipping.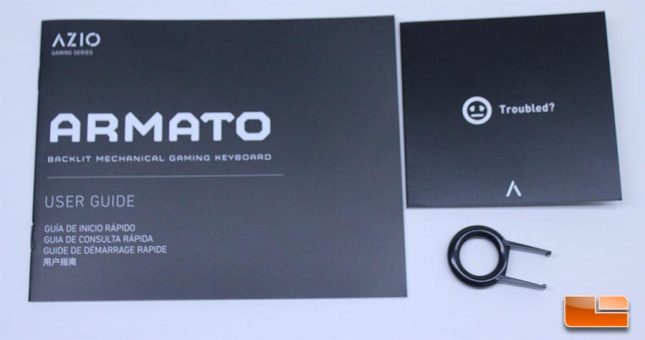 The Armato comes packaged with a Thank You card and a user guide, which clearly explains the various functions of the keyboard, such as how to record a macro and activate the various lighting settings. Azio also includes a key puller with the Armato, which is a welcome addition. The ability to change key caps with a wide assortment of aftermarket caps is one benefit that Cherry MX-based mechanical keyboards enjoy. Should you not like the font of the caps included with your keyboard, or should the caps begin to shine over time, as is common, you can easily replace them with a new set. One of my favorite retailers for aftermarket keycaps in various colors, styles and plastic types, is MechanicalKeyboards.com.

To top off the accessory package, Azio includes a wrist rest made a soft plastic material. This wrist wrest attaches to the base of the Armato via magnets and adds value to the overall package.

On the bottom side of the wrist rest is the Azio slogan "Elegantly Fierce" along with two thick rubber feet that provide substantial support for the wrist rest. Typing with and without a wrist wrest can be a night and day difference and we think a proper wrist wrest is a necessary investment if you are spending considerable time using a PC.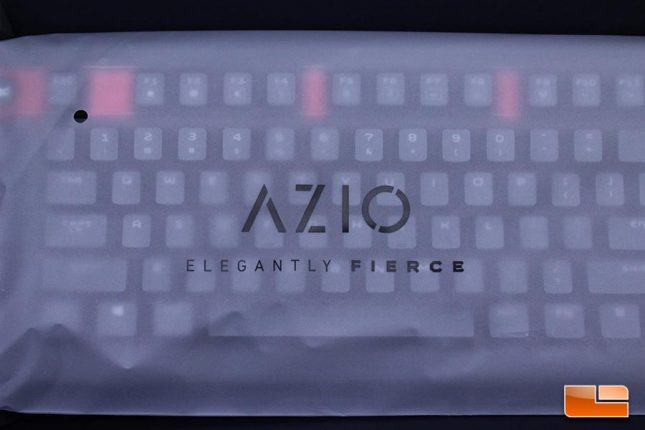 Overall, the Azio Armato package is very respectable and the inclusion of a key puller is a nice extra. The documentation is solid and the unit beyond backed by a two year warranty period brings peace of mind. While we weren't blown away by the product presentation here, it was solid, nonetheless.