Avantalk BTSP-200 Bluetooth Stereo Speakerphone
By
Setting Up the BTSP-200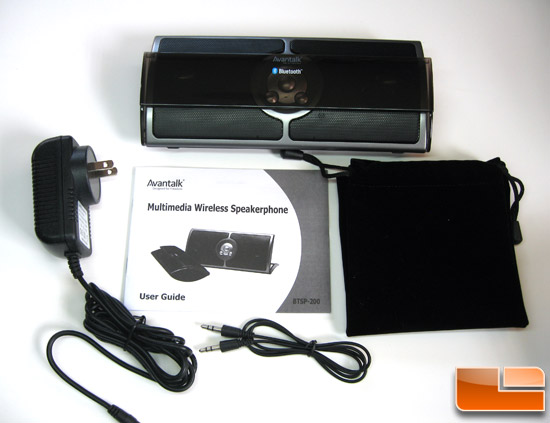 In the box, Avantalk includes an AC Power adapter, Carrying Case, 3.5mm Audio cable and the Users Manual to get you going. Of course, you really dont need much more than that. What is interesting though is that you will need 4 AA batteries for the unit. When we look at other speakerphones at this price point (like the Logitech Pure-Fi Mobile Wireless), we see that they include a rechargeable battery which makes the units much less expensive over the long run. The exclusion of a rechargeable battery disappointed and made us do a little more work.
The picture below shows just how compact the Avantalk BTSP-200 is compared to the 4-driver Logitech Pure-Fi. We think the engineers at Avantalk designed the BTSP-200 with some sort of baffling system similar to higher end speaker system or loudspeaker manufacturers like B&W or Bose do. This allows a small device like the BTSP-200 to have significantly more low-end response for a warmer sound. You can just barely make out these canals built into the Avantalk body when you examine the picture of the back of the unit.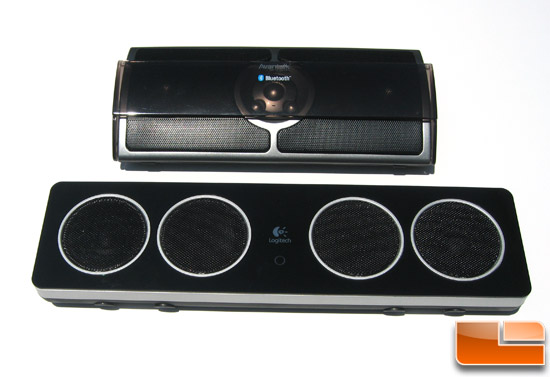 The BTSP-200 is a nice and compact unit that will not take up that much room in your briefcase or luggage. All the controls you need are found on the front face including: Play/Pause, Volume Up/Down, Track Forward/Back, and a multi-function button for power and pairing. There is also a multi-colored LED that gives the user an instance display of the current status. Avantalk included a case that is made of a fairly thick material that reminds me of faux velvet. The case is a must to protect the device from nicks and scratches. The stand that the BTSP-200 comes with doubles as another protective measure, as it folds in front of the control panel when the unit is not being used. When you want, you can unfold the stand to set the speaker system for the optimal listening angle.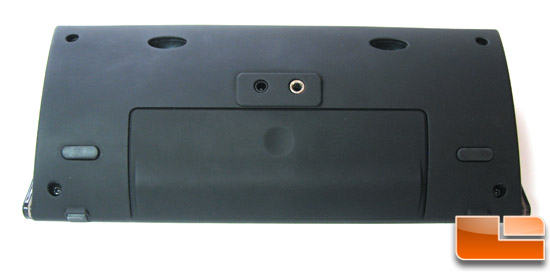 Since Avantalk equipped the BTSP-200 with A2DP and AVRCP Bluetooth profiles, you are able to control your music device straight from the body of the BTSP-200. For this reason, we really paid attention to the control layout and found it to be logical and comfortable. Each of the buttons is smooth, has a pretty good tactile feel, and gives you a click when you press them. With that said, we had some initial concerns as to how the BTSP-200 would sound, since the unit isnt that big and we were concerned that we would get a small or metallic sound.