AT&T Unite Pro 4G LTE Mobile Hotspot Review
By
Final Thoughts & Conclusion
The Unite Pro is a nifty little gadget that is made by Netgear. Its meant to be the device that gets you and 14 others (so 15 people in total) on the internet when you need. The best part about this device is that it is meant to hook up to AT&Ts LTE network, which we know is pretty darn fast. The color touch screen on the Unite Pro is a nice touch and is very responsive to your touches, though it doesnt exactly have the best viewing angles. Quite frankly, I rarely found myself looking at the screen on the side versus head on, so the viewing angle wasnt an issue for me. The GUI that is on the device isnt the most colorful that you have seen, but it certainly functions well. When I hooked up to the web interface I noticed that I had even more options presented before me, several of them being for even better administration of the device. The Android app certainly needs help in the design department, but it did function well.
The added feature of BatteryBoost is pretty nice and a great way to keep your smartphone going just a little bit longer, if needed. It was a bit slow on the charging, but I cant totally complain because it does what it is supposed to.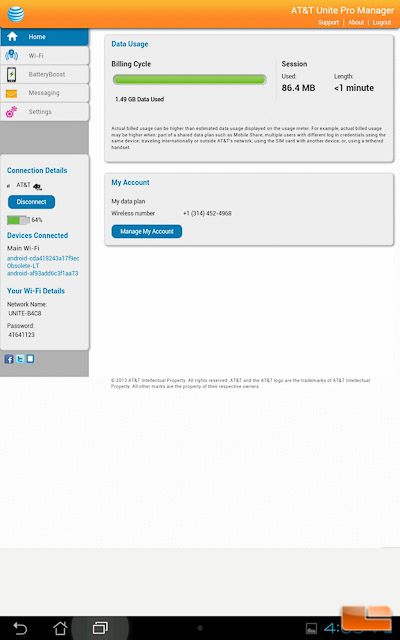 When it comes to purchasing AT&Ts Unite Pro, you can expect to pay $49.99 with a 2-year contract or up to $249.99 if you don't want to lock yourself in for two years or simply want to replace an aging hotspot that you already own. There is only data plan offered by AT&T when it comes to mobile hotspots and that is a 5GB plan that will run you $50 per month plus $10 more for each 1GB of over usage. This might be a touch expensive for some, but most interested in a product like this will be able to justify it for the work that they are able to get done with it. With this device having the ability to hook up to 15 users, I can see that 5GB allotment being used up quickly if a family uses this device.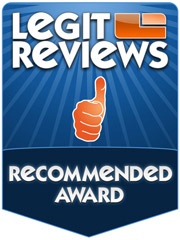 Legit Bottom Line: AT&Ts Unite Pro is a nifty 4G LTE hotspot that will get you connected to the world for hours on end and will also serve as a little boost for your smart phone when needed.