AT&T Unite Pro 4G LTE Mobile Hotspot Review
By
AT&T Unite Pro 4G LTE Hotspot
Mobile hotspots are nothing new to the market, but manufacturers like coming up with new ways to make them more user friendly, modernized in both appearance and functionality, and have a greater battery life. AT&T recently released the Unite Pro 4G LTE hotspot, manufactured by Netgear, which packs a 2.4 inch QVGA 64k color capacitive touch screen, a giant 4020mAh battery, LTE Advanced support, and even dual-band WiFi. One really great thing about this hotspot is the fact that you can have up to 15 users connected to it at once, so there is virtually no worrying about who can use it at any given time. That makes this hotspot a great solution for everything from a road trip with your friends or family to a business conference with many of your peers.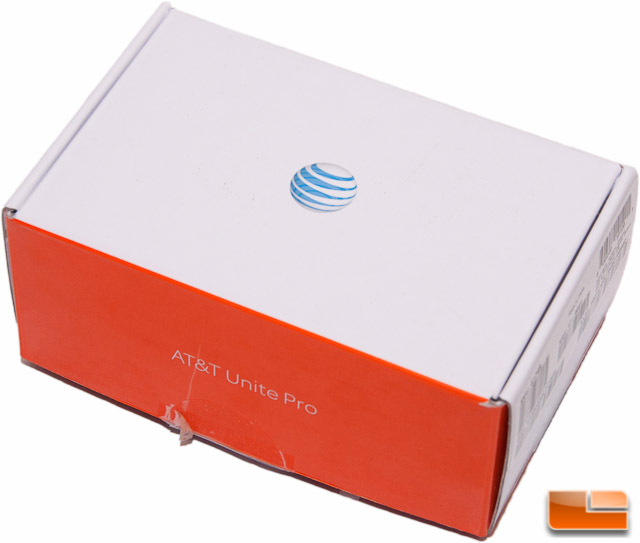 AT&T sent us this review unit before the the International Consumer Electronics Show (CES) 2014 in Las Vegas. We know that finding an internet connection is difficult, so this came in handy when we were in a pinch. Should you want one of these for your own personal use, you can pick it up for $49.99 on a 2-year contract or $249.99 without a contract.
The color of the Unite Pro is strictly matte black with a silver trim. The black color is a rubberized finish, making it a bit slip resistant and smudge free. It isnt perfectly slip resistant, as I can set it on the smooth cover on my laptop (lid slightly open about 10 degrees) and it will slowly creep down depending where I place it, but it holds much better than any glossy finish would.
On the face of the Unite Pro is where youll find the 2.4 inch screen, a home and back button, and an LED that indicates whether or not the unit is functioning properly. You also cant help but notice the nice round corners and the curves on the side. I really like these and handling the device feels nice.
At the top edge is where the power button is located. It sits nearly flush with the side, making it difficult enough to not mistakenly press and plenty large enough that you can actually press it with your finger.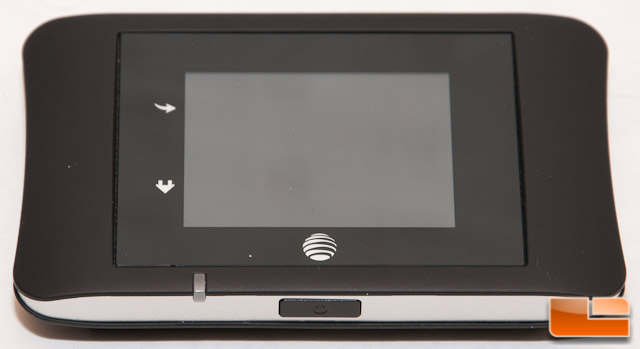 On the bottom edge is where the MicroUSB port is located. Here you can either charge the Unite Pro itself or use the included Micro USB to USB cable to charge your smartphone from the Unite Pro. Included with the Unite Pro is a wall charger with a detachable MicroUSB cable, making charging your Android or Windows smartphone simple; iPhone users will obviously have to provide their own cable.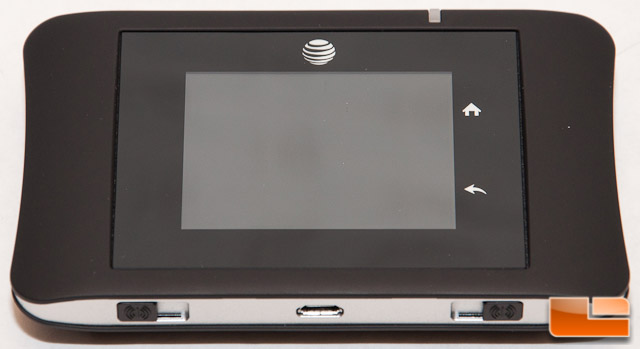 There is nothing else to it. Its very simple but still aesthetically pleasing and functional.
Flipping to the very bottom of the Unite Pro is where youll see Netgear stamped into the cover.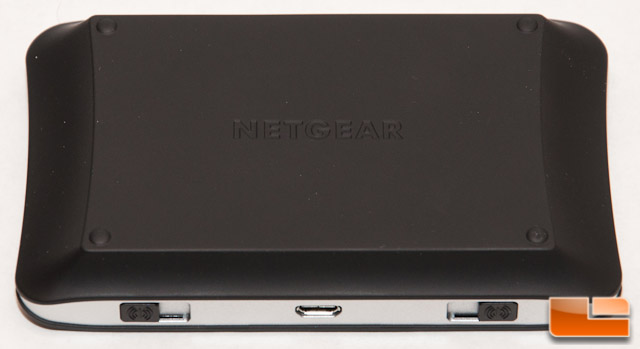 Pop this cover off and you expose the nice and big 4020mAh battery.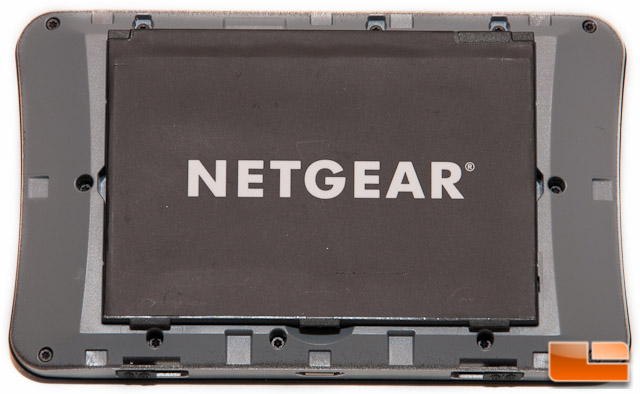 So what does that massive 4020mAh battery get you? Well, for starters, you can get up to 16 hours of use or 16 days of standby time, which is incredible. Do you find your smartphone a little low on juice? The Unite Pro can also charge your device with what they call BatteryBoost. The big battery does make the device a little on the heavier side, with the device weighing 5.8 ounces (165 grams), but it is by no means going to weigh you down. It isnt overly bulky either, measuring in at 112 x 68 x 19mm (LxWxH). Putting my Galaxy S3 next to it, the Unite Pro comes to be roughly twice as thick.
The battery that the Unite Pro uses is branded Netgear, model W-6, with a part number of 5200080. This battery is 3.7v and has a capacity of 4020mAh or 14.88Wh.
Underneath the battery is where the micro SIM is located and is easily removed, should you need to.
Starting up the Unite Pro, we catch our first glimpse of the small 2.4 inch screen and its quality. It is only a 320×240 (QVGA) screen, so you wont find HD graphics here. Fortunately you wont be using this devices screen very often, so it shouldnt be a big deal. Starting up the device from being fully powered off took 30 seconds, so there is a bit of a delay before you can get surfing.
Looking at the main screen, we can find everything from alerts, quick reference of the WiFi network name and password, data usage, and three shortcuts to WiFi settings, BatteryBoost, and device Settings. Its nothing too fancy here, so the icons that you see are very generic and bland.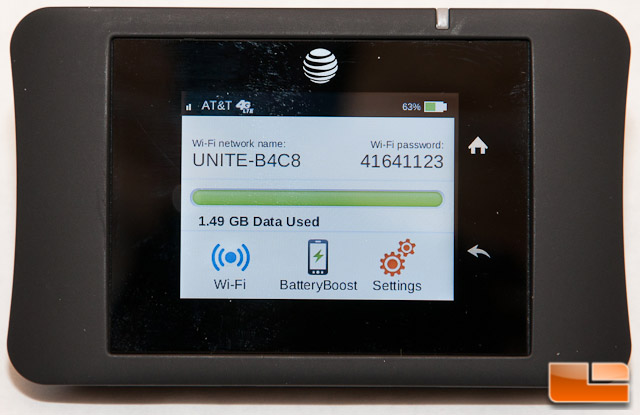 You can choose to hide the WiFi name and password on the home screen when you dig into the menus, making it a little bit harder for someone to just walk up and steal your connection.
Working with the capacitive screen, I noticed that it is extremely responsive and there is virtually no lag between touches.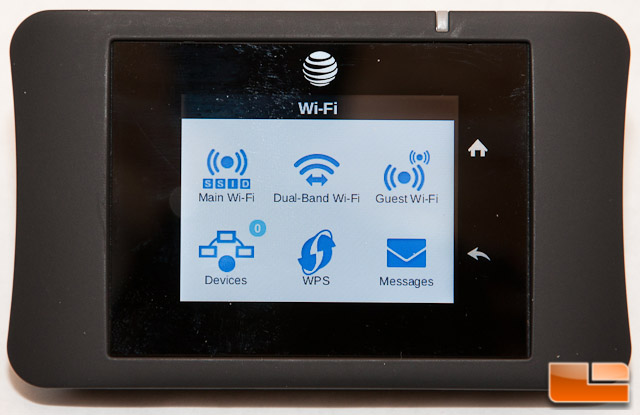 Jumping into the Wireless settings first, you cant help but notice that you have a Main WiFi settings button and a Guest WiFi. I find this to be a neat feature if you wanted to briefly share your connection with someone while not compromising your main settings. You can even limit it to be a single guest user connected if you wish. Unfortunately each time you turn on or off the Guest WiFi, it disconnects everyone else for a moment.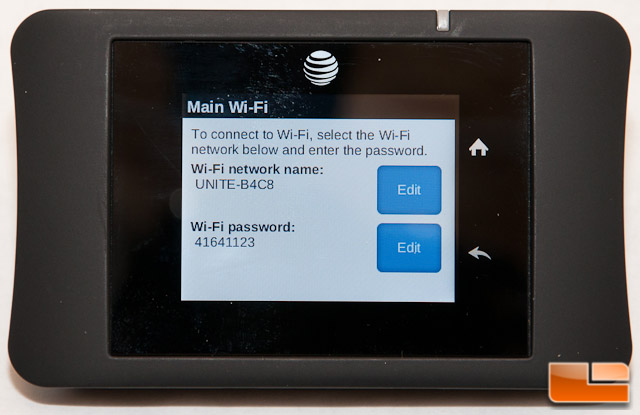 Other options in here include enabling or disabling dual-band WiFi (5 GHz band or the 2.4 GHz band), connected device management, WPS connectivity options, and SMS messages. There isn't really much under each of these menus, so I will not go into detail with them.
Back at the main screen, hitting the BatteryBoost icon will prompt you to plug in your device with the included micro USB to USB cable and whatever other flavor cable you use for your device. The cool part here is that you can tell the Unite Pro how long you want to Boost your smartphone for in 30, 60, or 90 minute sessions. It will even have a timer that counts down in 15 second intervals that tells you how much time is left.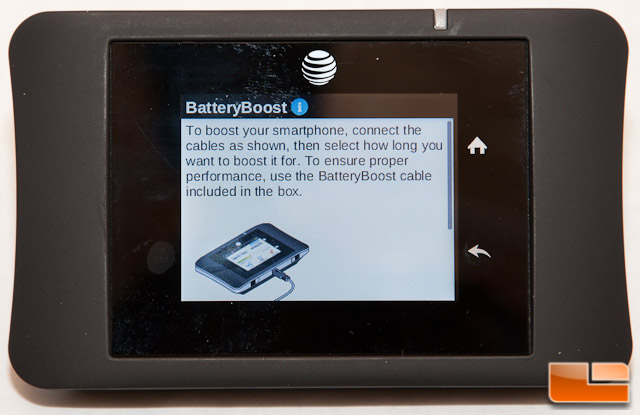 Back at the home screen one last time, we have the Settings icon. Inside here, you can turn the device on Airplane Mode, modify Mobile Broadband Settings, WiFi options, display settings, USB tethering, and get a bit of information about your device.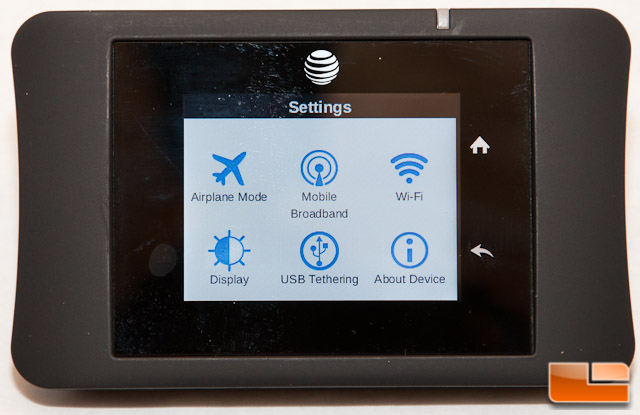 You might be asking yourself, why on Earth would I use this gadget in Airplane Mode, when its sole purpose is to be a WiFi hotspot? The answer to that question is: BatteryBoost. If you want to charge a smartphone while on a plane, this would be why!
Inside the WiFi settings, you can modify the standby time, boost the range of the signal output, and also change the password.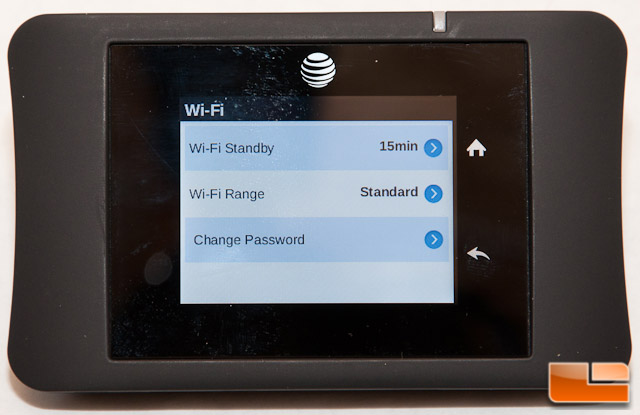 Under Display is where you can adjust the screen brightness, the display timeout, and finally tell the device if you want the WiFi information to appear on the home screen. Should you opt to not show the info on the home screen, everything will be asterisks instead.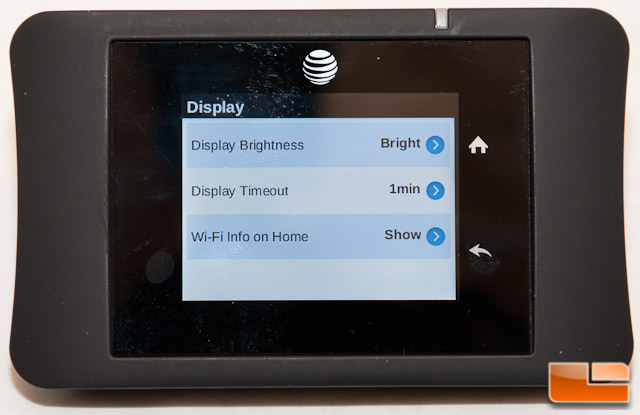 USB tethering lets you hook up the Unite Pro directly to a computer for internet access and charge it at the same time, or just strictly charge the device. It should be plug and play for Vista and newer, but for those of you still stuck on Windows XP, you will need to install a driver that is loaded on the device. If youre still stuck on Windows XP for some reason, it might also be a good idea to upgrade soon, as support from Microsoft is ending on April 8th.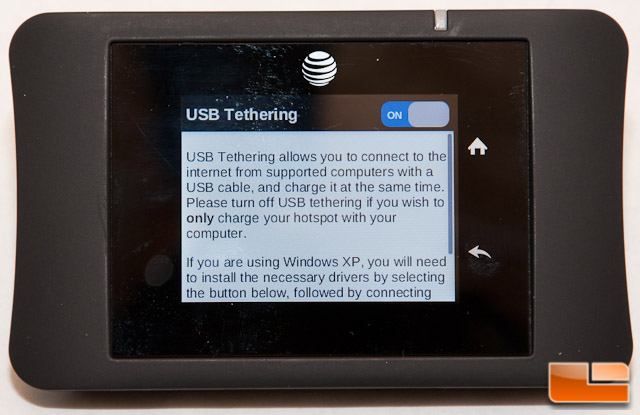 Thats about all there is to this device in this respect. On the next page, I will pull up the web interface that you can connect to and also briefly check out the app that you can download on Android or iPhone.