AT&T Pantech Element 8-Inch 4G LTE Tablet Review
By
The WaterProof Pantech Element Tablet
AT&T has been steadily growing the number of 4G LTE devices they offer and one of the more recent 4G LTE tablets has caught our attention. Besides being a very portable and affordable ($299) 8-inch tablet, the Pantech Element also happens to be waterproof! We haven't ever had the chance to play with waterproof electronics here on Legit Reviews, so when AT&T offered to send one over to try out we jumped at the chance.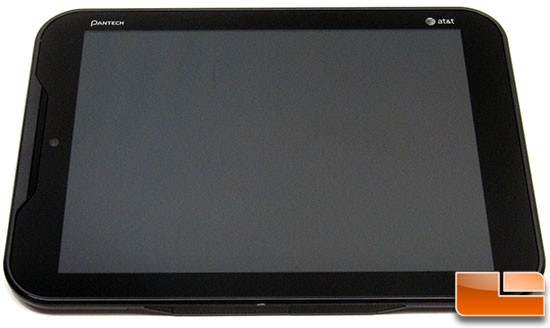 The Pantech Element is an Android Honeycomb tablet that is powered by the Qualcomm Snapdragon APQ8060 dual-core 1.5GHz processor. Other features are 1GB RAM, a 1024×768 TFT XGA display, a 6,400mAh battery and 16GB of internal storage that is expandable up to 32GB with an optional microSD card.
The two big selling points of this tablet are that it is waterproof and that it works on the AT&T 4G LTE network! To have 4G LTE service you must have a data plan, so you'll have the option to choose one of the two following mobile broadband data plans if you want one. If you want to get a data plan with a two year contract the Pantech Element costs $299, but without one it will cost you $449. As you can see you get a healthy discount when you sign up with a data plan.
AT&T Tablet Data Plans:
$35 monthly access for 3GB monthly allowance
$50 monthly access for 5GB monthly allowance
If you use more bandwidth than this you are charged $10 per GB for usage. This means that over a two year period that the total cost of ownership would be at least $1,139 for this tablet and that is before taxes. AT&T LTE is only available in certain areas, but this tablet will also work with HSPA+.
The Pantech Element is IP57 rated, which means that the tablet is protected against dust and immersion in water. Thanks to the water proofing, Pantech claims that the Element can survive being submerged in up to 1 meter (3.28 feet) of water for 30 minutes. We originally planned on dropping the Element in a pool or a hot tub for testing this feature out, so it's a good thing we looked into the rating! As you can see from the video above, a sink served us nicely and the tablet lived! We left it under about eight inches of water for fifteen minutes. This tablet is tough and can easily be exposed to the elements when it comes to water! Now tablet makers just need to find out how to get tablets to survive a substantial fall!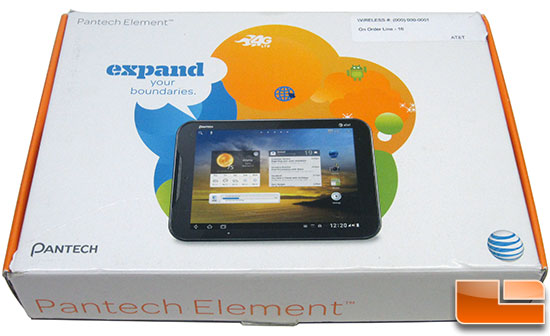 The retail box that the AT&T version of the Pantech Element comes in is fairly straight forward and has both the Pantech and AT&T logos on the front.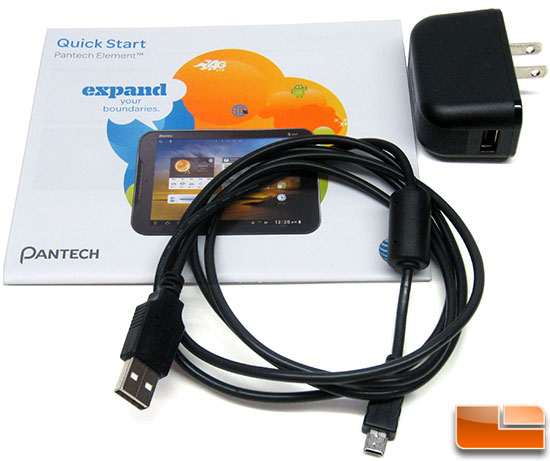 Inside you'll find the Pantech Element 16GB tablet and under that you'll find the wall charger, USB data transfer cable and the quick start guide.
Now that we know what the key features are and what it comes with, let's take a closer look at the Pantech Element!