ATI's Mobility X300 & X800 Arrive
By
Benchmarking/Conclusion
We got a chance to see the new Crytek Demo while checking out the Mobility X800/X300 and were told that it was the first time it was ever shown on a notebook. This is a demo that shows off what current game engines can do with ATI hardware.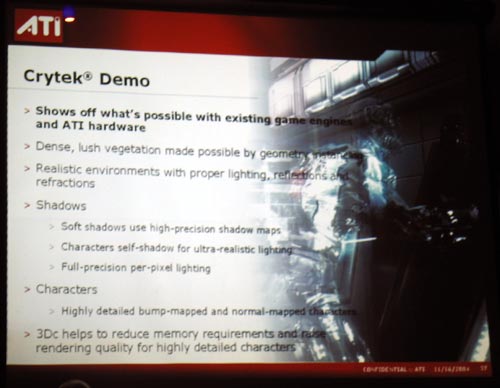 The demo ran great on the notebook and after being to several ATI & Nvidia mobile graphics launch gatherings it was by far the smoothest launch day demo yet seen here at Legit Reviews. The demo as seen below was titled "The Project" and, in all honesty, looked great when run off an X800 notebook.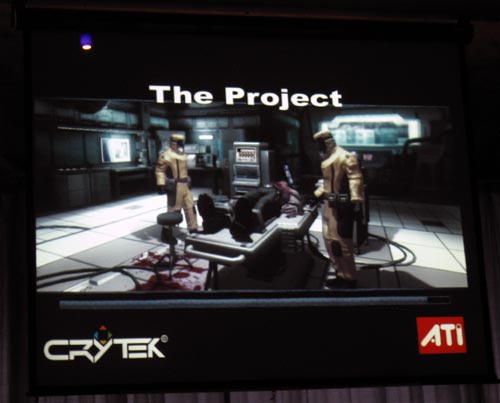 Mobility Radeon X800 Benchmark Results
Mobility X800 Benchmarks – 925X + Intel 560 + 2 GB DDR2
3DMark05
Default
3806
4xAA
3363
3DMark03
Default
8702
Doom 3 – demo1
640×480 – HQ – 0xAA
70.1
800×600 – HQ – 0xAA
68.3
1024×768 – HQ – 0xAA
62.2
1600×1200 – HQ – 0xAA
35.0
Half-Life 2 – ATI Canals09 demo
640×480 – 0xAA 0xAF
97.2
1024×768 – 0xAA 0xAF
92.1
1024×768 – 4xAA 8xAF
63.3
1600×1200 0xAA 0xAF
52.5
1600×1200 4xAA 8xAF
34.0
Results: The Mobility X800 proved to be able to play some of the most current game tittles. We actually played Doom3, FarCry, and Half-Life 2 on the notebook at 1600×1200 without AA and gameplay was great. In Half-Life 2 playing at 1024×768 with 4xAA & 8xAF was possible and made for an awesome gaming experience for a notebook. After playing a gaming notebook with results like these we are left not craving better graphics, but high definition audio!
Nathan Kirsch's Thoughts:
ATI has delivered two great mobile PCI Express solutions that will raise the bar in notebook graphics for every type of user. It seems like the ATI R4xx generation scales down nicely for use in the mobile market. New notebook graphics technology like DLCS, Hypermemory, and PCI Express are destined to take mobile graphics to the next level. ATI is saying that consumers will be able to buy the ATI Mobility Radeon X800 before Christmas and the X300 shortly after.
For our sharp readers you may have noted that something is missing. The X300 is the the successor to the Mobility 9200 and the X800 is the new speed king replacing the mobility 9800, but what about the Mobility 9600/9700 users! For those of you not in the Thin & Light or Desktop Replacement notebooks you are more than likely a "Performance Thin" user. Looks like the middle of the road mobile graphics is going to have to wait till 2005! Taking an educated guess it would be logical to see something like the X700 come into the mobile market as the Mobilty X700 and replace the Mobility 9600/9700 sometime in Q1 2005.
Plan on looking at an X300/X800 review in the near future as we start getting in the retail solutions and can benchmark them in our labs on notebooks you will be able to buy.
Legit Bottom Line:
ATI Mobile PCI Express graphics have arrived and bring better performance and new battery management software.