ATI's Mobility X300 & X800 Arrive
By
Technical Features
Now would be a good time to explain some of the differences between the X300 and the X800. The Mobility X300 is ATI's mainstream thin & light notebook solution, while the X800 is going to be found more often in the desktop replacement systems. Meaning: don't expect to find the Mobility X800 in an Intel Centrino notebook that is supposed to be a traveling notebook!
Popular GPU Comparison
Geforce Go 6800
Mobility Radeon X800
Mobility Radeon 9800
Mobility Radeon X300
Fab Process
130nm
130nm low-k
130nm low-k
130nm low-k
Vertex Pipelines
5
6
4
4
Pixel Pipelines
12
12
8
4
Core Clock
300
400
350
350
Memory Clock
300
400
300
300
GDDR3 Mem
YES
YES
NO
NO
Max Mem
256MB
256MB
256MB
64MB
Bus Type
PCIe
PCIe
AGP
PCIe
As the above chart shows the X800 has an extra vertex pipeline and higher clock speeds than the two week old Geforce Go 6800 that was pre-released. The Mobility X800 has many improvements over the Mobility Radeon 9800 that it replaces! Looks like we should see some good performance numbers from these new ATI mobile GPU's.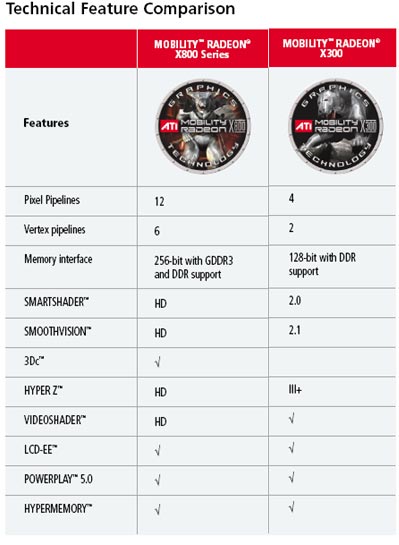 The Mobility X300 is the 10th generation of Multi-Chip Module (MCM) from ATI. It will be replacing the Mobility Radeon 9200 and offers double the performance! The Mobility X300 offers 4 pixel pipes and support for DX9.0 and SmartShader 2.0. It will also be using PowerPlay 5.0 and HyperMemory.

The Mobility X300 will also come in a few different configurations for the memory as seen above. This will allow notebook ODM's have a few choices on how to implement the X300.