ATI's Mobility X300 & X800 Arrive
By
ATI Mobility X300 & X800 Arrive!

Today ATI's ever popular Mobility Radeon line takes a leap forward in image quality and gaming performance with the launch of the Mobility X300 and the X800 VPU's. Any gamer that owns a gaming notebook or has looked into buying one knows that ATI dominates the notebook graphics market. A recent presentation to us by ATI included the following slide that shows their domination of the discrete notebook market share. Their market share is 71%, while NVIDIA and all other brands take up the remaning 30%. Belive it or not the ATI Mobility 9700 is shipping in over 50 notebooks, so it is easy to see why ATI's notebook graphics are dominating the market.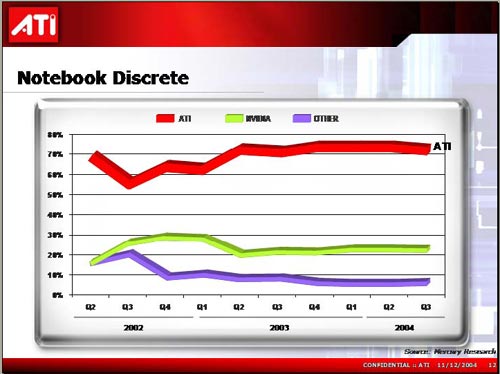 Let's jump right into things and look at the ATI performance charts for the Mobility X800 versus the Go 6800 from Nvidia. As you can tell from the image below the X800 has a performance lead in games such as Halo, Star Wars BattleFront, Farcry, and Battlefield Vietnam. Looks like ATI's high end gaming solution should be powerful!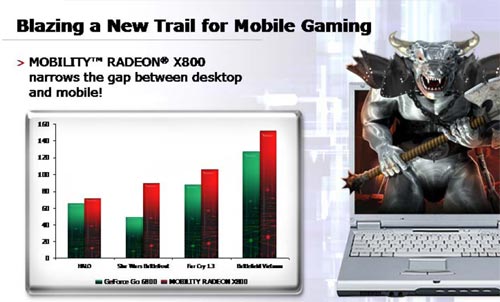 Let's take a look what has changed over the ATI Mobility 9700/9800 series.