ATI Brings Catalyst Drivers To Mobile Users
By
Driver Performance
Test System:
ASUS M6N Notebook
Intel Pentium-M 2.0 Dothan
ATI Mobility 9600 64mb
Kingston 2 x 512mb PC-2700 200-pin SO-DIMM's
40GB Fujitsu 5400RPM Hard Drive
Windows XP Professional w/ SP2 & DirectX 9.0C
DOOM3 & Farcry Game Testing: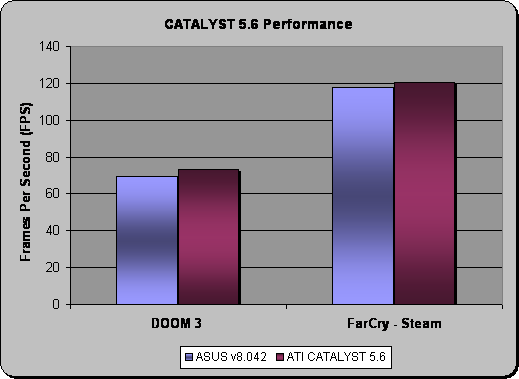 Results:
On real world games such as DOOM 3 and FarCry we saw the new ATI Catalyst 5.6 drivers perform slighty better than the ASUS drivers at 640×480. In synthetic tests such as 3DMark, we actually saw the scores dip a bit with the new drivers! Using the demo version of Comanche 4 we got 64.3 FPS on the ASUS drivers and 63.4 FPS on the new Catalyst Mobility drivers. SOme of our testing went up and some went down with the new drivers. We only charted DOOM 3 and FarCry because they were both the full retail games.
Conclusions:
Nathan Kirsch's Thoughts:
ATI has shown the gaming community why they dominate the mobile graphics community by offering unrivaled driver support. For years gamers suffered with hardly any VGA support from their ODM's, but now finally have a possibility of getting better image quality, additional features, and improved performance via the Catalyst driver series. The only downside to the entire situation is the lack of full industry support for the drivers. By some of the large whitebook companies not being on the "supported" install list mobile users will once again have to hack their drivers to get them to install. Hopefully after a few e-mails these companies will open their eyes and see that this is something that will help sales and reduce customer support phone calls.
Our overall impression of CATALYST 5.6 Mobility was all positive. We didn't note any slow load times with the CCC or any bugs in the drivers during testing. They look pretty solid thus far, so give them a try! You can download the desktop or mobility driver directly from ATI today!
If you download and install the mobility drivers on your notebook please post your results in the forums for all to see by visiting the link below.
Legit Bottom Line:
Monthly CATALYST Mobility drivers will help curb the rants that mobile gamers have had for years!