ATI Brings Catalyst Drivers To Mobile Users
By
Finally Mobile Gamers Have Decent Drivers

For years notebook enthusiasts and gamers suffered with poor graphics drivers. ATI today proved that although it took a numbers of years to address the problem all the gripes did not fall on deaf ears. With the launch of Catalyst 5.6 this morning brings a new era of mobile gaming to users around the world. With ATI claiming a number of performance improvements from previous CCC releases the 5.6 drivers look good on paper. Legit Reviews is going off the beaten path and is going to look at the new Catalyst Mobility 5.6 driver for all those looked over mobile users.
After years of complaints and comments gamers will finally get monthly graphics driver updates for their notebooks! No more waiting on your OEM to supply you with an updated ATI driver. The problem was that the large OEM/ODM's forgot about their notebook consumers need for driver updates. Sure the vast majority of notebook users don't play WoW or Half-Life 2, but for those of us that do we need driver updates as new titles come out! The days of having a new notebook graphics driver released every six months is soon to come to an end for many users.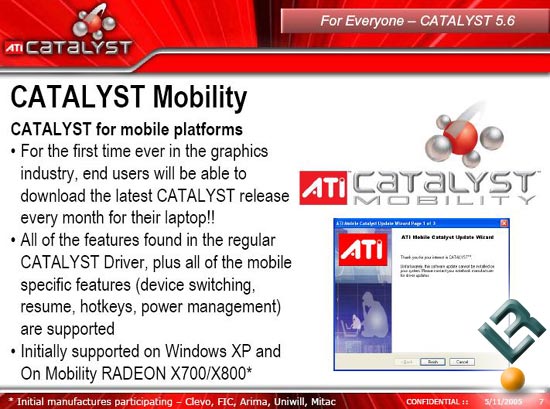 As the above slide shows the new Mobility drivers have ALL of the features found in the desktop Catalyst drivers. The last bullet of the slide is where a bunch of our readers are going to get upset. Right now the Catalyst 5.6 drivers are only able to run on X700/X800 mobile GPU's on notebooks made by Clevo, FIX, Arima, Uniwill and Mitac. Our pre-release Catalyst 5.6 driver was "unlocked" and was able to run on our ASUS M6N notebook with the 9600 Pro Mobile GPU. We talked with ATI about the manufacturer "lock" and they said that it is in place to protect the warranties that OEM/ODM's have in place on their notebooks. The new Catalyst driver will work on ALL recent notebooks, but many OEM's have not given the okay to the new drivers. It is only a matter of time till someone cracks the Catalyst mobility drivers and then allows anyone to install the drivers. Once the drivers are installed performance levels should be a tad higher then the previous Catalyst 5.5 drivers. Below is a driver performance chart showing version 5.5 & 5.6 on eight benchmarks.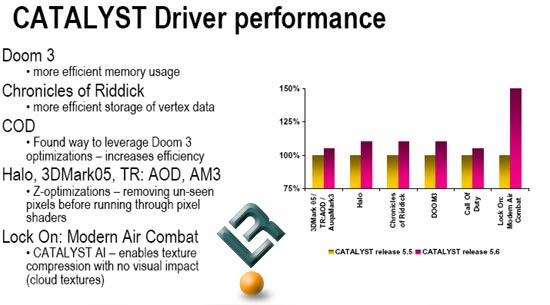 Now that we know ATI has monthly mobile drivers with all the same features as desktop CATALYST drivers let's take a look at our test notebook.