ASUS USB 3.1 Type-A Card Review – Add USB 3.1 For $39
By
USB 3.1 Performance Benchmarks and Test System Details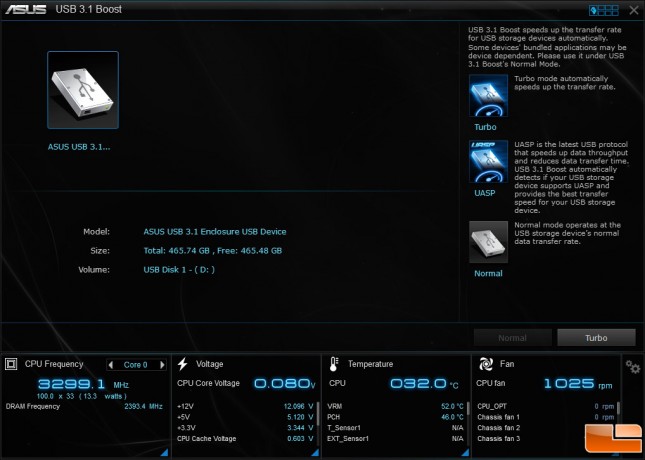 We had no issues using the ASUS USB 3.1 Card on our ASUS Z97-A, X99 Deluxe and X99 Sabertooth motherboards after updating the BIOS/UEFI with the latest build that supports the proper USB 3.1 hooks.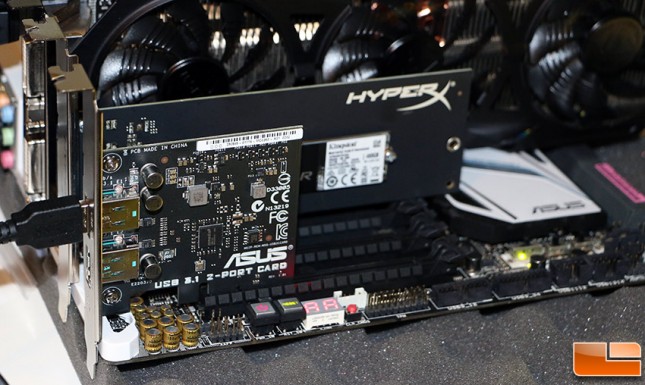 The ASUS X99 Deluxe motherboard with UEFI 1502 with Windows 8.1 64-bit was used to test the USB 3.1 interface. All available Windows 8.1 updates were installed from Microsoft and we set the system to run on high-performance mode to ensure we got the best USB performance possible. We also downloaded and installed ASUS USB 3.1 Boost that allows us to test the USB 3.1 enclosure in both normal operation mode and turbo mode.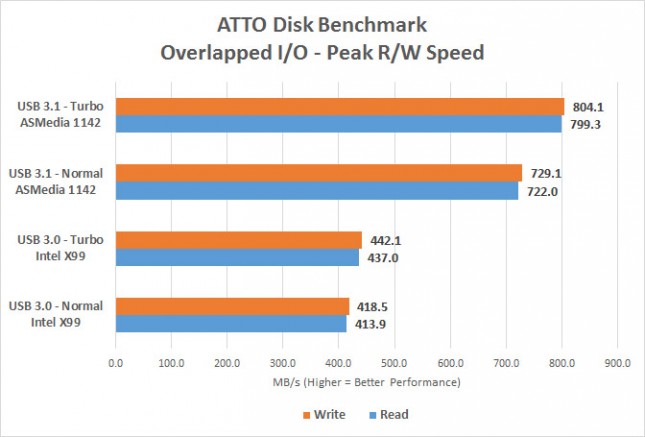 We've reviewed a number of USB 3.0 devices over the years and the fastest that we have ever gotten on ATTO is 463MB/s read and 458MB/s write when using the Intateck UASP USB 3.0 docking station paired with the Corsair Neutron XT 240GB SSD. The ASUS USB 3.1 enclosure with two Samsung SSD 840 EVO mSATA 250GB drives in RAID 0 was found to be slightly slower and topped out at 442MB/s read and 437MB/s write on the USB 3.0 port on our ASUS X99 Deluxe motherboard. When we switched the cable over to the USB 3.1 port our performance shot up to 804MB/s read and 799MB/s write, which is nearly double the performance we were getting with this enclosure on the standard USB 3.0 port! We tested with both 'normal' and 'turbo' modes and as you can see the ASUS Turbo mode most certainly improves performance.
Are you curious how our 'fastest' USB 3.0 enclosure does on USB 3.1? We were too and found that we were able to hit 465MB/s read and 445MB/s write, so our read performance improved over our personal best by 2MB/s and our write speeds dropped a bit.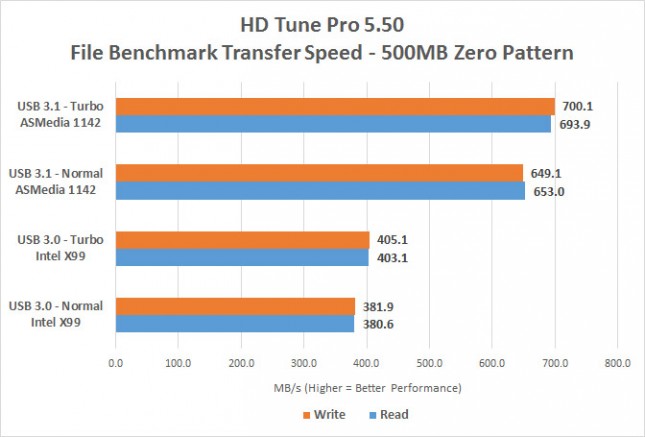 HD Tune Pro 5.50 has a built-in File Benchmark test that we used with the default settings and we found that we topped out at 405MB/s read and 403MB/s write on the boards USB 3.0 port. The quick move over to the ASUS USB 3.1 1-port card had our performance up to 700MB/s read and 693MB/s write. This is a 295MB/s improvement on the read speeds, which is an impressive 73% performance increase!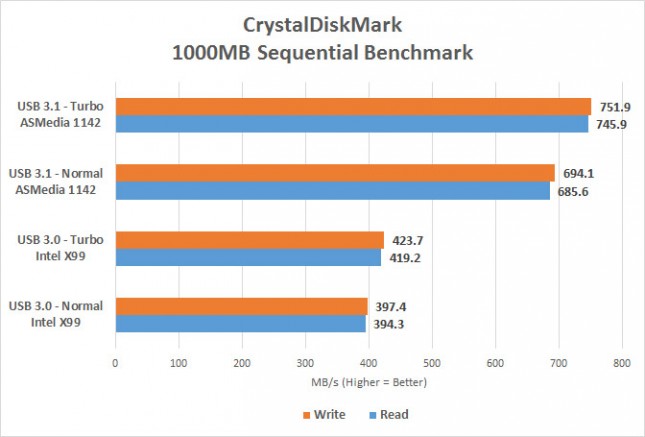 On CrystalDiskMark x64 with the default settings we found we were hitting 424MB/s read and 291MB/s write on the SuperSpeed USB 3.0 header and then 752MB/s read and 746MB/s write on the SuperSpeed+ USB 3.1 header. A modest 77-78% increase with regards to sequential read and write speeds!
One area of improvement that was nice to see was on the random 4KB write performance that was found to be improved by more than 3x, which was astonishing! The 4K read speeds went from 25MB/s on the USB 3.0 interface to 33MB/s on the new USB 3.1 interface, which is a solid 32% performance increase. It should be noted that the ASUS Turbo mode did not help improve performance at this file size and our performance actually went down on both the USB 3.0 and USB 3.1 interfaces when we enabled it!