ASUS R9 290X DirectCU II and Sapphire R9 290X Tri-X Video Card Reviews
By
Custom AMD Radeon R9 290X Video Cards Arrive
The AMD Radeon R9 290x and R9 290 both have great performance when gaming, but the cards run notoriously hot. AMD says that the cards were designed to run at 94C and that there is nothing wrong with running that high, but many enthusiasts think otherwise and have waited for the add-in board partners to come out with custom cards that have aftermarket coolers. Those cards are just now starting to trickle out and we got our hands on the yet to be released ASUS Radeon R9 290X DirectCU II and the Sapphire Radeon R9 290X Tri-X. Both of these cards are factory overclocked and have ditched the reference GPU cooler for massive dual or triple-fan models. The AMD Radeon R9 290X was originally released in October and we've covered it extensively in more articles since then, so we'll get right to it as you should already know that this card supports DirectX 11.1, OpenCL 1.2, OpenGL 4.3, PCI Express 3.0, AMD Eyefinity 2.0, AMD PowerTune, AMD ZeroCore, AMD CrossFire, AMD TrueAudio and AMD Mantle.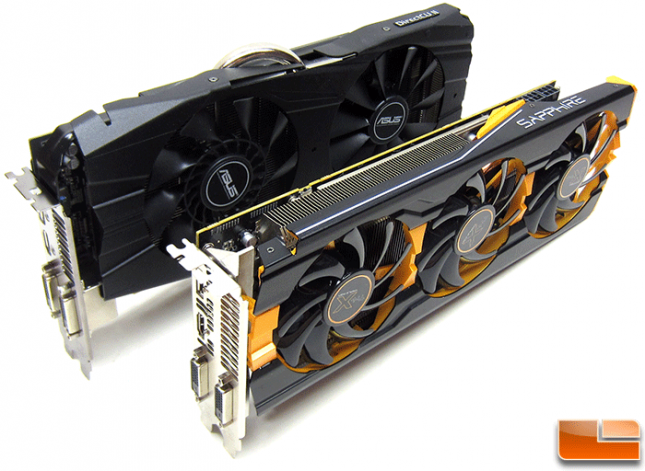 Both the ASUS R9 290X DirectCU II and the Sapphire R9 290X Tri-X are factory overclocked for improved performance. Sapphire took the 290X Tri-X up to 1040MHz on the core and 1300MHz on the memory from the reference cards 1000MHz core clock and 1250MHz GDDR5 memory clock. Not huge clock frequencies gains, but it is a 4% boost to each clock. ASUS on the other hand was a little more aggressive with 1050MHz on the core and 1350MHz on the memory. This is a 5% overclock on the core clock and 8% overclock on the memory, so right off the bat you know the ASUS card should perform better as it has higher clock speeds by default.
| | AMD Radeon R9 290X | ASUS 290X DirectCU II | Sapphire 290X Tri-X |
| --- | --- | --- | --- |
| Model Number | – | R9290X-DC2OC-4GD5 | 100361-2SR |
| SRP | $549 | $569.99 | $599.99 |
| Clock Speed | 1000 MHz | 1050 MHz | 1040 MHz |
| Memory Clock Speed | 1250 MHz | 1350 MHz | 1300 MHz |
The ASUS Radeon R9 290X and Sapphire Radeon R9 290X are both dual-slot video cards with printed circuit boards that both measure 10.5-inches in length, but that is where the similarities end. For example Sapphire opted to use the AMD reference board for the 290X and just slap on the Tri-X cooler and flash the vBIOS with more aggressive clock speeds. Many say that if something isn't broke, don't fix it and that is what Sapphire did here with the reference board. The ASUS R9 290X DirectCU II uses a pair of fans (94mm fan and 93mm) versus the three fans (~84mm) on the Sapphire R9 290X Tri-X. The Sapphire Tri-X cooler hangs past the end of the PCB, making the card 12-inches in total length. Whereas the ASUS R9 290X DirectCU II card is slightly shorter as its GPU cooler pushes the card to just 11.25-inches in length.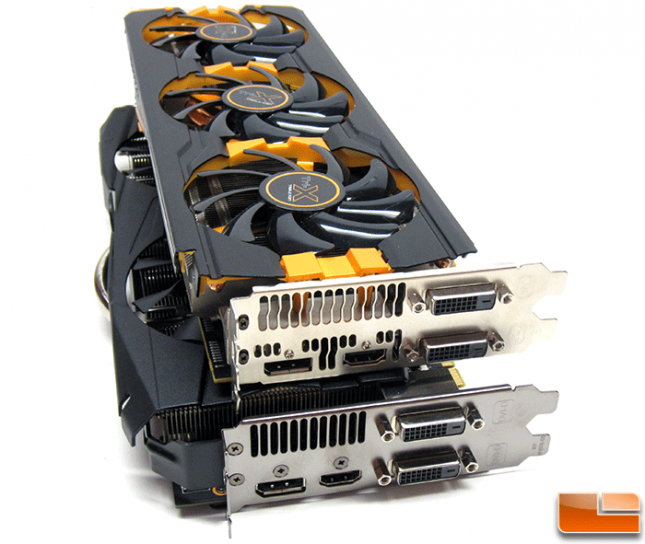 When it comes to video outputs you have a pair of DVI connectors (DVI-I and DVI-D), Display Port and HDMI. It looks like Sapphire went with a high-flow hot air exhaust bracket, but the cards heatsink has exhaust fins that are vertical… No air really exits here due to this, so this is a very interesting choice. This design would be better suited for the ASUS R9 290X DirectCU II as it has horizontal cooling fins.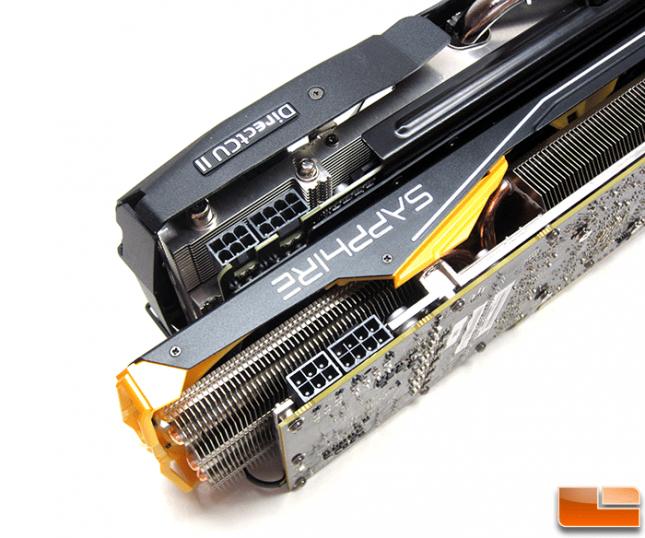 Both cards have required 8-pin and 6-pin PCI Express power connectors that are located at the end of the video card for additional power. ASUS flipped the power connectors 180 degrees to make installation easier and also placed on power status LED lights that let you quickly know if the power is properly connected. Sapphire recommends a 750W or greater power supply with one 75W 6-pin and one 150W 8-pin power connector for this video card to operate properly.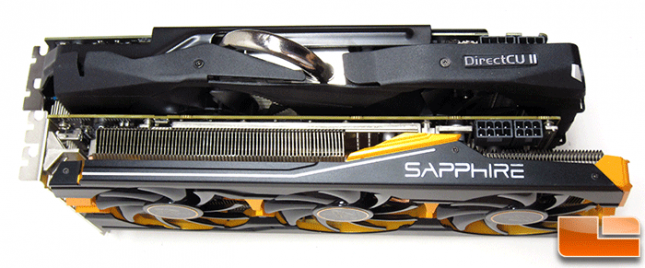 The AMD Radeon R9 290X doesn't have any CrossFire interconnects on top for pairing it with another graphics card, but that isn't needed for the new Hawaii GPU that powers these cards. You can run CrossFire though the PCIe slot now, so you can pair up to four of these cards together for improved gaming performance. It should be noted that Sapphire has has implemented DUAL BIOS on the Tri-X models, ensuring that the cards boot and deliver maximum performance in systems with both UEFI and legacy BIOS implementations. The AMD reference card had two fan speed profiles, but Sapphire did away with that and has two boot modes for improved motherboard support. ASUS also has a Dual BIOS solution on their card that has the fan profiles that are difference (Performance and Silent).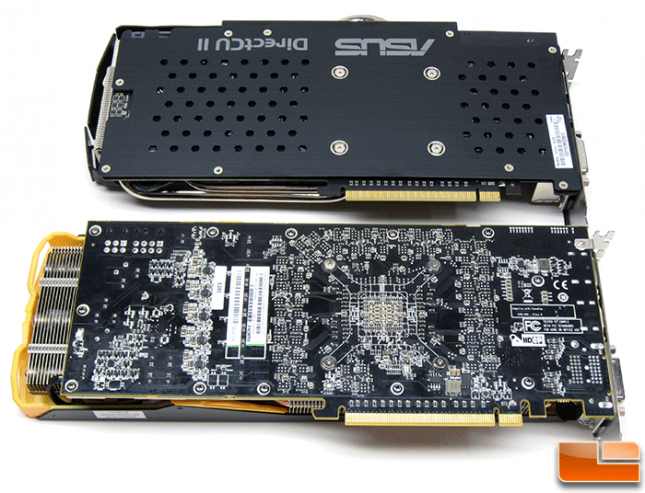 The back of the ASUS R9 290X DirectCU II has a nice metal backplate whereas the Sapphire R9 290X Tri-X doesn't have one. We are big fans of backplates as it protects the components on the back of the card and it looks better when installed into PC.
Let's see how these two cards do when put to the test.