Asus P5E3 Premium WiFi-AP @n Edition Motherboard
By
Final Thoughts and Conclusion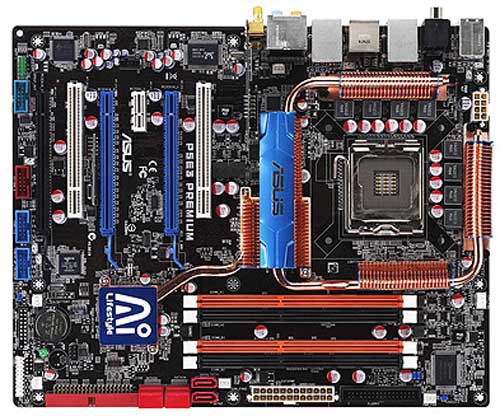 So, when it comes down to it, is the Asus P5E3 Premium a board that you should be looking at? Does it fit your situation? Lets take it through the process…
First off, performance on the board is very good. When compared to the other boards it was up against in this review, there is very little difference between any of them. As we said, they will all do a great job.
Second, the layout of the board gave no room from criticism. There was nothing that really stood out as a glaring mistake. In fact, there was nothing that we could find to complain about.
Next, the setup of the board was just plain easy. I had forgotten how easy Intel based boards were to use. Now I remember why I have always liked the Intel chipset!
The bundle was very good. The Asus P5E3 Premium comes packed with quality accessories that are not just fluff, they are actually useable.
Overclocking on this board was nothing short of easy, and phenomenal. We pushed this board to the limits of our CPU, and were pleased with the results obtained. Just plain old good overclocking fun! I cant wait to see another BIOS or two released to see if we can eek any more performance out of this baby!
If there was one issue that I have with any of the new boards that are on the market, it has to be price. The price of these things is really starting to get out of hand, to the point that most will not be able to afford a board like this. This board will run you at least $360 no matter where you shop. Is that a bad thing? Well, if you look at the performance numbers of this board compared to anything we have looked at in the last year or so, it would be obvious that you do not NEED to have a $350+ board to have a great performing computer. In fact, you would be better off buying a nice $200 or less motherboard and putting the rest of your hard earned cash into more ram or a better video card. That being said, this board was never designed to be an entry level or a budget board. DDR3 is not cheap itself, so if you think that one would buy a cheap board to run expensive ram on, you are dreaming. Overall, this board is right on the money in its price category.
Legit bottom line: If you want a solid motherboard that performs great, has great overclocking ability and that comes from a very reputable manufacturer, and if price is no issue at all, then this is a board that you should take a close look at. Asus has done it again in the P5E3 Premium motherboard!