ASUS O!Play HD2 HD Media Player Preview
By
O!Play HD2 Media Player with NAS Support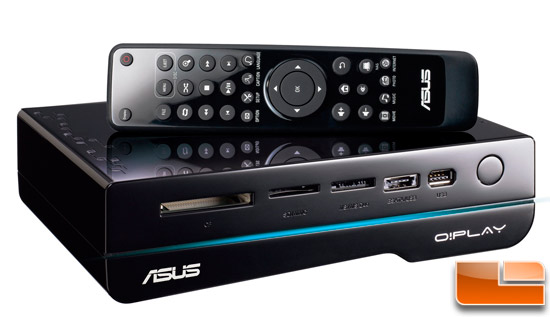 Today we look at the latest high definition media server that ASUS has released, the ASUS O!Play HD2 HD Media player. The O!Play HD2 was designed for those who are looking for a great media player as well as a device to double as a functional Network Attached Storage. With the HD2, you can install a 3.5 hard drive for local storage of your files. The O!Play HD2 also has a USB 3.0 port so that you can easily transfer files from your PC to the player. By using USB 3.0, the latest ASUS players transfer time is about 10 times faster than that of its older brother the ASUS O!Play Air HDP-R3.
ASUS was one of the first companies to support the idea of multimedia
"set-top" boxes so they have been leaders in exposing the public to HD Media Players since the beginning. As
companies like Apple, Netflix, and Hulu anticipate users wanting
"packaged" media delivered to households via the internet, ASUS clearly
wants to support a large community of users who already have a variety
of videos and audio files in their library that they want to share.
There is nothing wrong with how Apple & Company approach their
business model, it's just different from what ASUS is going for.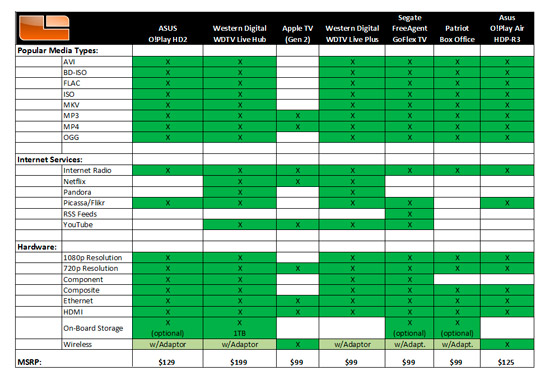 Here we see a quick chart on how the ASUS O!Play stacks up against other popular media players. Click image for larger view.
The ASUS O!Play HD2 HD Media Player retails for $129.99 and is slightly larger (roughly 230 x 179 x 61mm) than that of the O!Play Air. This, of course, is due to the fact that the player contains space enough to carry 3.5 SATA drive. There is also no built in WiFi, but the players specification shows a lot of promise.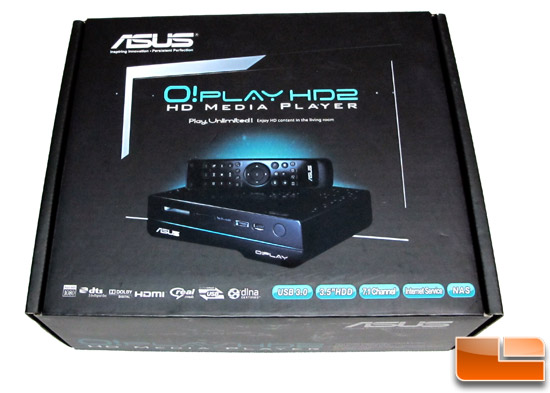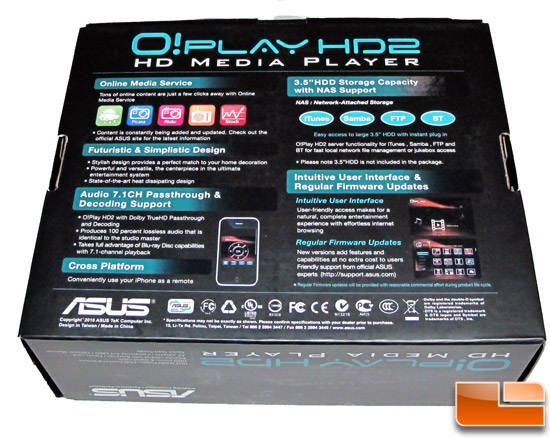 Like the older ASUS, the new O!Play HD2 is based on a Realtek 1073 chipset specifically, the 1073DD+. This chipset has been around for a while but is considered one of the most solid on the market today. The HD2 supports a large number of Video and Audio Formats including MKV, AVI, ISO, RMVB, MP3, AAC, OGG, and more.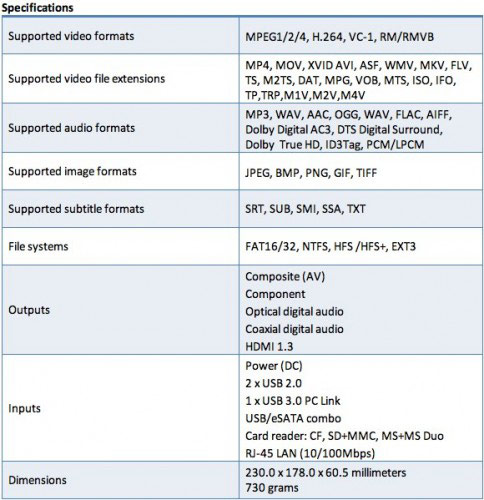 ASUS O!Play HD2
Featured Specifications:
Video Formats

: MPEG 1/2/4, H.264, VC-1, RM/RMVB, MP4, MOV, Xvid, AVI, ASF, WMV, MKV, FLV, TS, M2TS, DAT, MPG , VOB, MTS, ISO, IFO, TRP, M1V, M2V, M4V, TP

Audio Formats

: Mp3, WAV, AAC, OGG,WAV, FLAC, AIFF, DTS Digital Surround, Dolby True HD, ID3Tag, Dolby Digital AC3, AD PCM/LPCM

Image Formats

: JPEG, BMP, PNG, GIF, TIFF

Subtitle Formats

: SRT, SUB, SMI, SSA, TXT

File Systems

: FAT, NTFS, HDS/HFS+ EXT3
Let's take a look at what you get with the media player.