ASUS MARS 760 4GB Video Card Review
By
ASUS Republic of Gamers Creates Wicked GeForce GTX 760 Video Card
We review hundreds of PC components and accessories every year and it can get boring at times. After you've reviewed a couple hundred video cards, they all start to blend together as most are very similar and differ by just the GPU cooler and clock speeds. Whenever we hear that ASUS is coming out with a Republic of Gamers (ROG) series card we get excited. ASUS ROG series cards have always been fully custom designed cards that greatly differ from what AMD and NVIDIA have already brought to market. The ASUS ROG MARS series is for NVIDIA powered cards and the ASUS ROG ARES series is for the AMD powered cards. Today, we'll be looking at the ASUS ROG MARS 760 4GB Dual-GPU video card that is sold under part number MARS760-4GD5. The ASUS ROG MARS 760 is a single card that features two of NVIDIA GK104 'Kepler' GPU's, so it is basically dual GeForce GTX 760 card running in SLI. ASUS claims that their MARS 760 card can outperform the NVIDIA GeForce GTX Titan and that this card is aimed at 2560×1440 (WQHD) gamers, but will also work great for those running 1920×1080 and 2560×1600. This card isn't really going to work well for those 4K displays or large multi-monitor setups as there is just 2GB of frame buffer allotted to each GPU. This card has a total of 4GB of memory, but that memory is not shared between the two GPU's just like a traditional NVIDIA SLI multi-GPU setup. So, you'll be getting an ultra high-end gaming experience on the ASUS MARS 760 with buttery smooth frame rates with the only caveat being the 2GB frame buffer.
The ASUS MARS 760 has two 28nm GK104 GPU's that are connected with a PLX PEX8747 PCI Express Gen 3.0 bridge chip. If you combine the specs from both GPU cores you end up with 2,304 (2 x 1152) stream processors, 64 (2 x 32) ROPs and 4GB (2 x 2GB) of GDDR5 memory on a 256-bit memory bus. This card features NVIDIA GPU Boost 2.0 technology and has a GPU base clock of 1006MHz, a boost clock of 1072MHz and the memory is clocked at 1501MHz (6004MHz effective). Since this is an ROG series card, you can be assured that there is room left for overclocking with the ASUS GPU Tweak overclocking utility.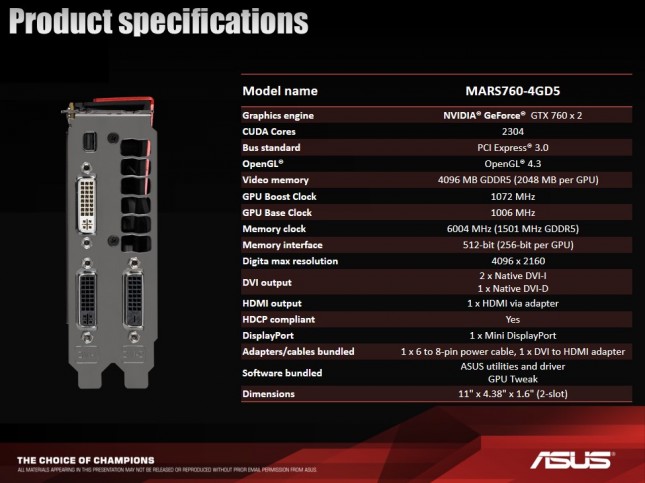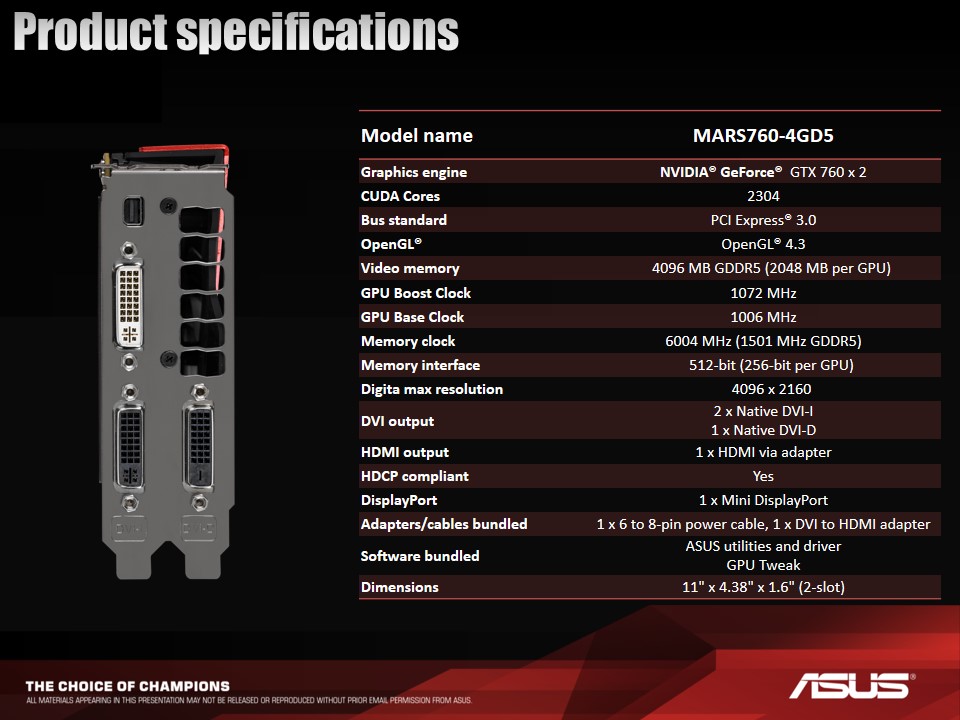 Not bad specifications and the clock speeds are up there for a dual-GPU card!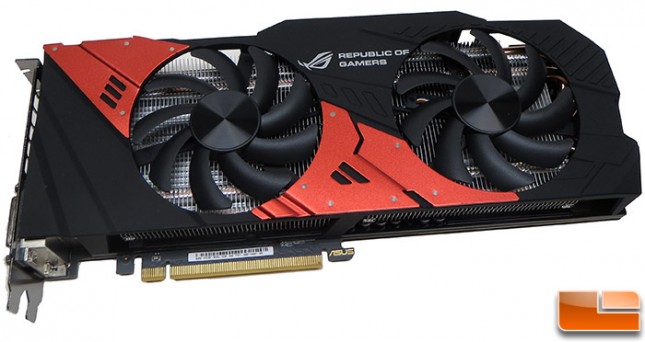 The ASUS MARS 760 looks sharp with a nice looking read and black fan shroud covering the ASUS DirectCU II GPU cooler. The black part of the fan shroud is made from plastic that has been covered with a soft touch material and then the red accents are pieces of annodized aluminum that have been glued to the black plastic shroud. Two large 9-blade cooling fans that have an actual fan blade measurement of 86.25mm help dissipate the heat from the individual GPU heatsinks. Under fans you'll find a two large heatsinks that have four 6mm copper heatpipes each. ASUS says that the MARS 760 is 20% cooler and significantly quieter than a GeForce GTX 690 video card.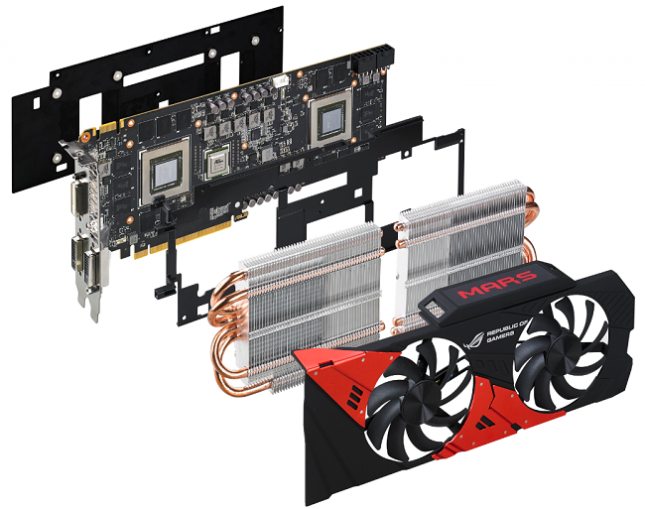 Here is an exploded diagram provided by ASUS that shows that shows you the fan shroud, heatsinks, PCB stiffening bracket, PCB and the backplate.
When it comes to video outputs you have a three of DVI connectors (2x DVI-I and 1x DVI-D) along with one mini-DisplayPort. The maximum digital resolution is 4096 x 2160.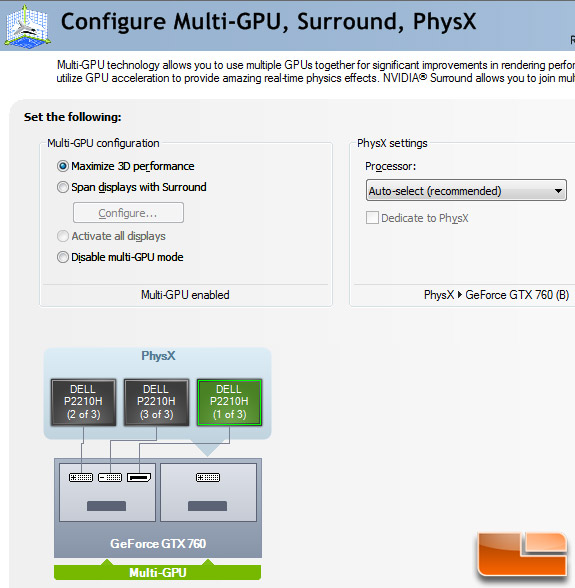 If you want to run an NVIDIA Surround setup on the ASUS MARS 760, it should be known that you can only use the mini-DP and pair of DVI-I connectors along the one side of the card.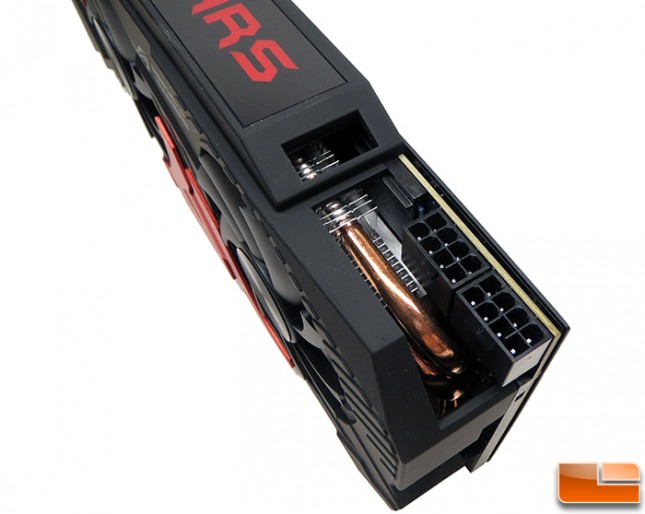 The ASUS MARS 760 video card has two 8-pin PCIe power connectors located along the top edge of the card that are needed for proper operation. ASUS suggests using a 500W or greater power supply with at least 24 Amps on the +12V rails for proper single card operation. This feels lower than we would suggest, but that is what ASUS put on the side of the retail box for suggest requirements.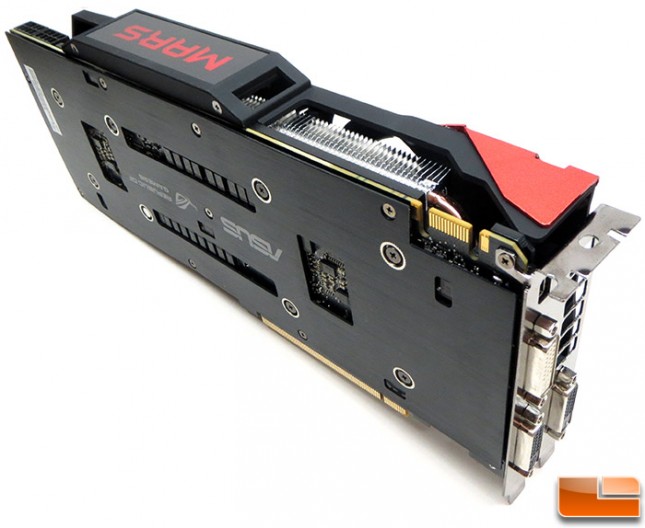 The ASUS MASRS 760 has a single SLI bridge connector, so you can run Quad-SLI with another card if you wanted to do so for an even more powerful graphics solution. It should be noted that the MARS logo on top of the card does have an LED light that pulsates in red when the card is active.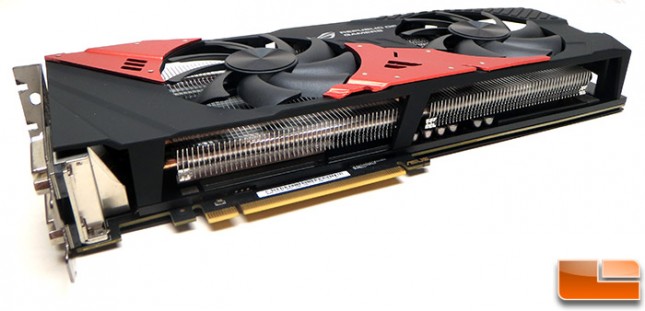 Looking up from the bottom of the card you you can see the cooling fins are arranged vertically, so most of the hot air that is coming off the card will be blown into the case and not directed out the exhaust port on the end of the card. This shouldn't be a big deal as most enthusiast cases have good ventilation these days. The ASUS MARS 760 is measures in at 11-inches in length and the cooling fin arrays are each 3.9-inches long, so you have 7.8-inches of cooling fins!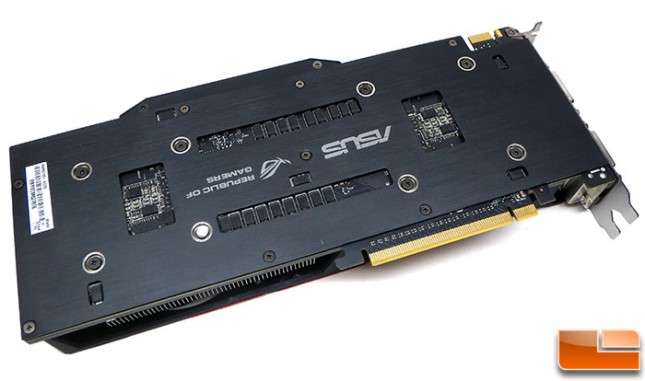 On the back of the MARS 760 you'll find the backplate that looks great and helps protect the components on the back of the card. We were shocked to find an anti-tamper sticker on one of the backplate screws. We've never seen an anti-tamper sticker on an ASUS video card before!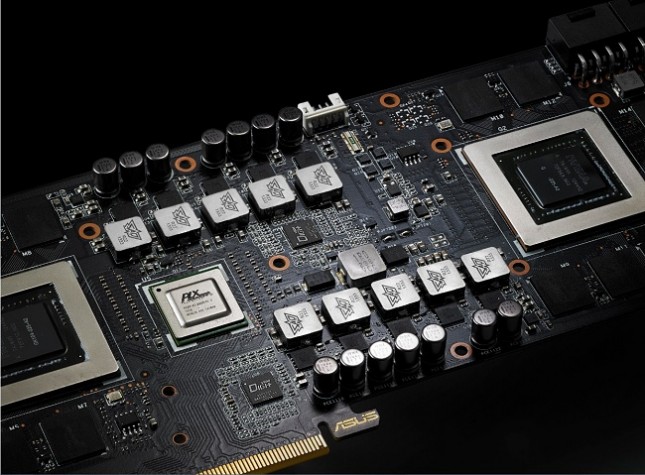 ASUS used all high-end components on the MARS 760 and you'll find all black metallic Japanese made capacitors (Nichicon GT-Series), POSCAPs and an impressive DIGI+ VRM with 12-Phase Super Alloy Power. The ASUS MARS 760 appears to be very well designed and built, so we can't wait to see how it performs. ASUS has backed the MARS 760 with a 3-year warranty as well.
A number of sites that have already reviewed this card posted up the entire ASUS MARS 760 reviewers guide, so we'll follow suit and do the same. ASUS put together a nice slide deck for this card that is certainly worth taking a look at.
Let's take a look at the retail box or accessory bundle before we move along to benchmarking!