ASUS Intel Z77 Motherboard Preview: P8Z77, Formula, Gene & Sabertooth
By
ASUS Sabertooth Z77 and P8Z77-WS Motherboards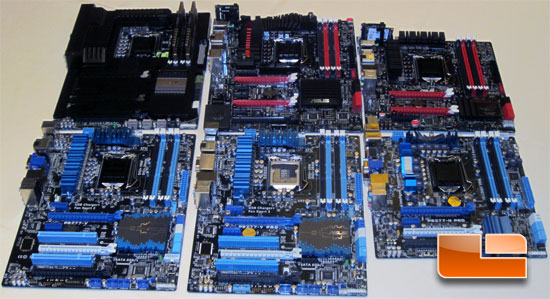 Recently Legit Reviews was invited down to Texas for a technical briefing on the next generation Intel 7 series chipset with ASUS. While we can't share the information, we can take a peak at some of the new LGA1155 motherboards we saw there. Since we can't go into details on too much, we will copy/paste what was told in this mornings press release and then skip to the pictures that we took during the seminar.
The latest technology for every desktop application
On display at the seminars were brand new motherboards from ASUS celebrated ROG brand, including the micro ATX Maximus V GENE, as well as the ruggedized SABERTOOTH Z77 from the ASUS TUF range. The Maximus V GENE comes with SupremeFX III audio and network traffic management via Intel Ethernet and ASUS GameFirst technology, affording smoother and more immersive gameplay. Meanwhile, the SABERTOOTH Z77 features Thermal Armor for precision cooling and unsurpassed reliability. In addition to these boards, the ASUS 7 Series caters to a wide range of computing segments, including workstation models with 4-way GeForce SLI and dual Intel Ethernet. Multimedia-focused and energy efficient mini-ITX and H77 motherboards further extend new ASUS and Intel technologies into the home theater PC sector.
SMART DIGI+ Power Control and Dual Intelligent Processors 3 upgrade performance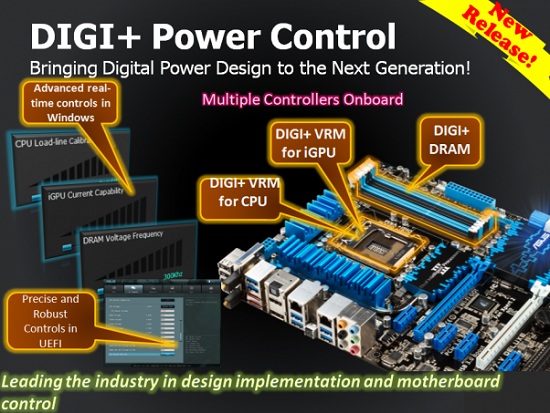 The worlds first Dual Intelligent Processors from ASUS pioneered two onboard chips, the TPU, or TurboV Processing Unit, and EPU, or Energy Processing Unit. These increase system performance while saving energy through optimized power management. Dual Intelligent Processors 3 builds on that foundation with new SMART DIGI+ Power Control, which consists of multiple digital voltage controllers that allow for ultra-precise tuning of CPU, iGPU and DRAM power delivery while working with the TPU to ramp up performance to full potential.
For extra convenience, digital power delivery has also been upgraded with one-click performance optimization, and now includes Smart CPU Power Level profiles, which reduce CPU power consumption to specific wattages with a single click. The new architecture creates cooler and quieter desktops, with the new motherboards carefully designed in accordance with next generation Intel VRD 12.5 power standards to offer consumers the very latest in innovation and readiness.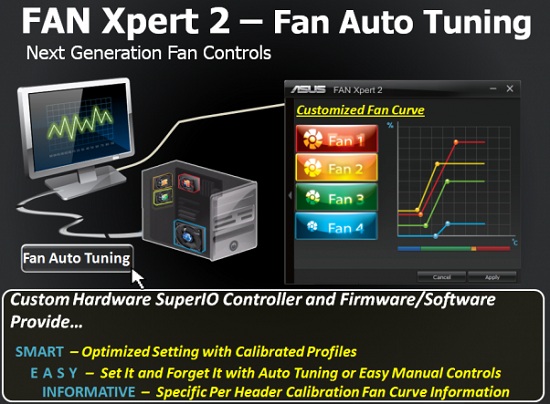 While increasing system performance and efficiency have always been mainstays of ASUS motherboard design, efforts have also gone into improving cooling with the introduction of hardware-based ASUS Fan Xpert 2, which brings thermal flexibility and response to levels unavailable anywhere else. The included Fan Auto Tuning Mode scans fans individually to detect their thermal properties through automatic speed sensing. Custom fan speeds can be adjusted automatically or manually with a single mouse click, achieving an optimal balance of cooling and low noise. Fan Xpert 2 also includes an RPM Fixed Mode for users who wish to reduce noise levels to near 0dB, with highly specific fan speed controls that react to actual system loads for more accurate response.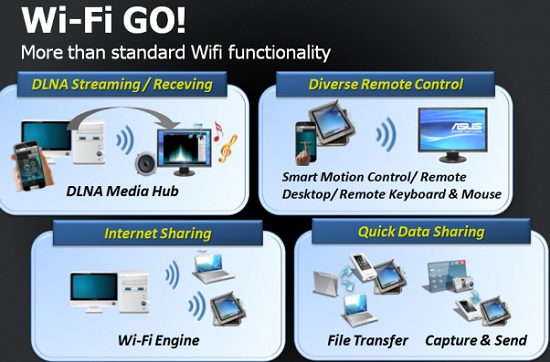 ASUS Wi-Fi GO! makes computing easier and more rewarding
Recognizing the central role that convenience plays in emerging lifestyles as related to home computing, ASUS has used the seminars to introduce new Wi-Fi GO! technology, tailored to entertainment-minded consumers on the look for more seamless and smoother user experiences. Home entertainment becomes easier with Wi-Fi functions such as DLNA streaming, so users can enjoy content from a variety of devices. The Remote Desktop function provides access to the desktop with a tablet or smartphone acting as remote control, allowing greater convenience by creating a portable virtual desktop. Wi-Fi GO! can also convert PCs into routers, with all of these features fully integrated into a one-stop utility.
Incorporating new Intel 7 series chipset advancements
In addition to the exclusive ASUS features described above, ASUS 7 Series motherboards include Intel Smart Response Technology, Intel Smart Connect Technology, and Intel Rapid Start Technology, while also natively supporting PCI Express 3.0. All combined and as shown in the seminars, these feature sets make them the most attractive motherboard options currently on the market.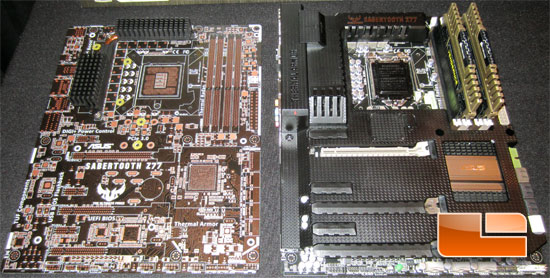 This is a pretty cool display, ASUS had the stripped down PCB of the ASUS Sabertooth Z77 motherboard next to the fully dressed and ready to rock board. Looking at the bare PCB, we can notice a few holes have been highlighted in gold. These gold holes are actually not screw holes, they are airports to allow airflow to reach the back of the Sabertooth board.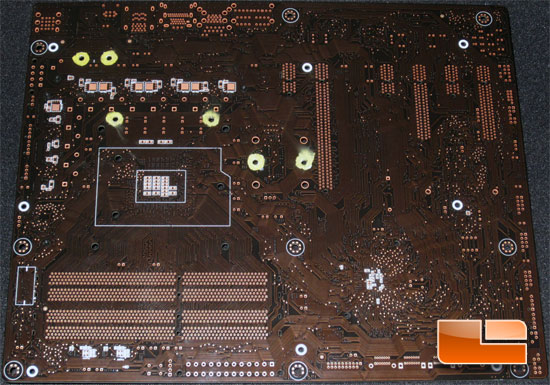 Here we can see the back of the ASUS Sabertooth Z77 and see the six airflow holes a little better. This is the first time ASUS is trying this technique to get airflow to the back of the board. Hopefully it will help keep the system a bit cooler.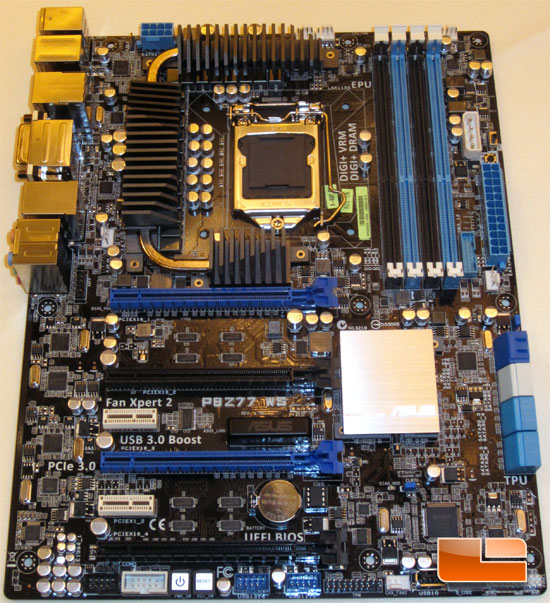 The next board is the ASUS P8Z77-WS motherboard. The ASUS WS series is their product stack for the Workstation. The WS is designed for ultimate reliability and impressive amounts of I/O scalability.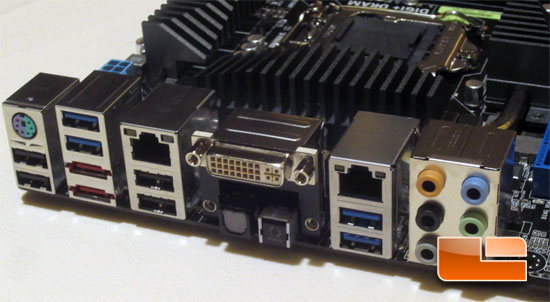 The I/O panel of the ASUS P8Z77-WS is missing some of the ports usually found in the typical ASUS motherboard. There is no VGA DSub or HDMI out. Aside from those we have four SuperSpeed USB 3.0, four USB 2.0, two eSATA ports, DVI, Clear CMOS button, Gigabit LAN, and the typical six audio jacks.