Antec Sonata II ATX Case Review
By
Making The Original Antec Sonata Better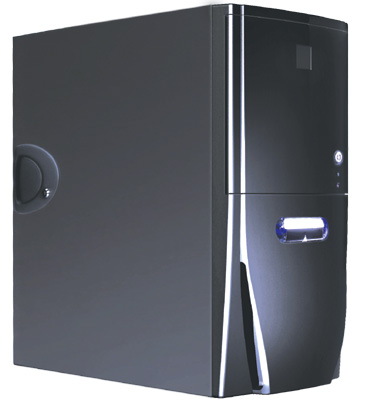 Today we take a look at yet another in the 2005 line of Antec cases, the Sonata II. For those of you familiar with the original Sonata, a great case at a modest price, you will be pleasantly surprised to see that Antec took an extremely solid design and made some simply enhancements with regards to system cooling.
I have to say, that to this point I've been very impressed with Antec's 2005 line. The TX1050B and its little brother the TX640B both are well designed cases that would have no problem housing any type of setup (I'm using the TX640 for a Prommie setup, and the TX1050B is housing a Koolance Exos 2 complete with an entirely water cooled system).The Titan 550, after a few modifications for motherboard compatibility, has seemed to be a favorite in our forums and judging by the positive feedback I have received both for the case and the review.
This brings us to todays topic, the Sonata II from Antec's "Lifestyle" line of enclosures. I bought the orginal Sonata last summer while looking for a decent mid tower case. As I have said before, I'm not a big fan of exotic shapes or colors when it comes to my systems, I'm more about performance than aesthetics, and the Sonata definitely fits that description.
The one concern I had with the Sonata was cooling. There was no side mounted fans, and in fact only one fan for system cooling, a rear mounted 120 mm fan, which in today's systems is simply not enough. When it came to temperatures, the biggest concern I had was for my HDD, which ran 3-4C higher in the Sonata than any other case. Antec did allow for a 120mm fan to be mounted to the side of the HDD section, but it was more of a hindrance than anything else. All in all, the Sonata is a great ~$100 case that I still use today.
Lets look at the specs before we move on to an in depth look at Antec's Sonata II.
Advanced Chassis Air Duct to cool the latest CPU and graphics cards on the market
Improved overall air intake for better and quieter cooling
Specially designed low-noise SmartPower 2.0 450W ATX12V v2.01 power supply
Front mounted USB, IEEE 1394 (FireWire,i.Link) & Audio ports
9 Drive Bays:
– 3 x 5.25″ external drive bays
– 2 x 3.5″ external drive bays
– 4 x 3.5″ internal drive bays in individual trays with rubber grommets to absorb hard drive vibrations
Cooling System:
– 1 rear 120mm Tricool fan (standard) with 3-speed control to balance quiet with cooling
– 1 front 120mm case fan (optional) 25mm thick
-1 92mm fan (optional) in the air duct to cool the CPU
– 1 80mm fan (optional) for graphics cards
Double hinge door design: allows the door to open up to 270
Made with 0.8mm SECC Steel
Built-in washable air filter keeps harmful dust out of your case
Individual drive trays
Front USB/FireWire Ports
Model
Sonata II
Case Dimensions
16.75″(H) x 18.25″(D) x 8.13″(W)
42.5cm (H) x 46.3cm (D) x 20.6cm(W)

Drive Bays

– Front

Accessible
– Internal

9

3×5.25″, 2×3.5″

4×3.5″

Expansion Slots
7
Weight
20.7/25 lbs (net/gross)
9.4 kg (net)
Cooling System

1 rear 120mm Tricool fan (standard) with 3-speed control to balance quiet with cooling
1 front 120mm case fan (optional)
1 92mm fan (optional) in the air duct to cool the CPU
1 80mm fan (optional) for graphics cards

Power Supply
450Watt SmartPower 2.0
ATX 12V V2.0 for AMD? & Intel systems
Motherboards
Standard ATX
Special Features
Internal drive trays with rubber grommets
Package Includes

1 Tower Case
1 450 Watt single fan SmartPower 2.0
1 Power cord
1 set of screws and motherboard standoffs
1 Installation manual