Antec P180 Advanced Super Mid-Tower Review
By
Conclusion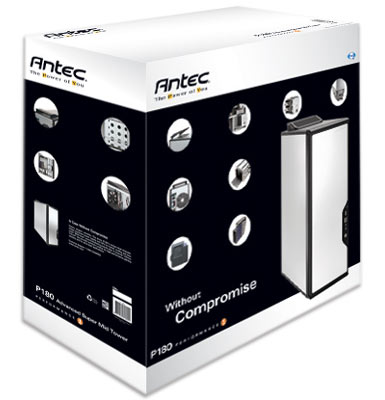 Final Thoughts:
Undoubtedly the finest case I've seen so far this year. The P180 features every positive characteristic of Antec's 2005 product line, then goes a bit further by giving you the best of both worlds, cooling performance and sound suppression.< ?xml:namespace prefix = o ns = "urn:schemas-microsoft-com:office:office" />
I also very much like the aesthetics of the P180, While a big fan of the subdued look of the Sonata II and TX640B, the P180 will look fine everywhere. The brushed metal finish is attractive, but also won't show fingerprints or scratches quite as easily as the other Antec cases I've looked at this year.
While the P180 is definitely marketed as an air cooled solution, to which I'd say there is no equal right now, I think it would have no trouble housing a moderate water cooling kit like Corsair's Cool or Cooler Master's Aquagate Mini. That being said, users would have to be extremely careful in using water cooling with this kit as the PSU is sitting on the bottom of the case.
Overall, I found exactly one flaw with the P180 which bothered me, the door hinge assembly. While Antec finally moved from the plastic door found on their other cases, they didn't replace the plastic hinge assembly. To be honest, I'd rather see Antec use a metal hinge and a plastic door as the hinge takes all the pressure and abuse.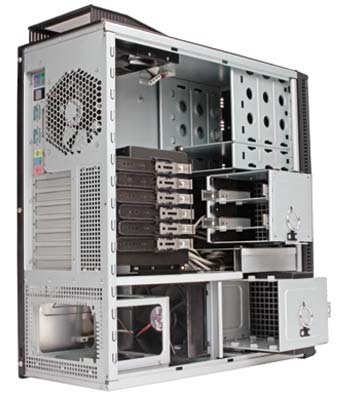 The Legit Bottom Line
In the end, the P180 is one of the finest cases I've ever seen. With a heavy emphasis placed on sound suppression and cooling, the P180 should be the case to that all others will be judged against until we finally see what BTX has to offer. All of this for around $125 (without PSU) makes the P180 a great choice for those of you in the market for a new case.