Antec P180 Advanced Super Mid-Tower Review
By
Introduction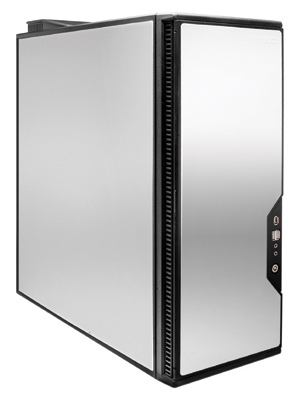 Back in January I wrote a short piece about my experiences at CES 2005 here in Las Vegas. One of the topics I covered in that piece was about Antec's 2005 cases, and how I thought the P-180 would end up being the "Case Of The Year". Today we finish up our in depth look at Antec's 2005 enclosure line with a look at that very same P180 Super Mid-Tower. Has our impression of this case changed in the six months that have passed?
After looking at Antec's 1050B and 640B server cases, as well as their new Sonata II, I was eagerly anticipating the arrival of the P180. As much as I enjoyed the previous three cases (I still use all three), the P180 is Antec's new flagship case. Antec has high hopes that the P180 will vault them to the very pinnacle of the enclosure market.
Before we get too far along, let's look at the specs and some key features to keep in mind as we take a long look at Antec's P180 Super Mid-Tower enclosure.
The Features
Unique upper and lower chamber structure The power supply resides in a separate chamber to isolate heat from the system and lower system noise
Innovative three-layer side panel (aluminum, plastic, aluminum) dampens system generated noise, making this one of the quietest cases available
Cooling System:
– 1 rear 120mm Tricool fan (standard) with 3-speed control to balance quiet with cooling
– 1 top (standard) 120mm TriCool Fan
– 1 lower chamber (standard) 120mm x 38mm (thick) TriCool Fan
– Antec Quiet Computing Air Duct for better, quiet cooling of the graphics card
– 1 front (optional) 120mm fan
– 1 80mm fan (optional) for graphics cards
11 Drive Bays:
– 4 x 5.25″ external drive bays
– 1 x 3.5″ external drive bays
– 6 x 3.5″ internal drive bays
Front mounted USB, IEEE 1394 (FireWire,i.Link) & Audio ports
Double hinge door design: allows the door to open up to 270
Material: 0.8mm cold rolled steel for durability through the majority of chassis, 1.0mm cold rolled steel around the 4x HDD area.
Built-in washable air filter keeps harmful dust out of your case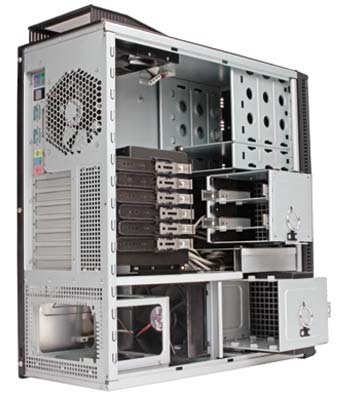 The Specs
Model

P180

Drive Bays

Front Accessible
Internal

11

Expansion Slots
7
Cooling System

1 rear (standard) 120mm TriCool Fan with 3-speed switch control
1 top (standard) 120mm TriCool Fan
1 lower chamber (standard) 120mm x 38mm (thick) TriCool Fan
1 front (optional) 120mm fan
1 (optional) 80mm case fan in the Air Duct over the graphics card

Main Board Size
12″(W)x9.6″(L)
Weight (net/gross)
31/36 lbs
14.1/16.3 K
Motherboards
Standard ATX
Special Features

Internal mounts with rubber grommets
Upper and lower chamber structure
Three-layer side panel
Front USB/FireWire Ports

Package Includes

1 Tower Case
1 set of screws and motherboard standoffs
1 Installation manual

Price
$125 (without PSU)