AMD Ryzen Threadripper 3970X Processor Review
By
Power Consumption
Power consumption is something that you should be aware of with regards to processors as someone is going to be paying the electric bill. The processors that we have tested have a wide range of TDPs that you can find in the bullet list below.
AMD Ryzen TR 3970X – 280W TDP
AMD Ryzen TR 2990WX – 250W TDP
AMD Ryzen 9 3950X – 105W TDP
AMD Ryzen 9 3900X – 105W TDP
AMD Ryzen 7 3700X – 65W TDP
AMD Ryzen 7 3600X – 95W TDP
AMD Ryzen 7 2700X – 105W TDP
Intel Core i9-10980XE – 165W TDP
Intel Core i9-9900KS – 127W TDP
Intel Core i9-9900K – 95W TDP
Intel Core i5-9400F – 65W TDP
Intel Core i3-9100 – 65W TDP
Intel Core i7-8700K – 95W TDP
Intel Core i5-8400K – 65W TDP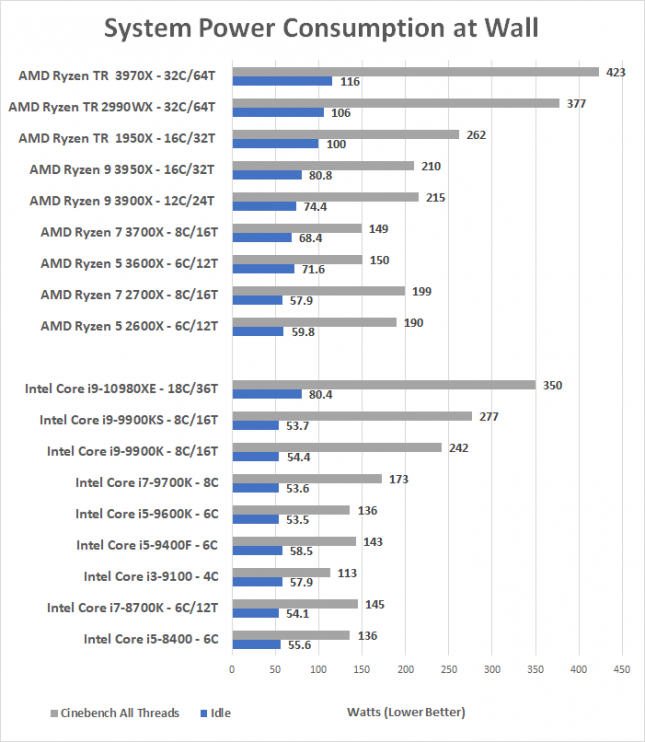 The Intel Core i9-10980XE is a 165W part and uses the most power at both idle and load with respect to the other Intel processors. The AMD Ryzen 9 3950X is undoubtedly this processors chief rival and you can see that AMD is going to be winning the power battle as it uses 140 Watts less power at load. Our Intel X299 platform used about the same amount of power as the AMD X570 platform, so idle is a wash between these two CPUs.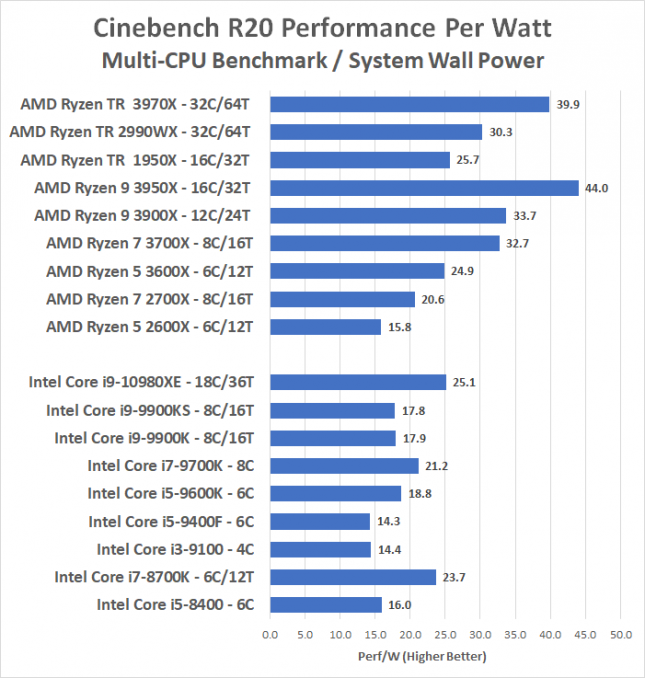 Most companies talk about perf/W or Performance per Watt these days, so let's take a look at that real quick. As you can see the new 3rd Gen AMD Ryzen Threadripper 3970X has a most impressive perf/W ratio on this particular benchmark. AMD has managed to nearly double its perf/W since introducing the Threadripper series in 2017. That is pretty amazing when you think about it.