AMD Ryzen Threadripper 3970X Processor Review
By
3rd Gen AMD Ryzen Threadripper Arrives – Intel Who?
AMD attacked the High-End DeskTop (HEDT) processor market two years ago with the introduction of their 1st Gen Ryzen Threadripper processor. It was a wake up call for Intel as the segment they long dominated was now being attacked by their main rival. It looks like AMD managed to catch Intel completely off guard as the 2nd Gen AMD Ryzen series showed that AMD was in it to win it. Today, AMD is aiming for the jugular with the release of its 3rd Gen Ryzen Threadripper 3970X and 3960X desktop processors.
Intel just launched their Cascade Lake-X HEDT processors earlier today and you'll quickly see why Intel wanted to launch first. By launching first the new 3rd Gen Ryzen Threadripper 3970X 32-core, 64-thread and the 3960X 24-core, 48-thread CPU couldn't be in the performance charts since they were still under embargo. The good news is that AMD has lifted the performance embargo on their new parts and the performance is unreal as you might have expected. We'll get to that more in a moment…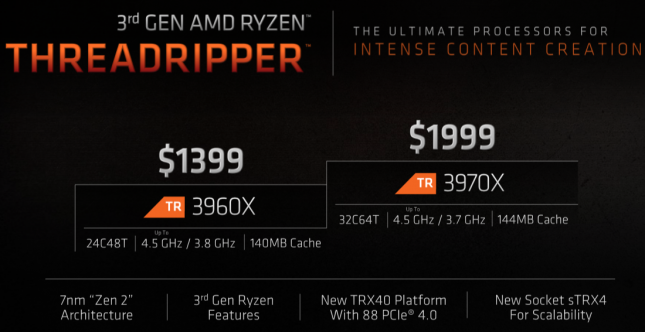 Both of these new parts are built on the AMD 7nm "Zen 2" core architecture, with up to 88 PCIe 4.0 lanes and a massive 144MB cache. The 24-core AMD Ryzen Threadripper 3960X is priced at $1,399 and the 32-core AMD Ryzen Threadripper 3970X will cost just a pinch more $1,999. AMD has bumped up pricing just a bit on their 3rd Gen parts, but we have a feeling that was done due to the performance that they bring to the table.
The slide above was given by AMD to the media to show the new topology used on 3rd Generation Threadripper 3970X and 3760X processors. AMD is using four, 7nm 8-core chiplets that have either 6 or 8 cores enabled depending on the model that you are looking at. The chiplets are then linked to a 12nm I/O die in the center of the chip that contains the memory controller, PCI Express lanes, and other IO features. This is all made possible thanks to AMDs Infinity Fabric that was introduced with the Zen architecture.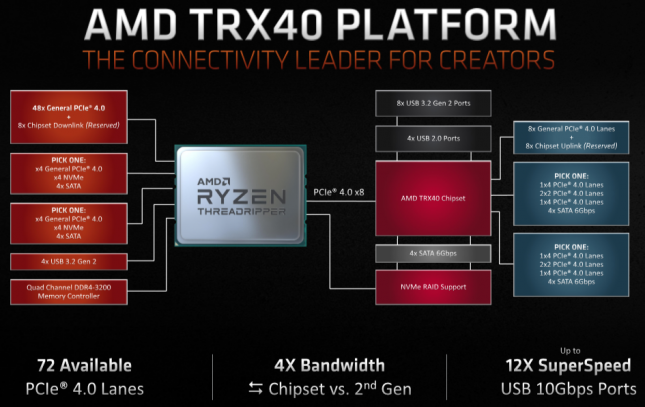 The good or not so good news here is that AMD is introducing a new TRX40 platform for 3rd Gen Ryzen Threadripper. This was because AMD needed a new socket (sTRX4) for scalability as AMD basically doubled number of PCI lanes to the chipset and they are also doubling that bandwidth by moving to PCIe Gen 4.0. So, AMD is actually quadrupling the bandwidth between the chip and the chipset on this new platform by moving from PCIe 3.0 x4 on the X399 chipset to PCIe 4.0 x8 on the TRX40 chipset.
Now to be clear, this is not backwards compatible, so 3rd Gen AMD Ryzen Threadripper processors will require the AMD TRX40 chipset. AMD also mentioned that they had to change the pin out for scalability reasons that they will talk about at a later time. The good news is that the CPU mounting system has not changed and the 2nd Gen Ryzen Threadripper CPU coolers will still apply to the new 3rd Gen Ryzen Threadripper processors. Last generation Threadripper 2990WX and 2970X processors all had a TDP of 250 Watts whereas the new 3rd Gen Ryzen Threadripper parts are 280 Watts. The slightly higher TDP is not enough of a difference to negate any of the coolers they have tested. AMD down played the 30 Watt bump in the TDP, but we are starting to get up there and higher TDPs increase motherboard costs as motherboard makers need to change motherboard power delivery solutions. From what we have seen most TRX40 boards start around $339, which is respectable for a platform of this magnitude.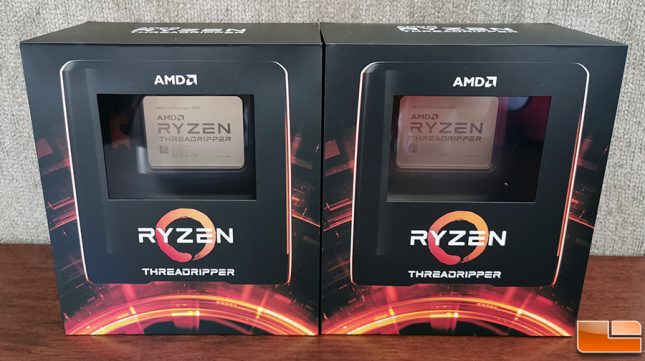 AMD sent over both the Ryzen Threadripper 3970X and 3960X retail box processors for us to take a look at. AMD does not provide a retail boxed cooler with either of these processors and we recommend that you use liquid cooler with 3rd Gen Threadripper to get the best performance possible.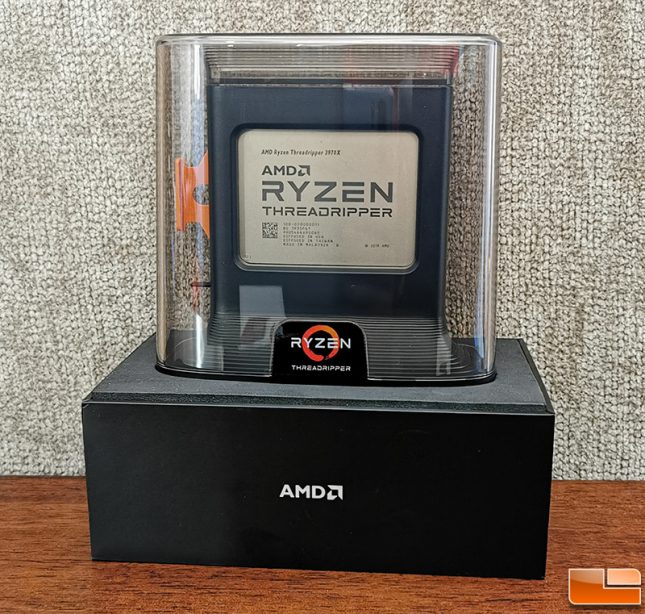 We will be taking a closer look at the flagship model (3970X) today and will follow up later on with a review on the 3960X after the dust settles a bit. The AMD Ryzen Threadripper 3970X has a 3.7 GHz base and a 4.5 GHz boost clock. The 3960X has a 3.8 GHz base with a 4.5 GHz boost. AMD put the highest clocks on their flagship part, which is a bit unusual.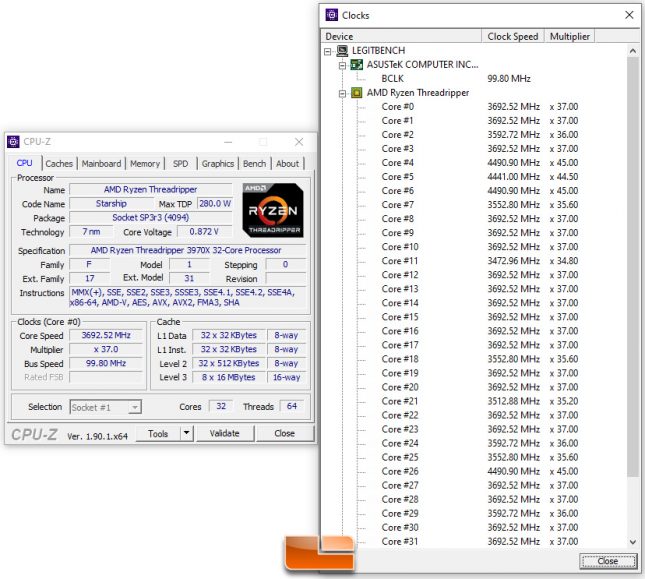 Before we move on to the benchmarks, here is a quick look at CPU-Z for the AMD Ryzen Threadripper 3970X 'Starship' CPU with 32-physical cores. Our review sample was a stepping 0 chip with 144 MB of cache.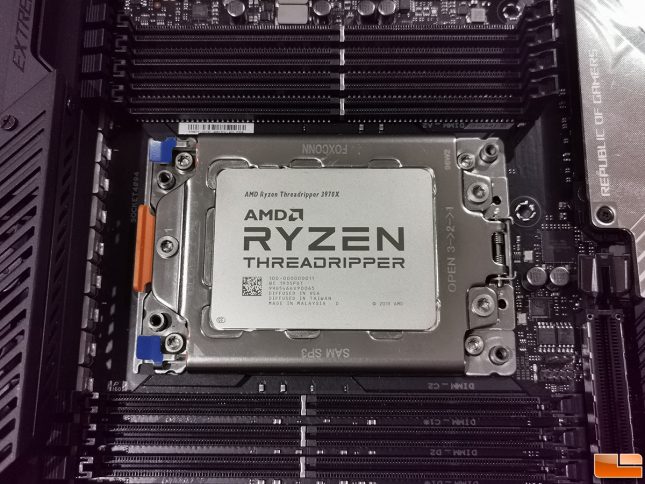 On to the benchmarks!