AMD Ryzen 9 3950X Processor Review
By
Power Consumption
Power consumption is something that you should be aware of with regards to processors as someone is going to be paying the electric bill. The processors that we have tested have a wide range of TDPs that you can find in the bullet list below.
AMD Ryzen 9 3950X – 105W TDP
AMD Ryzen 9 3900X – 105W TDP
AMD Ryzen 7 3700X – 65W TDP
AMD Ryzen 7 3600X – 95W TDP
AMD Ryzen 7 2700X – 105W TDP
Intel Core i9-9900KS – 127W TDP
Intel Core i9-9900K – 95W TDP
Intel Core i5-9400F – 65W TDP
Intel Core i3-9100 – 65W TDP
Intel Core i7-8700K – 95W TDP
Intel Core i5-8400K – 65W TDP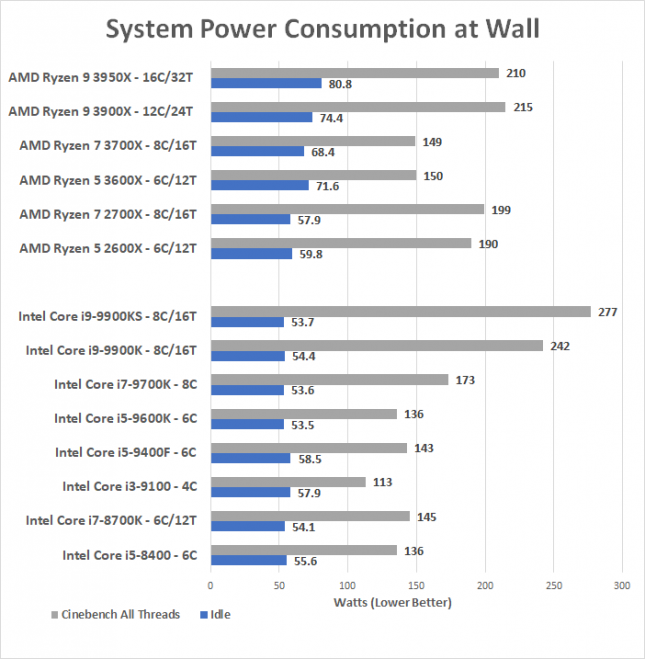 AMD has been talking to use about their power efficiency story and how they continue to feel that it is getting better. AMD believes that they do better than the competition as they add more cores. AMD claims that they are delivering more than two times the performance per watt over Intel. AMD also noted that their their 16-core, 32-thread CPU (3950X) is pulling less power than Intel's 8-core, 16-thread CPU (9900K/9900KS) when it comes to absolute wall power with a graphics card in the platform. Our own testing showed that the Intel Ryzen 9 3950X does indeed use less power than AMD at full CPU load (Cinebench R20), but we did notice that AMD is using more power at idle than Intel.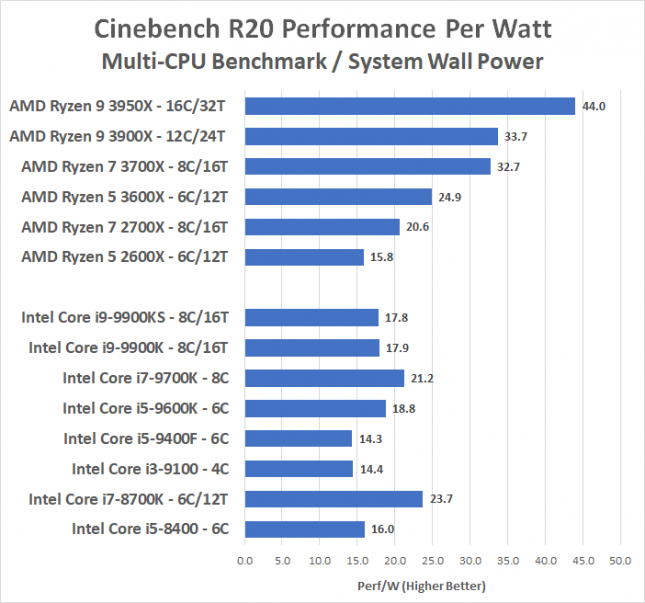 Most companies talk about perf/W or Performance per Watt these days, so let's take a look at that real quick. As you can see the AMD Ryzen series does really well on perf/W as the higher the number the better here. In fact, it looks like AMD has more than double the power efficiency on this particular benchmark.