AMD Ryzen 9 3950X Processor Review
By
AMD Throws 16-Cores At The AM4 Platform
Today, we have the pleasure of bringing you our performance testing of the AMD Ryzen 9 3950X 16-core, 32-thread processor for the AMD AM4 platform. This beastly processor will be available to purchase on November 25th, 2019 with a Suggested Retail Price of $749. We've been talking about this processor for many weeks and the general information on it was already released, so most of you might recall the basic specifications. The 3950X has a 3.5 GHz base clock that ramps up to a 4.7 GHz boost clock. It also has a hefty 72 MB of L2+L3 cache and a 105 watt TDP. When it comes to single-threaded performance, the AMD Ruyzen 9 3950X has a 100 megahertz jump over the 3900X. This makes the Ryzen 9 3950X the fastest single-threaded processor in the 3rd Gen Ryzen lineup. So, this chip has an ungodly number of cores and is going to give Intel a challenge not only for 2019, but well into 2020 as well.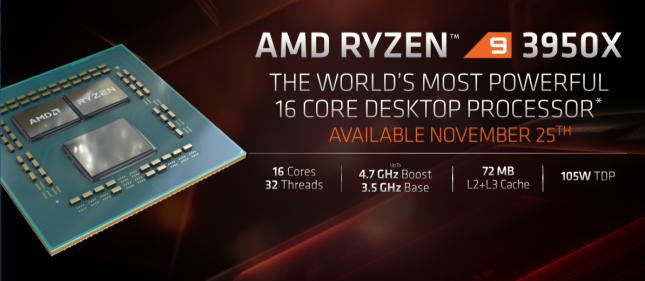 When it comes to pricing the 3950X at $749 is not exactly an inexpensive processor, but AMD feels that for the performance it is more than justified. AMD costs generally less than Intel and has parts available at more price points than Intel. AMD asked the press now to cry foul over the pricing table they provided as it displays today's positioning and we all know that Intel will be releasing new CPUs soon. AMD believes that their Ryzen 9 series pairs up nicely with the Intel Core i9 series and are really excited about where they are at.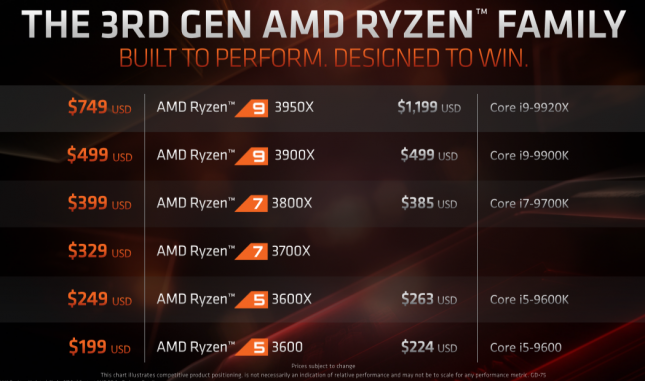 AMD feels that the Ryzen 9 3950X will be able to compete with even the upcoming Intel Core i9-10980XE 18-core, 36-thread processor. Right now AMD has the Ryzen 9 3950X lined up against the Intel Core i9-9920X 12-core, 24-thread processor that runs $1,199.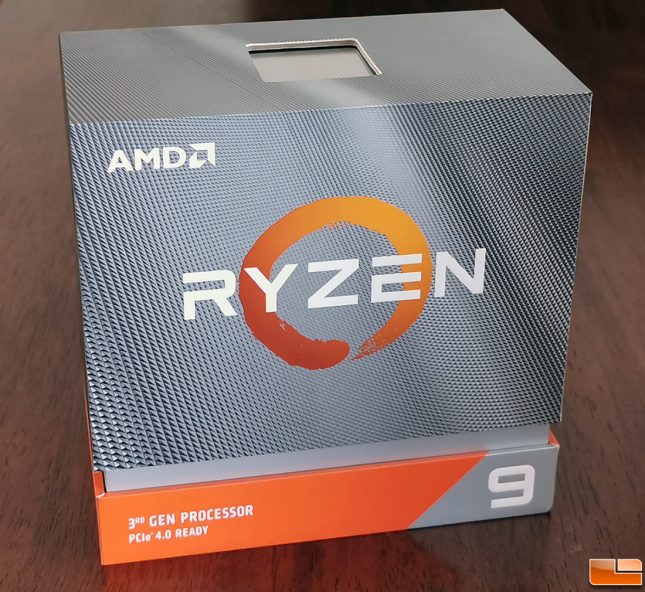 AMD sent Legit Reviews a retail boxed AMD Ryzen 9 3950X processor. The retail packaging is a little smaller than the Ryzen 9 3900X as this processor does not come with a CPU cooler. AMD is recommending a 280 millimeter or greater All-In-One (AIO) liquid cooling solution because they think thats appropriate for this kind of product with this kind of performance. Of course, its not absolutely necessary, you could use a 240mm AIO solution and it would still run great, but that is the recommendation. AMD believes that at this price point most enthusiasts tend to throw their retail boxed CPU cooler away and buy something higher performing. AMD is not going to fight that trend and is asking users to pair the 3950X with a liquid cooler for the best user experience.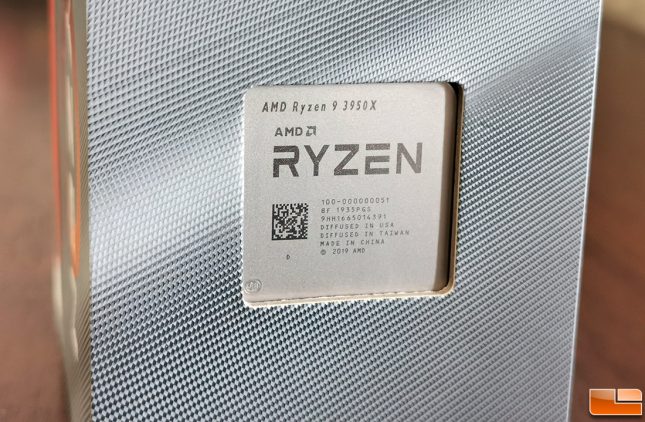 Here is a look at the top of the box that actually shows the Ryzen 9 3950X processor in all its glory.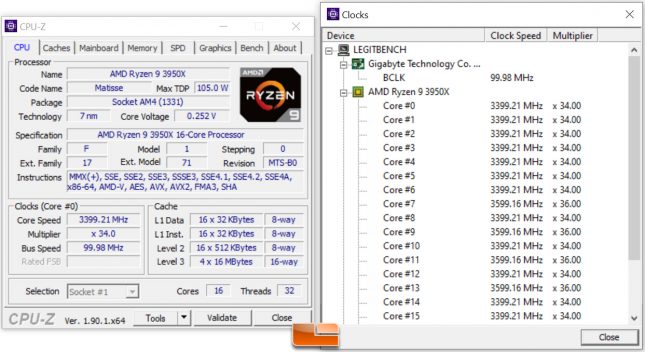 A quick look at CPU-Z shows the Ryzen 9 3950X 'Matisse' CPU with 16-physical cores. The chip is built by TSMC on the 7nm process node.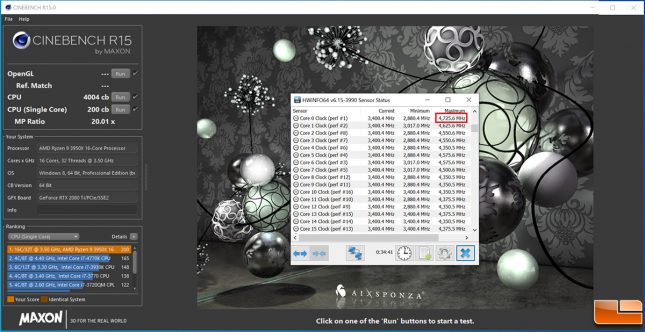 Oh and we'll tell you straight away that the 4.7 GHz boost clock is achievable as we managed to hit 4,725 MHz when we were trying to reach it on our board running AGESA 1004B.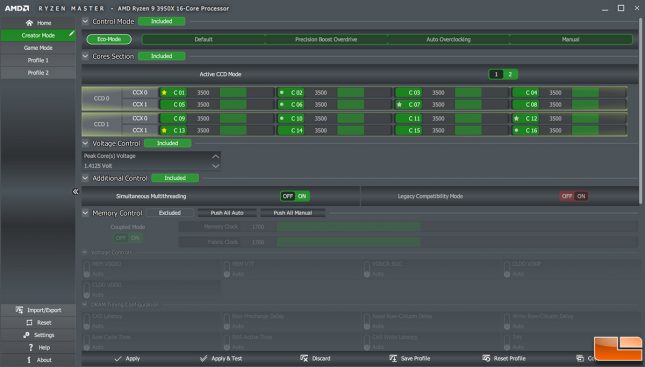 Before we dive into testing, AMD did come out with a new feature in Ryzen Master called Eco-Mode. Eco-Mode has been added for all 3rd Gen Ryzen processors from the Ryzen 5 3600 all the way up to the new Ryzen 9 3950X that allows them to have a configurable TDP. Essentially, this will let you run your processor at one TDP grade lower than it shipped at. So 105W part like the Ryzen 9 3950X will run at 65W and a 65W part will run at 45W. The image above shows Eco-Mode enabled on our 3rd Gen AMD Ryzen 9 3950X processor. We didn't get enough time to play around with this feature, but we did enable it and saw that it was working as advertised.
On to the benchmarks!