AMD Ryzen 5 1600X Overclocked Benchmark Results At 4.1GHz
By
AMD Ryzen 5 1600X – Overclocking to 4.1GHz With No Manual Voltage Increase
A recent trip to the local Micro Center location in St. Louis, Missouri showed that all the AMD Ryzen 5 6-core processors were sold out and rightly so as the Ryzen 5 1600X and Ryzen 5 1600 are both exceptional values. The AMD Ryzen 5 1600X is the flagship processor of the Ryzen 5 series and boasts 6-cores and 12-threads of processing goodness at over 4GHz clock speeds for just $249.99. AMD released the first quad-core processor (Phenom II X4) in January 2009, so many enthusiasts are ready to add more cores to their system here in 2017. No wonder they are sold out locally!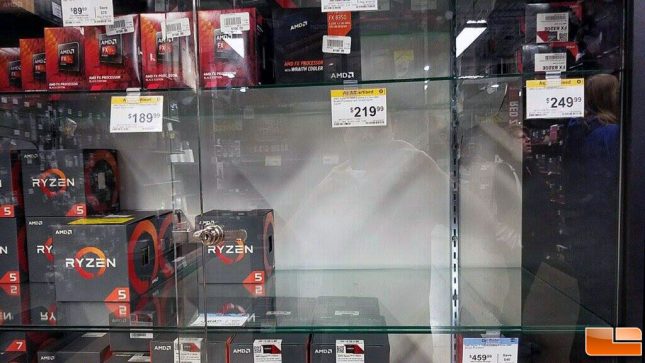 The AMD Ryzen 5 1600X CPU is a 95W TDP part that comes without a HSF, so you'll need to purchase your own CPU cooler. The Ryzen 5 1600X has a base clock speed of 3.6GHz and can run all the way up to 4.1GHz thanks to AMD's eXtended Frequency Range (XFR) technology. This processor is priced $90 less than the Intel Core i7-7700K quad-core processor ($339.99 shipped) and should do better in multi-threaded workloads or when multi-tasking in general.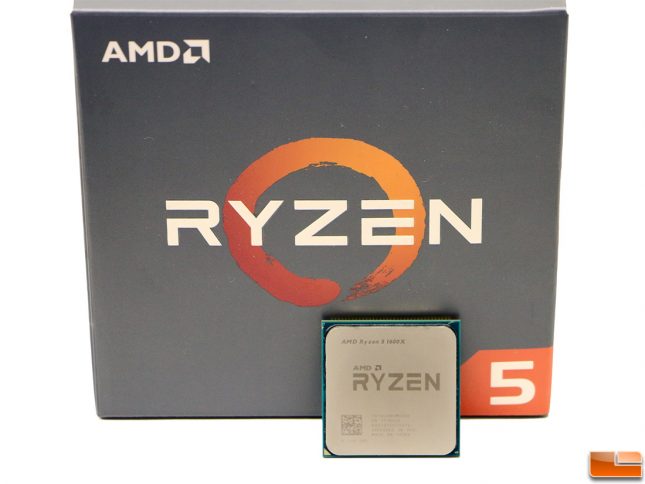 AMD Ryzen 5 1600X Stock Specs
95W TDP
3+3 CCX config
16MB L3 cache
512K L2 cache per core
3.6GHz Base
3.7GHz All-Core Boost
4.0GHz 2-Core Boost
4.1GHz XFR
We already showed you the performance of a stock AMD Ryzen 5 1600X processor, but what about overclocked up to the max?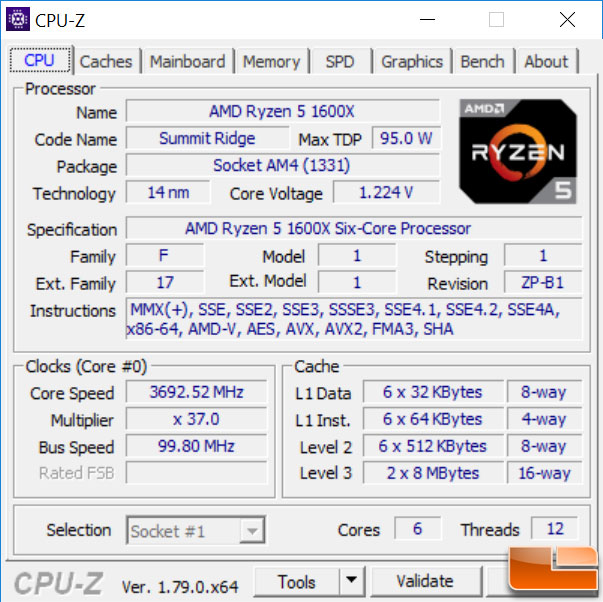 We were able to push the limits of our AMD Ryzen 5 1600X processor and was able to increase the all-core clock speed from 3.7GHz all the way up to 4.1GHz on this 6-core CPU! To do this we just increased the clock frequency in the UEFI on the MSI X370 XPower Gaming Titanium motherboard as we didn't even need to increase the CPU Voltage as the board was already running the 1600X at 1.380V according to CPU-Z! Most AMD Ryzen 5 1600X processors seem to do 4.0 to 4.2 GHz on all cores with a decent motherboard and CPU cooler, so we are happy with 4.1GHz.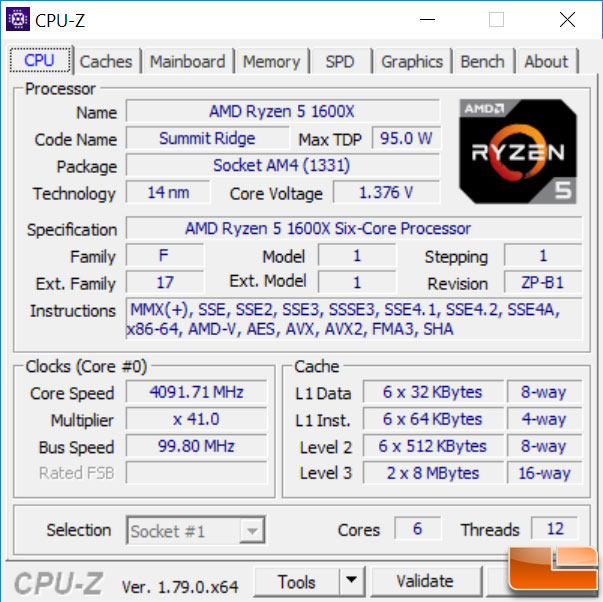 We tried to go beyond 4.1GHz by manually increasing the Voltage, but we were unable to get 4.2GHz stable at over 1.45V on the 1600X and we didn't want to go beyond that Voltage. We also noted that the CPU temperature was spiking beyond 80C while using the Corsair Hydro Series H110i Extreme Performance liquid CPU Cooler ($134.99) and that is hot enough for most.
If you wanted to use more exotic cooling methods you might be able to get the Ryzen 5 1600X processor up to nearly 6GHz! Overclocking expert der8auer used LN2 cooling on a Ryzen 5 1600X processor and was able to reach 5.9GHz on one of these processors with 6C/12T enabled! Pretty impressive results and it just goes to show that these processors have more than 4.0-4.2 GHz in them if you wanted to use extreme cooling techniques.
Let's take a look at the test system and then take a look at our benchmark results.