AMD Ryzen 5 1500X Overclocked Benchmark Results At 4.2GHz
By
AMD Ryzen 5 1500X – Overclocking to 4.2GHz
The AMD Ryzen 5 1500X is the newest 4-core, 8-thread processor to come out and at $189.00 it might make for a compelling budget system build that won't break the bank. This AMD Ryzen 5 CPU is a 65W TDP part that has a base clock speed of 3.5GHz and can run all the way up to 3.9GHz thanks to AMD's eXtended Frequency Range (XFR) technology. This processor is priced nearly $160 less than the Intel Core i7-7700K ($345.51 shipped), so the AMD Ryzen 5 CPUs might be the budget processor to get right now.
For example you can purchase the Ryzen 5 1500X CPU along with a motherboard like the Gigabyte GA-AB350-Gaming 3 ($124.95 shipped) and get out the door for under $314. That is over $30 less expensive than buying just the Intel Core i7-7700K processor and will be a big upgrade for any AMD user that happens to still be using an FX era processor. Sure, the AMD B350 motherboards won't have as many PCIe lanes, SATA ports or USB 3 options and do not support multi-GPU setups compared to AMD X370 boards, but they are still overclocking friendly and are inexpensive. Building a high-end quad-core gaming system for a solid 1080P gaming experience has never been as affordable today!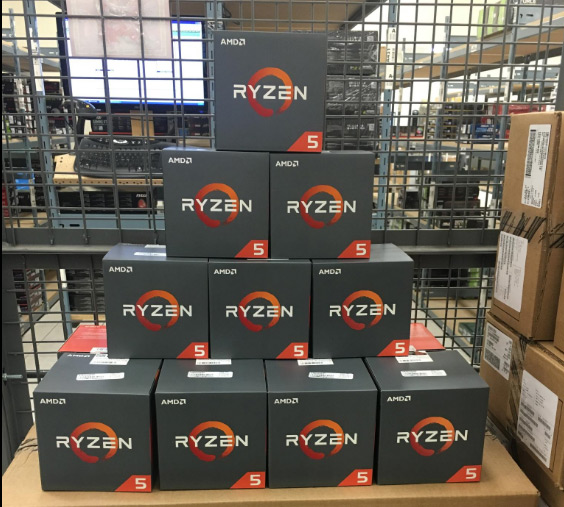 AMD Ryzen 5 1500X CPU Stock Specs
65W TDP
2+2 CCX config
16MB L3 cache
512K L2 cache per core
3.5GHz Base
3.6GHz All-Core Boost
3.7GHz 2-Core Boost
3.9GHz XFR
We already showed you the performance of a stock AMD Ryzen 5 1500X processor, but what about overclocked up to the max?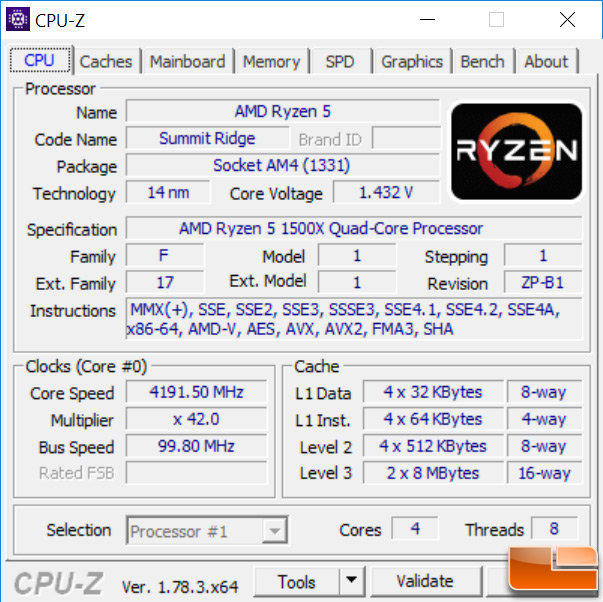 We were able to push the limits of our AMD Ryzen 5 1500X processor and was able to increase the all-core clock speed from 3.6GHz all the way up to 4.2GHz! To do this we needed to increase the CPU voltage up to 1.425 on the AMD X370 motherboard that we were using for testing, but our CPU temperatures barely broke the 70C mark since we were using the Corsair Hydro Series H110i Extreme Performance liquid CPU Cooler ($124.00). We were able to get 4GHz stable on all cores with no voltage increase, so overclocking this processor should be easily done.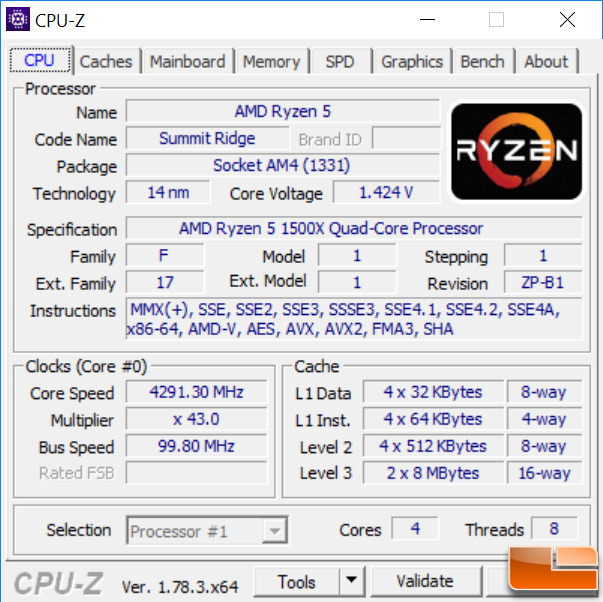 It should be noted that you might be able to get 4.3GHz stable on the Ryzen 5 1500X as it felt like we were so close to getting it stable! We ended up settling for 4.2GHz as it was rock solid and wouldn't crash on any of the benchmarks we run in out test suite.
Let's take a look at the test system and then move onto the benchmarks!