AMD Fiji Arrives – Radeon R9 Fury X Details
By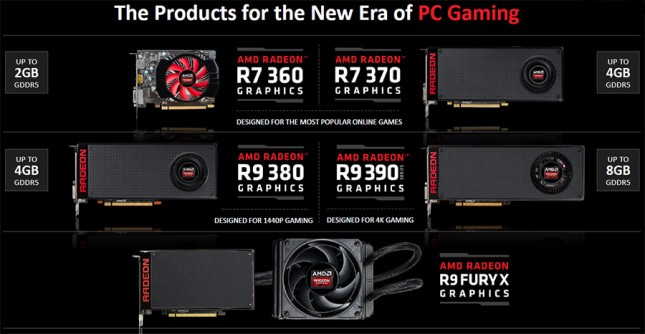 This week AMD announced nine new graphics cards during E3 2015. At the top of the product stack you have four entirely brand new cards that are using the Fiji GPU for the very first time. The performance of any card running the new Fiji GPU is still under NDA until the AMD Radeon R9 Fury X is released on June 24th, but the embargo lifts today on the general features and the architecture of the GPU itself.
The nine new cards announced by AMD this week:
AMD Radeon R9 Fury X2 (What we are calling the Dual-GPU Fiji card)
AMD Radeon R9 Fury X – $649
AMD Radeon R9 Fury – $549
AMD Radeon R9 Nano
AMD Radeon R9 390X – $429
AMD Radeon R9 390 – $329
AMD Radeon R9 380 – $219
AMD Radeon R7 370 – $149
AMD Radeon R7 360 – $129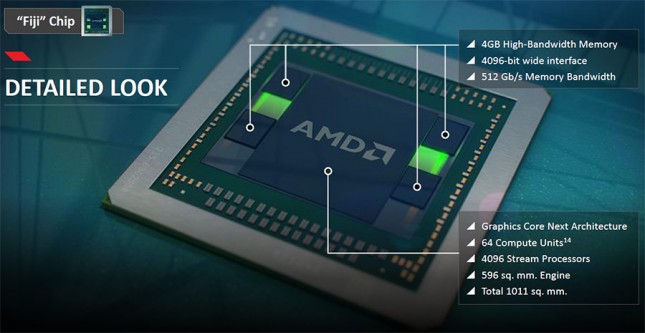 One of the biggest features of Fiji is the inclusion of 4GB of HBM1 memory. We've already talked about high-bandwidth memory extensively in this article, so we'll just leave it at that and you can go back and read that if you need more information. AMD is letting us say that the 4GB of HBM1 memory is running at 500MHz on a 3096-bit wide memory bus. At this clock speed it is capable of hitting 512GB/s of memory bandwidth. One interesting thing that we just learned this week is that AMD will not allow you to overclock the memory when the first Fiji cards are released. AMD feels that the memory technology is too new and there is more than enough bandwidth, so they are locking down the ability to overclock the memory in AMD Overdrive. This might change down the road, but for the time being only the core clock can be overclocked by end users.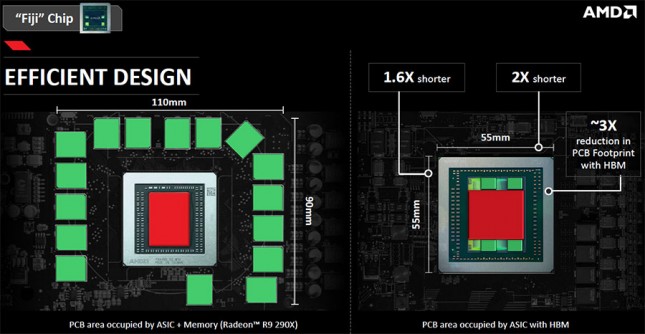 Besides the gobs of memory bandwidth that Fiji provides it also compacts everything down as the GPU and memory has basically become married together on one giant chip. This ~3x reduction in PCB real estate means that video cards can get smaller thanks to HBM memory and as gamers that means we'll get more performance in a smaller cards!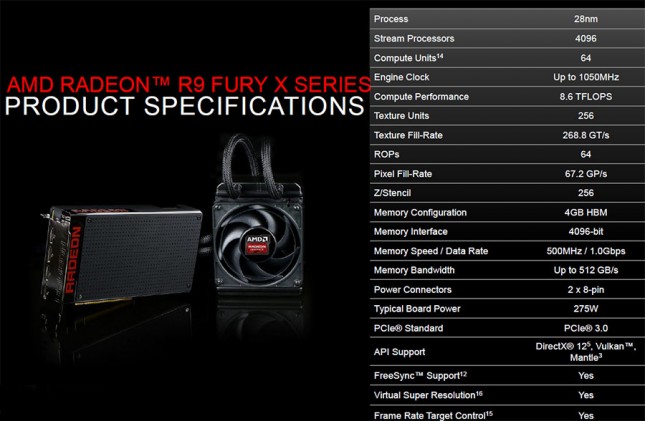 The AMD Radeon R9 Fury X video card is the flagship single-GPU Fiji card. This card is said to be fully enabled with 4096 Stream Processors running at 1050MHz. The card has 64 Compute Units, 2565 Texture Units and 64 ROPs. The Compute performance is 8.6 TFLOPS, the texture fill-rate is 268.8 GT/s, and the pixel-fill rate is 67.2 GP/s. Not bad performance numbers from a card that uses 275 Watts under typical workloads.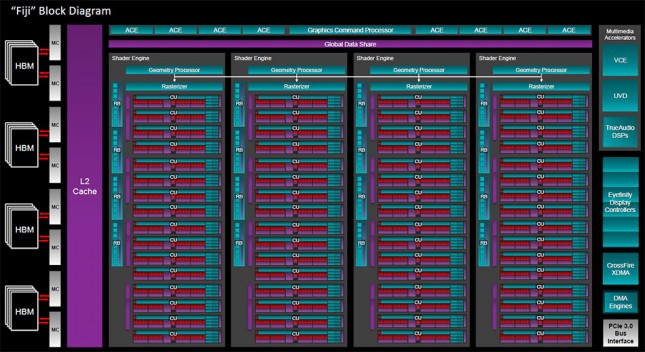 Here is a look at the AMD Fiji Block Diagram! We were told that AMD took all the performance enhancements that were introduced with Tonga in 2014 with even more feature enhancements. The AMD Fiji GPU took nearly seven years to develop and is the first GPU from any company to feature HBM memory. There are eight memory controllers in Fiji with two connecting to each of the four 1GB HBM memory chips.
Here is a gallery of AMD Radeon Fury X 4GB HMB1 reference card images for you to take a closer look at!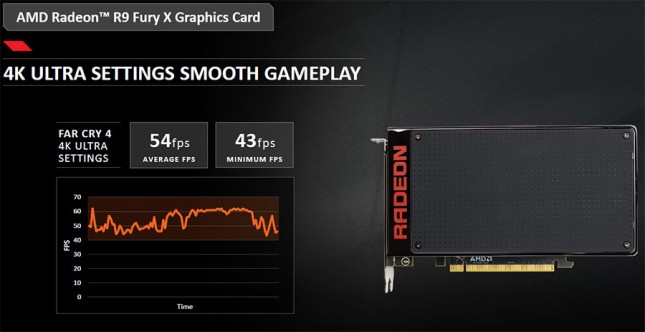 The only performance nugget that AMD gave in their Radeon R9 Fury X press presentation is that the card averages 54 FPS on Far Cry 4 with ultra settings at 4K Ultra HD settings (screen resolution would be 3840×2160). The single AMD Radeon R9 Fury X video card only dipped to a minimum FPS of 43 during the benchmark run. AMD said the Fury X was able to play Far Cry 4 pretty smoothly with these settings, but you can get a better gaming experience still with a Fury X video card and an AMD FreeSync display.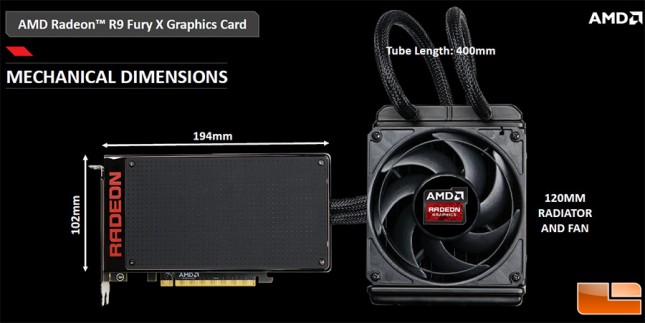 The AMD Radeon R9 Fury X measures 194mm in length or 7.64-inches in length and utilizes a closed loop water cooler that features a 120mm radiator and fan. The anti-kink plastic water tubing is 400mm long and has been individually sleeved, so you'll have three 400mm long connectors going between the card itself and the radiator.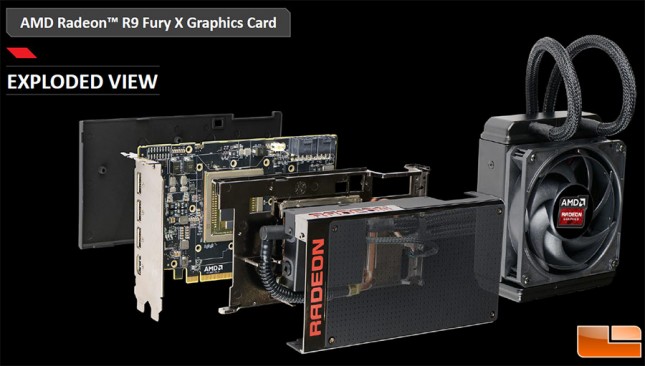 Here is a pretty cool exploded view of the AMD Radeon R9 Fury X reference card. The AMD Radeon R9 Fury X reference card was designed by AMD and the reference design is available for any AMD add-in board partner to use. The AMD Radeon R9 Fury on the other hand does not have a reference design and from what we gather it will have fewer cores enabled than the AMD Radeon R9 Fury X to help differentiate the product stack and allow for a tiered pricing structure. The AIBs are free to use whatever GPU cooler they like on the Radeon R9 Fury, so while we expect most will be air cooled there will likely be some water cooled versions as well.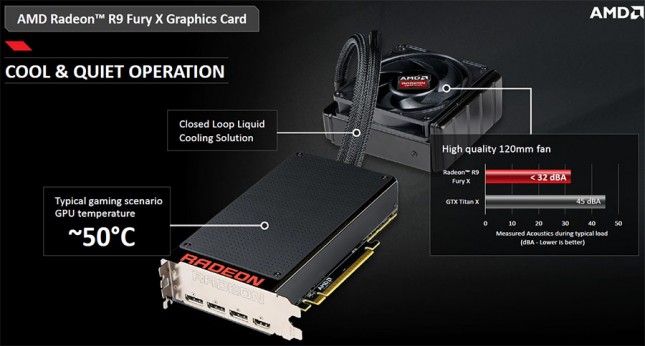 AMD design the GPU cooler on the AMD Radeon R9 Fury X to be cool and quiet. At an idle you'll likely see the 120mm fan spinning at around 800 RPM with ~28dBA and under game loads you'll see the fan spin up to right around 1,800 RPM and you'll be under 32dBA. More importantly, at gaming load you'll see temperatures around 50C. The thermal limits of this GPU are at 75C, so the card will throttle at this point if it ever gets that hot.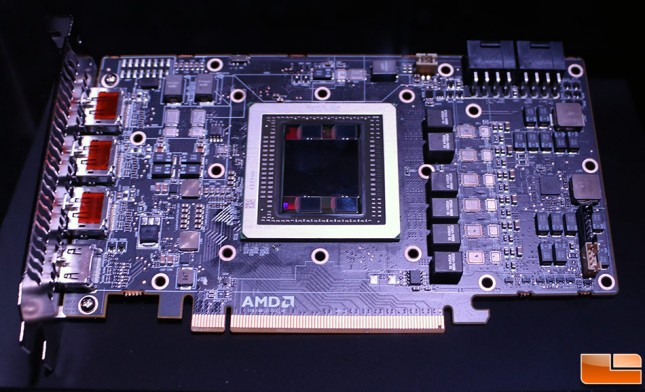 The images above show the AMD Radeon R9 Fury X GPU Cooler that is under the metal housing on the card. AMD tapped Cooler Master to come up with the reference design for this cooler and it looks to be pretty well built and designed. From what it looks like both the GPU die and the HMB memory make contact with the waterblock itself. One of the copper water pipes is also flattened at one point to make contact with the Radeon R9 Fury X's power components to help keep them cool as well. The AMD Radeon R9 Fury X appears to have a full coverage water block right from the factory!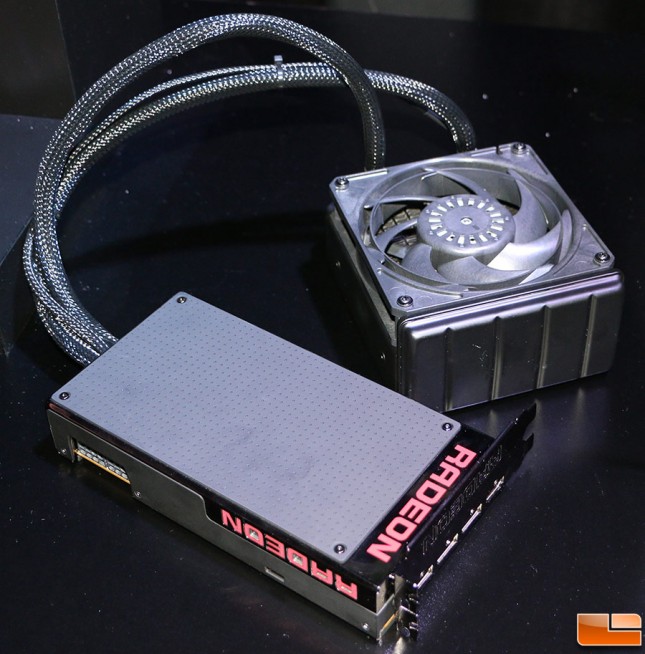 AMD went with a Scythe Gentle Typhoon 120mm Fan that is made by Nidec Servo Corporation in Japan for the AMD Radeon R9 Fury X reference design. We believe the exact model number is D1225C12B7AP-29 as we were told that it tops out at 3,000 RPM. This 120mm fan has a stabilizing ring on the fan blades to help keep noise down and to handle high resistance when used on radiators in applications such as this. AMD sleeved the fan separately from the cooling tubes to allow enthusiasts to change out the fan if they desire to do so at a later time. The radiator uses the standard 120mm mounting configuration and should fit in most any case sold on the market in recent years.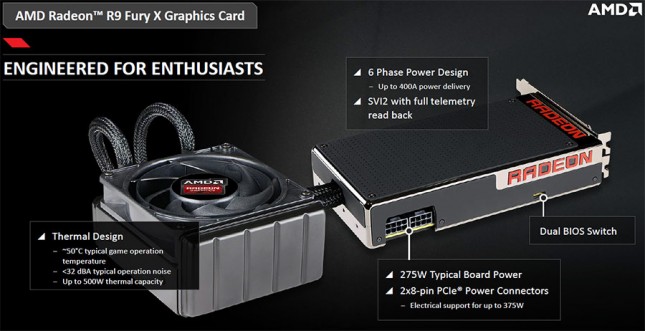 The AMD Radeon R9 Fury X is a 275W card with a 500W water cooler, so it should be large enough to allow for some decent overclocks. The 6-phase power design delivers up to 400 Amps of power to the Fiji GPU, so you overclocking should be limited by the power to the GPU or the reference GPU cooler. The AMD Radeon R9 Fury X comes clocked at 1050MHz and we were told by AMD that getting 100MHz overclocks is fairly easy and most all cards should be able to hit 1150MHz.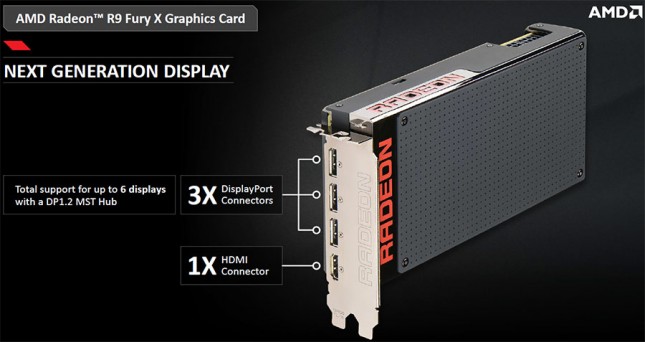 Does the AMD Radeon R9 Fury X have HDMI 2.0 support? The rumors going around the internet are true and the Fiji GPU does not support HDMI 2.0 and it is running HDMI 1.4a. This is rather unfortunate as it is disappointing for us too as it limits 4K Ultra HD output to 30Hz. We expressed our concerns to AMD and thought that the AMD Radeon R9 Nano in particular would make a great living room gaming PC and having HDMI 2.0 would have been really nice for a 6-inch long card. Out of the box you can hook up four displays, but with a DP1.2 MST hub you'll be able to support up to six if you wanted to.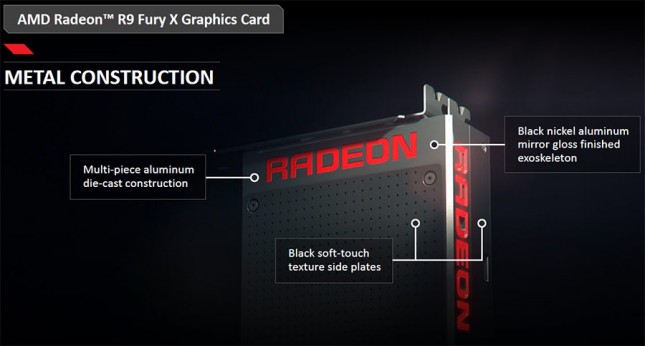 AMD did improve the build quality of the Radeon R9 Fury X video card and moved to a multi-piece aluminum die-case construction with soft-touch side plates that are removable. AMD is thinking about releasing all the data needed to 3D print your own side covers and we hope they do as that would be need to make your own side panels for the card. The exposed metal is all black nickel aluminum that has been polished, so it looks sharp!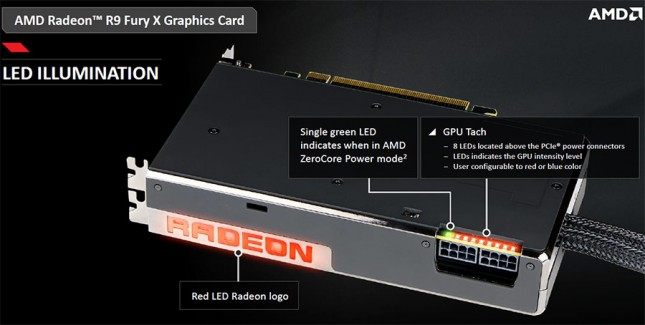 One other new feature on the AMD Radeon R9 Fury X that has never been used on a GPU before is the addition of the GPU Tach. AMD soldered down nine LEDs on the back of the card that allow you to see the GPU load level. There are two DIP switches on the backplate that allow you to enable or disable the GPU Tach and allows you to change the color of the LEDs between red and blue to go with your case theme better. Eight of the LEDs are for the GPU load level and can be red or blue. The ninth LED light is green and when it is lit up it visually lets you know that the GPU is in AMD's ZeroCore power mode.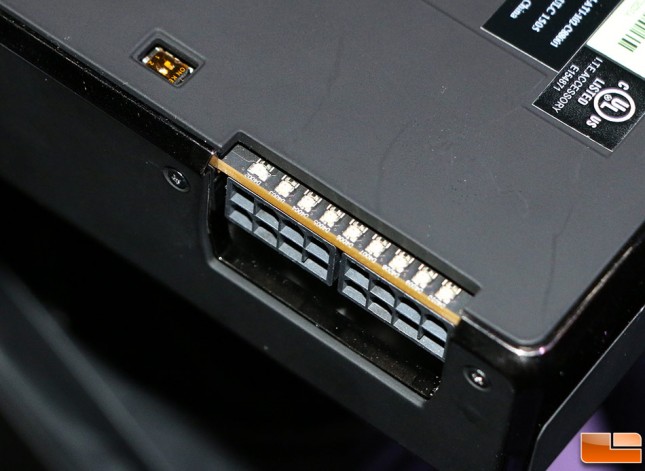 Here is a closer look at the two switches and the GPU Tach LEDs on an actual card.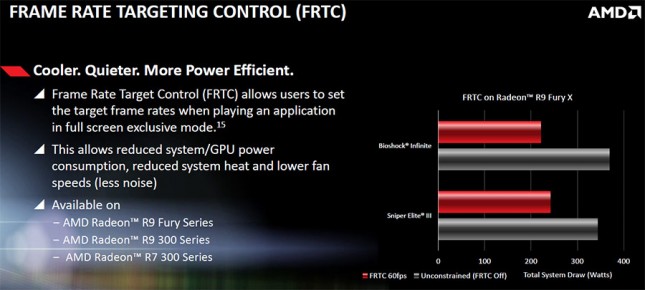 The AMD Radeon R9 Fury X Video card supports Frame Rate Targeting Control, which is a new feature that allows gamers to set a target frame rate in a game or 3D application that is running in full screen mode. AMD Frame Rate Targeting Control (FRTC) is available on all AMD Radeon R9 Fury, R9 300 series and even the R7 300 series cards.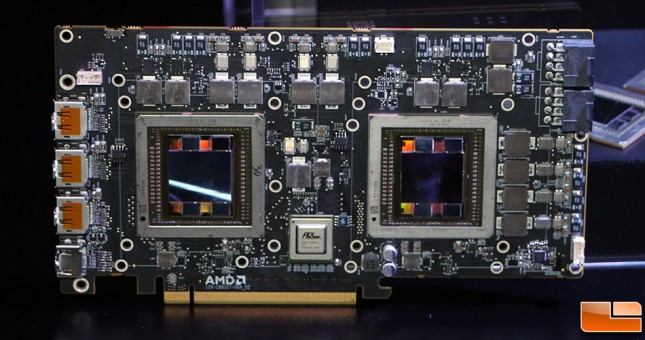 AMD also has a Dual Fiji GPU based card coming out this fall that we are calling the AMD Radeon R9 Fury X2. AMD hasn't named it yet, but that is what we are calling it. This card has two fully enabled Fiji GPUs, so if one GPU is 8.6 terraflop that means this could potentially stand to be a 17.2 terraflop card. AMD says that this card is going to be nine times more powerful than the PlayStation 4 and 13 times more powerful than the Xbox One!
The AMD Radeon R9 Fury X2 is only slightly longer than the regular AMD Radeon R9 Fury X with a single GPU, which is damn impressive for a card with two Fiji GPUs on it!
We'll bring you all the performance details on June 24th when we are able to post up our numbers!