AMD Catalyst Omega 14.12 Driver Performance with Frame Times in CrossFire
By
AMD Catalyst Omega 14.12 Driver Performance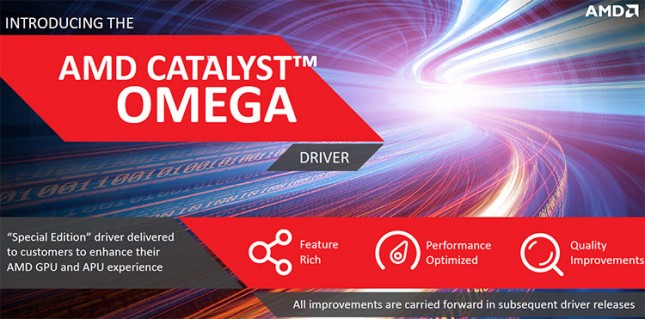 AMD worked on the Catalyst Omega Driver (Catalyst 14.12) that was released earlier this week for nearly six months. These new drivers bring new features, a ton of bug fixes and of course the usual performance and quality improvements that gamers expect from each new driver release. AMD put so much time and effort into these new special edition drivers that they wanted to name this something different to help them stand out from the crowd. We figured the least we could do is take a look at the performance of the the new Catalyst Omega driver versus that of the previous non-beta driver release, which would be Catalyst 14.9.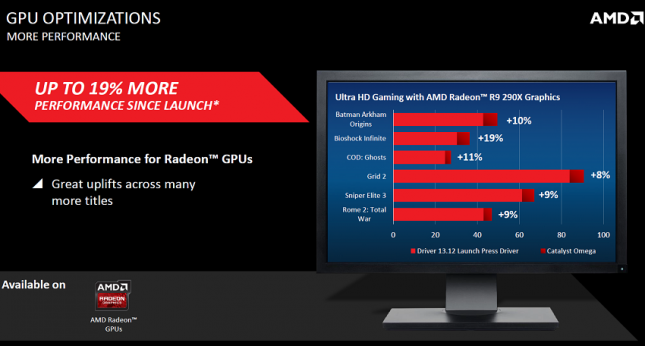 AMD gave Legit Reviews a slide deck that showed that they had improved performance by up to 19% on the AMD Radeon R9 290X video card since it was released. This is great and all, but comparing Catalyst 14.12 drivers to Catalyst 13.12 drivers is a bit of a stretch as more than a year of time has passed. We asked AMD for performance numbers between the AMD Catalyst Omega drivers and the latest non-beta driver release (Catalyst 14.9) and we were not given that information. This is rather unusual and after doing this for 12 years we figured it might be worth a closer look as there might not be a significant performance increase between the latest build and Catalyst Omega.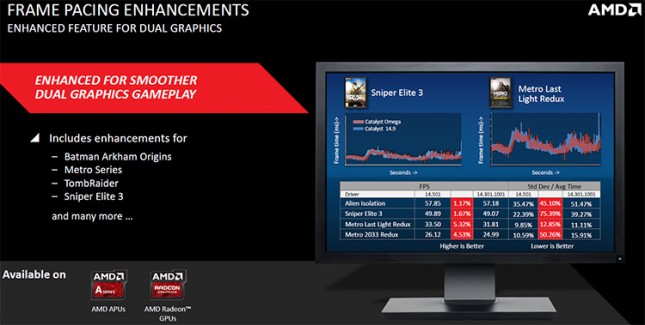 We'll be using a pair of AMD Radeon R9 290 4GB reference cards for benchmarking so we can also take a look at the frame pacing enhancements that AMD has claimed to have improved for dual graphics users. Frame-pacing issues have become a concern to both NVIDIA SLI and AMD CrossFire multi-GPU users in recent years. AMD has continued developing frame-pacing enhancements and there are many improvements in the Catalyst Omega drivers that should bring a smoother gameplay experience to gamers with a multi-GPU setup. It was explained to us that the AMD Catalyst Omega driver provides more consistent frame times, with smaller differences in render time between subsequent frames, and this results in a smoother, more enjoyable gaming experience. AMD also informed Legit Reviews they they picked 15 popular game titles and improved the frame pacing on them. We once again asked multiple times for the list of the 15 game titles that were optimized, but was not given that list. AMD did mention in their presentation that that Batman Arkham Origins, Sniper Elite 3, Tomb Raider and the Metro Series were part of the titles that were improved. We figured that this is something that we could test on our own, so we tested game titles like Batman Arkham Origins and Metro Last Light that we know has enhancements and then game titles like Battlefield 4, Far Cry 3 and Far Cry 4 that weren't mentioned.
Let's take a look at what we found out!