AMD Catalyst Omega 14.12 Driver Performance with Frame Times in CrossFire
By
Far Cry 4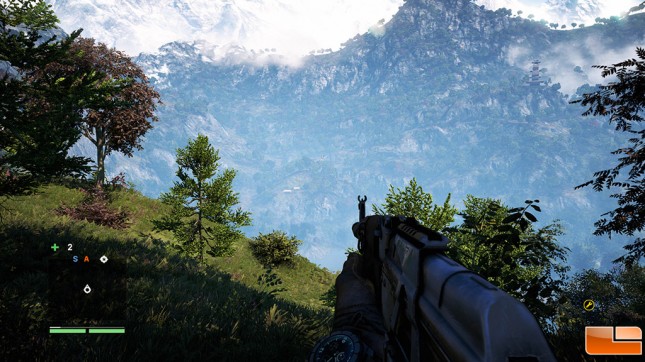 Far Cry 4 is an action-adventure first-person shooter video game developed by Ubisoft Montreal and published by Ubisoft for the PlayStation 3, PlayStation 4, Xbox 360, Xbox One video game consoles, and Microsoft Windows. It is the sequel to 2012's Far Cry 3. The game was released on November 18th, 2014 in North America and Europe. Far Cry 4 follows Ajay Ghale, a young Kyrati-American who returns to his native country Kyrat to spread his deceased mother's ashes. He finds the country in a state of civil war between Kyrat's Royal Army led by the country's eccentric and tyrant king Pagan Min and the Golden Path, a rebel movement fighting to free Kyrat from Min's oppressive rule.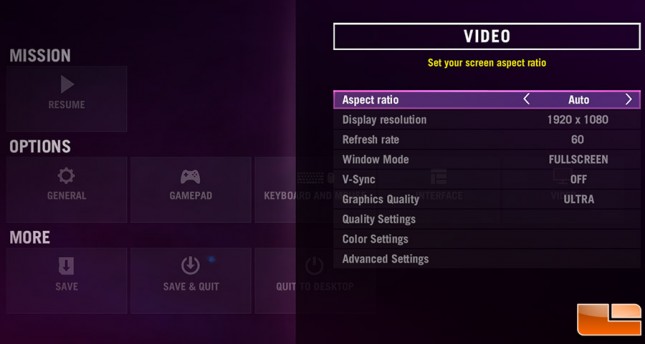 Far Cry 4 uses the heavily modified Dunia Engine 2 game engine with Havok physics. The graphics are excellent and the game really pushes the limits of what one can expect from mainstream graphics cards. We set game title to Ultra image quality settings and did not adjust any of the advanced settings.
** It should be noted that AMD does not have a Crossfire Application Profile for Farcry 4 yet. This means that CrossFire does not work for Far Cry 4. From what we have learned from AMD it sounds like Ubisoft needs to make some changes that require a game update before AMD can deliver a smooth mGPU gaming experience. This means gamers will have to wait for AMD/Ubisoft to figure things out before a CrossFire profile makes it out. AMD has a checkbox that allows you to enable Crossfire when there isn't a profile, but AMD has an override that disables the override on this title.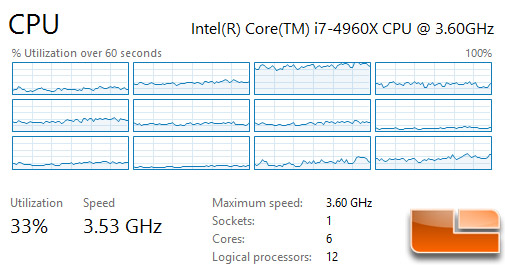 Far Cry 4 uses about 30% of the processor and is running on multiple cores as you can see from our screen capture above. One core has more of a load on it than the others, but all logical processors are being uses to some degree when playing Far Cry 4.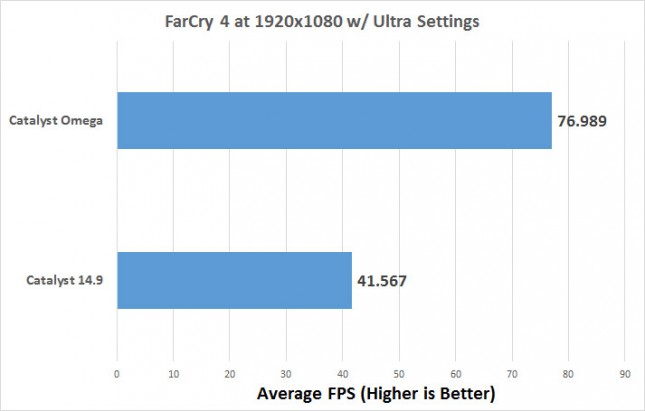 Benchmark Results: The AMD Radeon R9 290 CrossFire setup averaged 41.57 FPS with Catalyst 14.9 drivers and 76.99 FPS with the latest Catalyst Omega video card drivers. This is a massive improvement, but keep in mind that the Catalyst 14.9 drivers came out months before Far Cry 4 was released and was not optimized for this game titles. This highlights the need to update your video card drivers to ensure the best overall gaming experience with new game titles!

Benchmark Results: While the average FPS was very different we can see some similarities when we look at the frame rates over time. AMD made obvious optimizations, but the high and low spots are pretty much the same. We were a bit shocked to see our AMD Radeon R9 290 CrossFire setup dip down to under 50 FPS on Far Cry 4, but this game title looks great and puts the GPUs to work!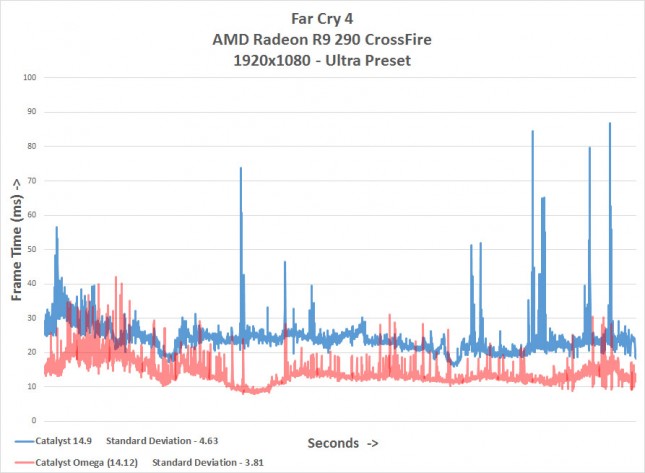 Benchmark Results: The standard deviation with Catalyst 14.9 drivers was 4.63 and it was found to be 3.81 with Catalyst Omega video card drivers on our Radeon R9 290 CrossFire setup. This is the highest deviation of the 5 game titles that we looked, but it is a new game title and hopefully AMD is still working on improvements.