AMD Catalyst Omega Driver Overview
By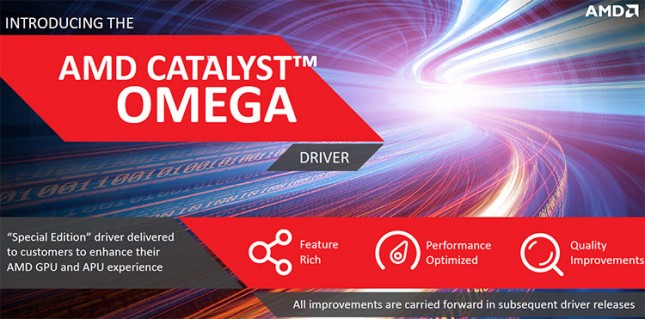 The AMD Catalyst Omega Drivers have been released! These new drivers have been in the works for the past six month and deliver many new features, a ton of bug fixes and of course the usual performance and quality improvements that gamers expect from each new driver release. AMD put so much time and effort into these new special edition drivers that they wanted to name this something different to help them stand out from the crowd. You can download AMD Catalyst Omega drivers right now from AMD's driver download page.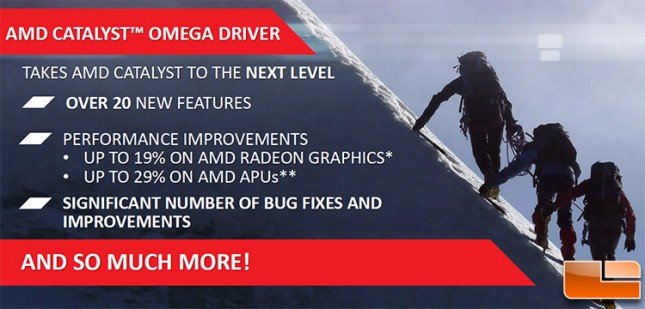 AMD rolled out over 20 new features in the Catalyst Omega Driver and we'll try to hit on the majority of them here today in our overview of the Omega drivers. Let's dive right in!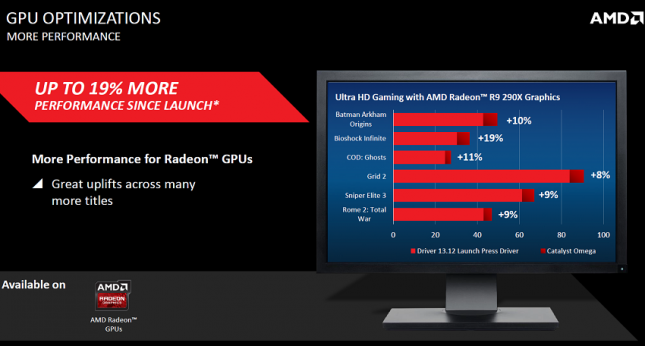 AMD has managed to get up to 19% more performance on game titles from the AMD Radeon R9 290X desktop graphics card with the Catalyst Omega drivers versus the Catalyst 13.12 drivers that the press was given for their launch reviews in Q4 2013. More impressively AMD was able to get 29% more performance with the Catalyst Omega drivers on the AMD A10 7850K APU than the initial Catalyst 14.2 drivers than when that processor was released. We asked AMD for performance numbers between the AMD Catalyst Omega drivers and the latest non-beta driver release (Catalyst 14.9) and we were not given that information. We do not believe that there is a significant performance increase between the latest build and Catalyst Omega due to this, but we are okay with that as the new features and bug fixes are much welcomed.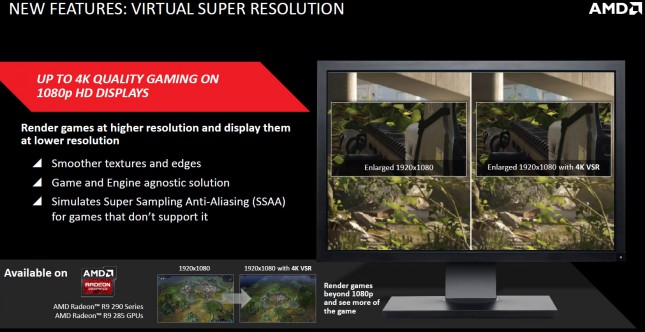 VIRTUAL SUPER RESOLUTION (VSR)
This technology is very similar to what NVIDIA offers with Dynamic Super Resolution (DSR), where the driver is able to render a game at a higher, more detailed resolution (up to 4K) and then display it at a lower resolution that is supported by the monitor being used. This improve visual quality in games and works on AMD Radeon R9 295X2/R9 290X/R9 290/R9 285 video cards in both single and multi-GPU configurations. This means you can put your powerful AMD Radeon R series graphics card to work and render easily playable game titles at resolutions up to 4K to get better image quality on your 1080P or whatever resolution monitor you have. You won't be able to do this on every game title and likely won't want to as this will decrease your FPS much like increasing say the amount of Anti-Aliasing (AA) in a game title. If you are playing an older game title or a title that isn't killing your GPU you can most certainly give VSR a shot!
It should be noted that Virtual Super Resolutions works in a wide variety of games and applications, including the Windows desktop. Effectively, VSR provides a Super Sampling Anti-Aliasing (SSAA) feature for the games and applications that do not natively support that functionality since VSR is game- and engine-agnostic.

The image above shows a before and after VSR screenshots to give you an idea how 4K VSR works on a 1080P diaplay. The more you zoom into an area though, the better the detail looks. This is a feature that you really need to try out in person to see the differences! In addition to the quality benefits you also get a wider or more complete view, which is highly beneficial in real-time strategy or world-building games. If you can see more of the world you are playing in, you'll find yourself having an advantage over your opponent.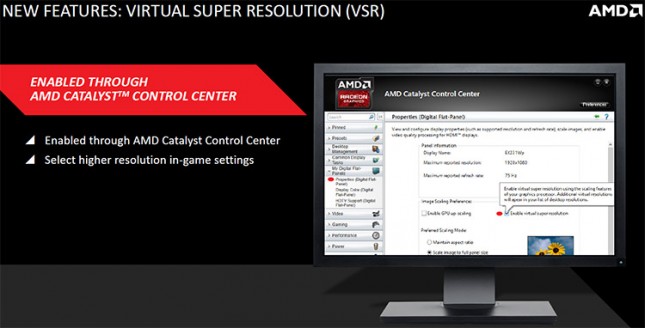 Enabling VSR can be done by checking a simple box in the AMD Catalyst Control Center in Advanced Mode under the 'My Digital Flat Panels' page.

Once VSR has been enabled you need need to adjust the display resolution in your game title to something higher than the native resolution of your display. As long as the game title can support the higher resolutions enabled by VSR, this feature should work. Not that the supported target displays are 1080P (60 and 120Hz) and then 1200 and 1440 at 60Hz. The Windows desktop can also be configured in a similar way. Right-click on the Windows desktop and choose Screen resolution from the pop-up menu. With VSR is enabled, you will see additional resolutions in the list that go beyond what your monitor would normally support.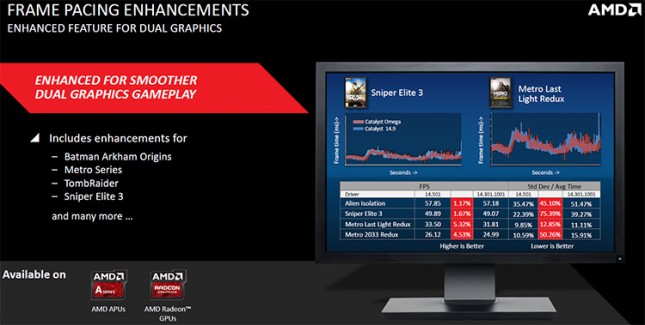 FRAME PACING ENHANCEMENTS
Frame-pacing issues have become a concern to both NVIDIA SLI and AMD CrossFire multi-GPU users in recent years. AMD has continued developing frame-pacing enhancements and there are many improvements in the Catalyst Omega drivers that bring a smoother gameplay experience to gamers with a multi-GPU setup. AMD informed Legit Reviews they they picked about 15 popular game titles and improved the frame pacing on them. We weren't given a list of the 15 game titles, but AMD did mention that Batman Arkham Origins, Sniper Elite 3, Tomb Raider and the Metro Series were part of the titles that were improved. The standard deviation and average time is much better now. This is something that we are currently benchmarking on our test bench and will be bringing you the results of that later this week.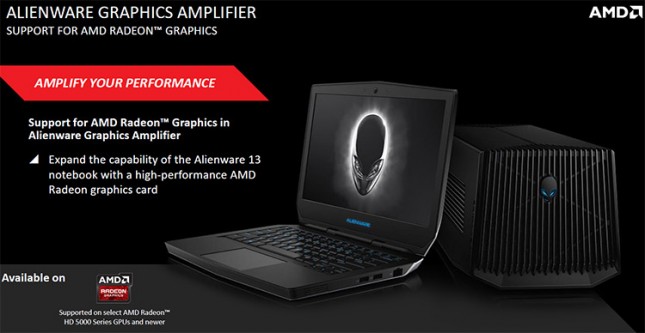 Alienware Graphics Amplifier
The AMD Catalyst Omega drivers also bring support for the Alienware Graphics Amplifier, which is an external PCI-Express chassis for discrete video cards. The idea has been around for about a decade, but only now is such a product coming to market. The good news is that it is available, the bad news for gamers and enthusaists is that it only works alongside the recently released Alienware 13 notebook. This is due to the fact that Alienware came up with a proprietary cable design and no other PC on the market uses it right now.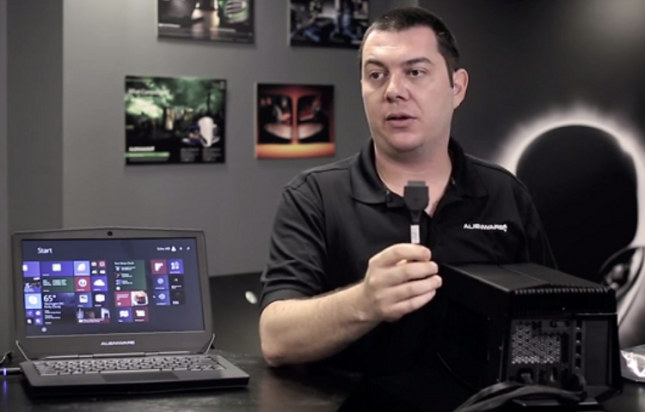 The good news is that once the cable is hooked up you have the GPU hooked up along with four USB 3.0 ports on the Alienware Graphics Amplifier for all your gaming peripherals.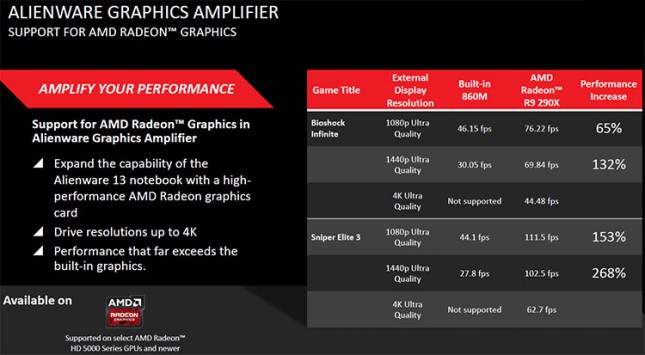 The benefit of the Graphics Amplifier and the advantages of the device is that it all the horsepower from a desktop graphics card and pushes it back whatever panel you are using, be it the notebook it is attached to or another panel connected to the notebook. With a Radeon R9 290X we were told by AMD that there was a 132% improvement at 1440P on Bioshock Infinite and a massive 268% increase on Sniper Elite 3 versus the built-in 860M graphics inside the Alienware 13 notebook.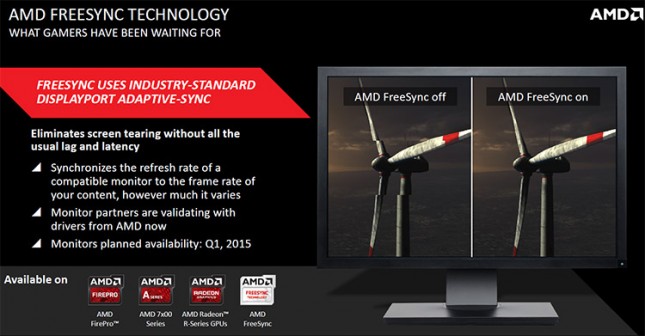 AMD FreeSync Technology
AMD Catalyst Omega drivers also include developer support for Adaptive-Sync display manufactures. This is not a big deal for gamers today, but it is a step in the right direction and it means that AMD FreeSync displays are still on track to be released in Q1 2015. FreeSync enables dynamic refresh rates synchronized to the frame rate of AMD Radeon graphics cards and APUs to reduce input latency and reduce or eliminate visual defects during gaming and video playback. Samsung plans to launch the screen synching technology in March 2015, starting with the Samsung UD590 and UE850, and eventually across all of Samsungs UHD lineups.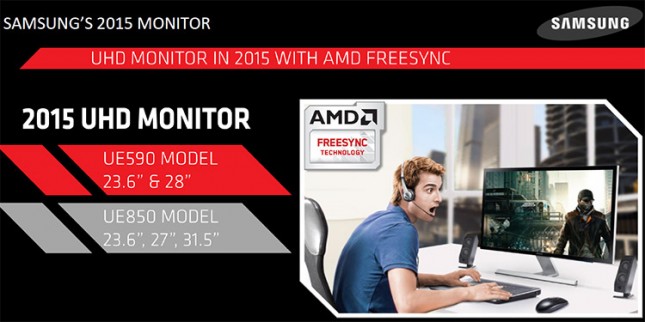 From what we have been told there will be five monitors in total in March 2015 that support AMD FreeSync in these two series. The Samsung UD590 series will consist of 23.6 and 28 models and then the UE850 series will have 23.6, 27 and 31.5 models. Legit Reviews contacted Samsung and found out that the Samsung UD590 will have a minor change on it and also a firmware upgrade. When asked if existing monitors would be field or user upgradable we did not receive an answer. We also believe that the AMD slide that we were provided has a typo in it as there is not a UE590 display, it should be the UD590.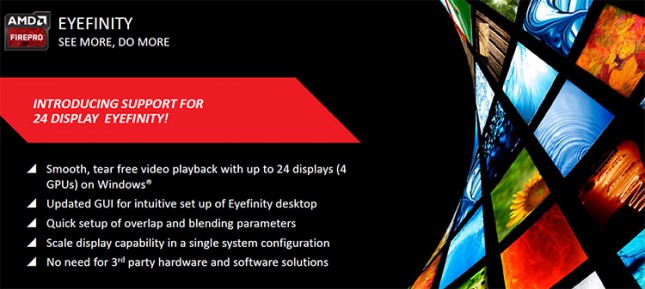 Support For 24 Monitors With Eyefinity
AMD Eyefinity launched with support for six displays and AMD has been slowing adding support for how many monitors a single system can support. If you wanted to run four AMD Radeon graphics cards in your system you can now power six displays off each card. This means you can have a 24 display setup without the need for any 3rd party hardware or software. AMD Omega Drivers has really pushed the boundaries for connected devices and most consumers and gamers shouldn't be needing more than a 24 display setup anytime soon.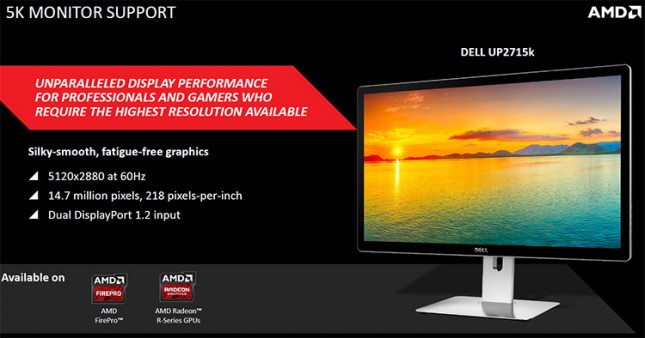 5K PANEL SUPPORT
The Dell UltraSharp 27 Ultra HD 5K Monitor (Model UP2715K) was the first 5K display on the market that is readily available. This 5K display supports a massive a 5120×2880 screen resolution that makes a 4K panels 2840×2160 screen resolution look small. The UP2715K display manages to lay down 14.7 million pixels at 218 Pixels Per Inch (PPI) at a very impressive 60Hz. Oh and it does that with 99% AdobeRGB and 100% sRGB coverage! AMD Catalyst Omega drivers support this display automatically now, so if you have two individual DisplayPort 1.2 outputs on your AMD Radeon video card you should be able to run a 5K display today.
AMD Fluid Motion Video
AMD also improved multimedia playback for those with 35 Watt or higher APUs or Radeon R7 and R9 series GPUs. The Catalyst Omega driver allows the GPU compute to interpolate inferred frames with real frames and increase overall video frame rate and smoothness when watching Blu-ray content. For this to work you must use Cyberlink PowerDVD 14.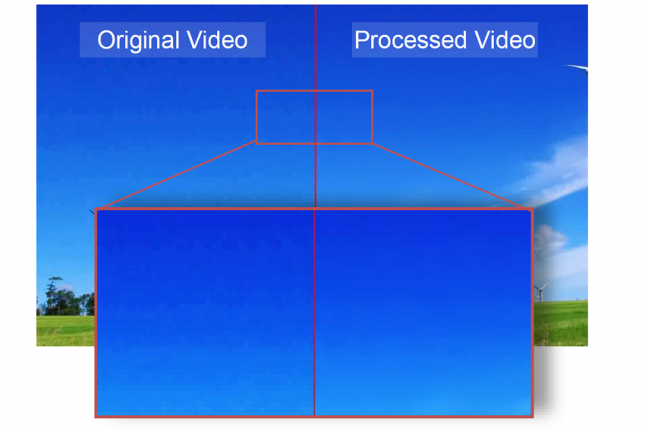 AMD Contour Removal
If you don't have PowerDVD 14 you'll still get multimedia improvements thanks to a new Contour Removal feature that removes compression artifacts without disturbing video details. To enable this feature you need to go into thte Catalyst Control Center (CCC) and enter Advanced mode. From there you need to head over to the Video tab, choose Quality, then Video Quality. Lastly, place a checkmark in the De-contouring box and you'll have contour removal enabled.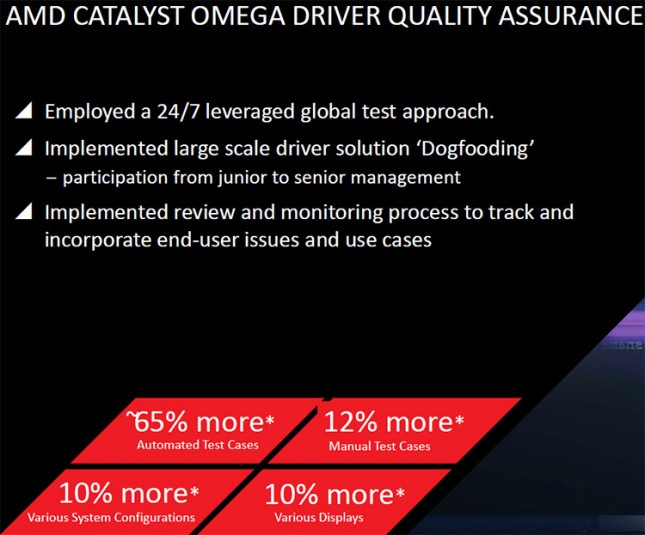 AMD told Legit Reviews that the Catalyst Omega driver underwent approximately 65% more automated and 12% more manual test-cases, utilizing 10% more varied system configurations, with 10% more varied screen displays, as well as significant quality enhancements requested during an open call by our most critical users on six of the largest PC communities all to ensure a user experience as intuitive, reliable, and enjoyable as possible. AMD said that they got more user feedback for these drivers than any other release as they wanted to make sure they were answering the needs of the gaming community.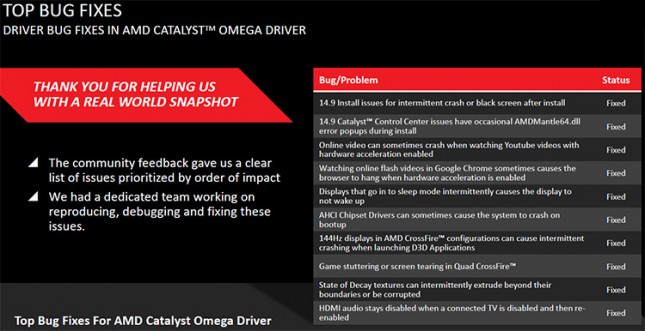 AMD also fixed tons of driver bugs in the AMD Catalyst Omega Driver release. There are too many to list here or talk about though as there are dozens if not hundreds of big fixes that took place in the AMD Catalyst Omega Drivers. AMD is still working actively on Catalyst drivers and have more features that plan on introducing as time goes on. If there is still an issue that you are experiencing with AMD Catalyst drivers after you have updated to the latest Omega build we highly suggest reporting the issue to AMD directly to get the issue on their radar in order to get it resolved!