Air Versus Water Cooling on AMD Ryzen Threadripper With Noctua Coolers
By
Noctua NH-U14S, NH-U12S and NH-U9 TR4-SP3 Coolers Tested
If you are looking at building an AMD TR4/SP3 platform for either a Ryzen Threadripper or Epyc processor you'll likely find yourself looking for a CPU cooler. The AMD Ryzen Threadripper 1950X 16-core processor has a default TDP of 180 Watts and a maximum temperature of 68C for proper precision boost operation and 95C before thermal shutdown. One wouldn't expect there to be many coolers that can hand that, but there are now over 20 all-in-one water cooling solutions and at least five air cooler options that are able to handle a Ryzen Threadripper processor at stock clock speeds. When we overclocked the Ryzen Threadripper 1950X in our launch day review on that CPU we hit over 300 Watts on the CPU package at 4.1GHz with 1.375V. Overclockers looking to get the most out of a Ryzen Threadripper 1950X will likely want to use an All-In-One (AIO) liquid cooler or a custom water loop. Those that don't want to use water cooling and aren't looking to overclock should be able to get away with an air cooler.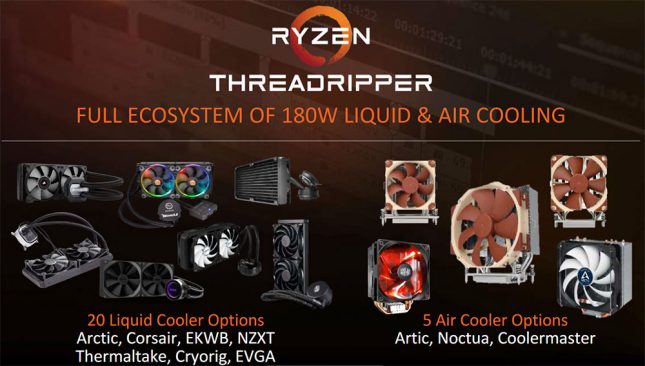 Noctua asked us if we could take a quick look at their three air cooler options for Threadripper, so we figured we'd give them a quick look. Well, not really that quick as we have to look at CPU temperatures, VRM temperatures, noise levels, overall system power consumption and performance benchmark results for each cooler. The good news is that these TR4-SP3 air coolers are basically the same as previously made models with a larger baseplate for AMD's new platforms.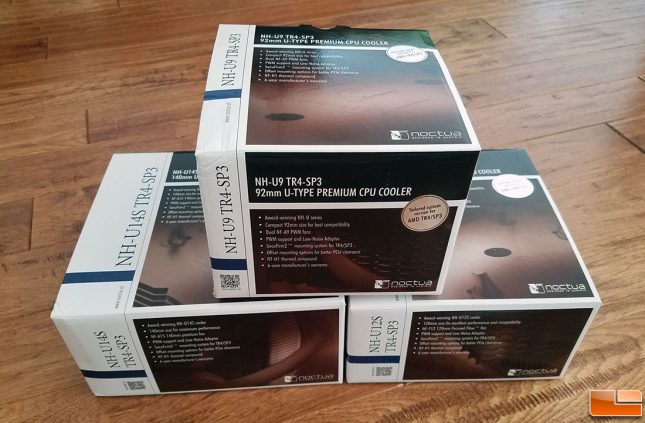 The three AMD TR4-SP3 air coolers by Noctua are the following models:
Noctua NH-U9 TR4-SP3 Premium Grade Dual 92mm CPU Cooler – $69.90 shipped

Six Heatpipes
Dimensions with Fans: 125mm x 95mm x 120mm (Height x Width x Depth)
Weight with Fans: 895g

Noctua NH-U12S TR4-SP3 Premium Grade Single 120mm CPU Cooler – $69.90 shipped

Five heatpipes
Dimensions with Fan: 158mm x 125mm x 71mm (Height x Width x Depth)
Weight with Fans: 870g

Noctua NH-U14S TR4-SP3 Premium Grade Single 140mm CPU Cooler – $79.90 shipped

Six heatpipes
Dimensions with Fan: 165mm x 150mm x 78mm (Height x Width x Depth)
Weight with Fans: 1030g
All of these single tower coolers have been designed specifcally for use with AMD's TR4/SP3 platform (Ryzen Threadripper / EPYC Processors) and feature a large 70x56mm baseplate to make full contact with these processors. This design allows for optimal heat transfer from these high-core parts. They all utilize Noctua's SecuFirm2 mounting systems and have PWM support with anti-vibration pads and fan clips and are backed by an impressive 6-year warranty.The build quality on these coolers was superb, so
Noctua already has an installation video for their SecuFirm2 AMD TR4/SP3 air coolers, so we'll skip the installation bits as it is super simple.
Since these are basically an update of existing models for AMD TR4/SP3 we'll get straight to it!