AeroCool Vx-E – Performance Gaming Case Review
By
AeroCool Vx-E Internal Impressions & Build
The inside of the case is unfinished so a dull gray is the default dcor unless youd like to get creative with some paint.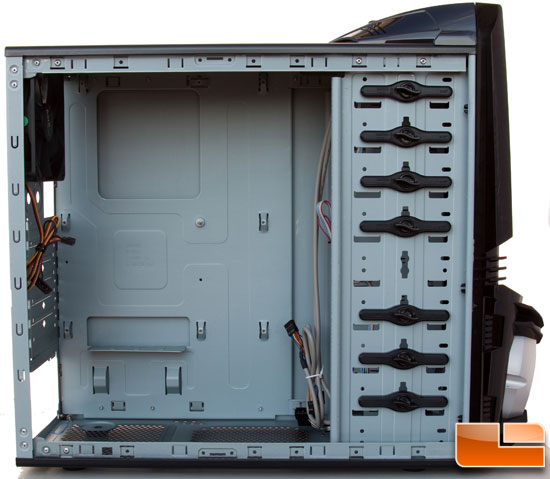 The motherboard tray is designed to fit either full ATX or micro ATX boards and they have made it easy for builders by having standoffs built in and clearly labeled although they have included additional standoffs along with the screws for the motherboard attachment.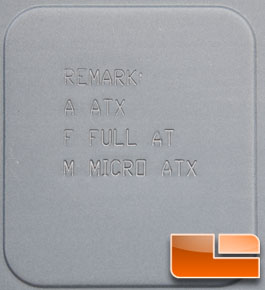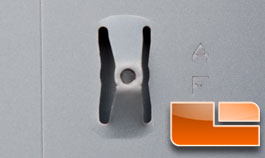 Another nice feature is the center post that is installed which slides through one of the center screw holes of the motherboard and helps align and hold things in place until you can get the other screws put in.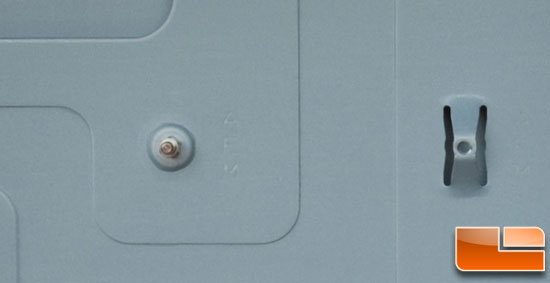 The motherboard tray also has a nice cutout for access to remove the CPU cooler from around the back without having to remove the entire motherboard.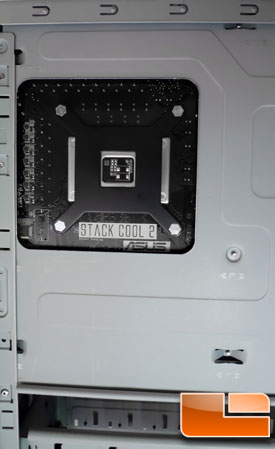 The drive bays have plastic clips that secure the left side of installed drives but screws must be used (and are provided) for the right side.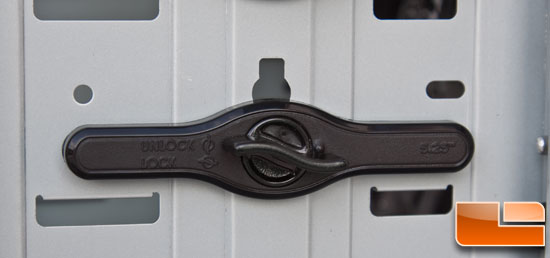 Hard drives, floppy drives or other I/O panel devices not 5.25 wide must utilize the rails and screws provided to be installed. Id much prefer to see a more tool free design on these but with a budget case some concessions must be made.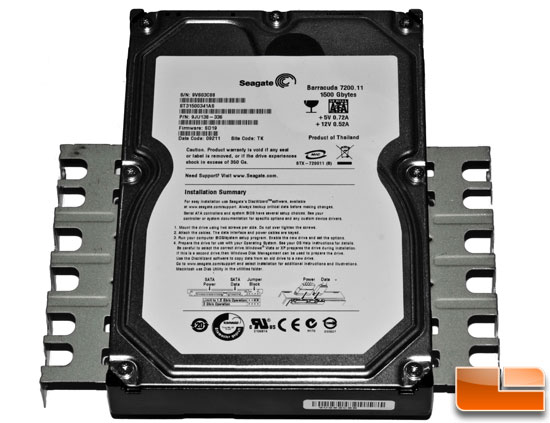 The intake fan in the front of the case is placed at an angle with the bottom portion of the fan being closer to the back of the case than the top of the fan. As a result, you actually need to mount the rails to the next set of holes to offset the drive in the bay and allow for clearance.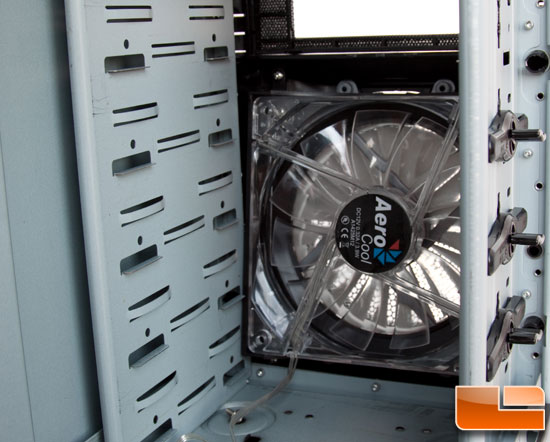 The front fan also has four blue LEDs to match the blue LED of the power button and is easily removed with a few screws holding it in a plastic bracket.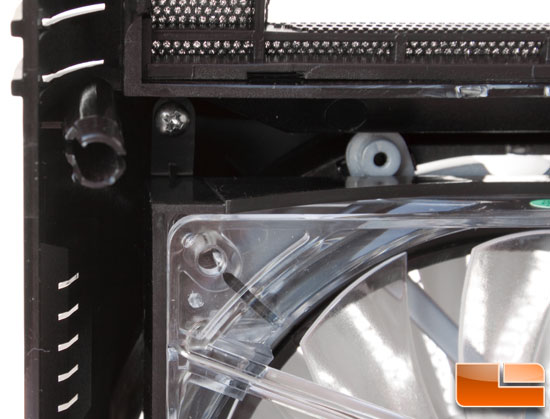 The rear fan has no lighting and comes standard pre-mounted to exhaust out the top rear and both fans are relatively quiet.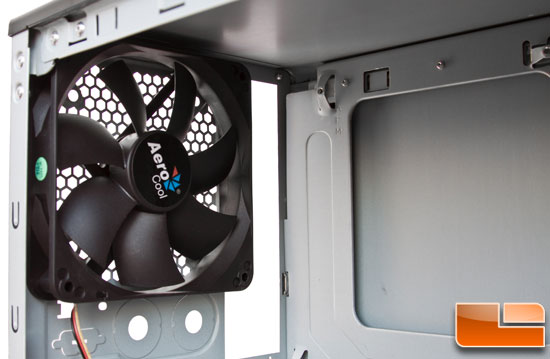 The specifications for the fans are as follows:
| | | |
| --- | --- | --- |
| | Front | Rear |
| Size: | 140 x 140 x 25mm | 120 x 120 x 25mm |
| Rated Voltage: | 12V | 12V |
| Voltage Range: | DC6V~13.8V | DC6V~13.8V |
| Starting Voltage: | 6V | 9V |
| Power Consumption: | 3.36W | 2.4W |
| Rated Current: | 0.28A | 0.20A |
| Speed: | 1500 RPM +- 10 | 1500 RPM +- 10 |
| Air Flow (CFM): | 81.0 CFM (Max) | 53.55 CFM (Max) |
| Air Pressure: | 1.87mm H2O | 1.995mm H2O |
| Noise (dBA): | 25.3 dBA | 25.95 dBA |
| Bearing: | Sleeve | Sleeve |
The AeroCool Vx-E is a mid-tower and although it is large enough to fit a graphics card up to 290mm, I found it to be extremely tight with my 9800GX2 (266mm) installed when a hard drive was mounted directly across, which makes installation/disassembly tricky.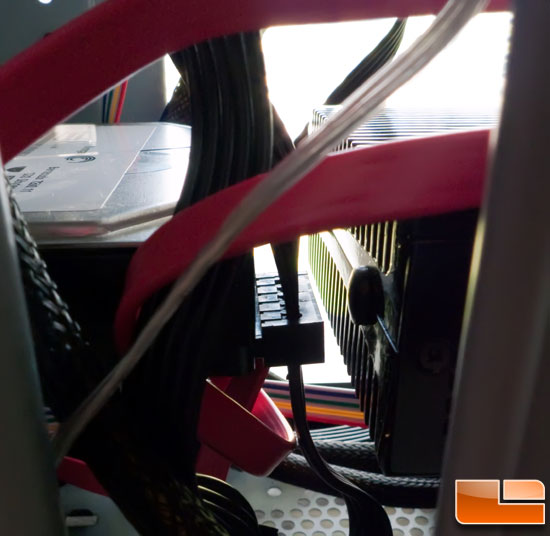 Also, theres no room to route cables behind the motherboard tray so cable management gets to be a nightmare quickly — especially for those without modular PSUs. Its possible to squeeze a USB cable back there but its tight and Id be afraid of breaking something. I have three hard drives, two SSDs, two optical drives, and a fan controller and all of this was frankly too much to try to fit into the case.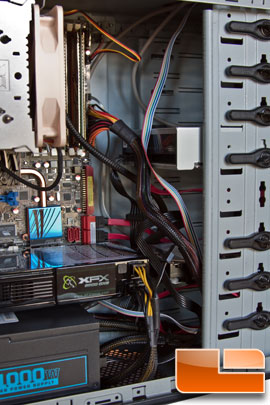 While physically possible, the cable management was just too much of an issue and I didnt attempt to fit everything in. With that said, this is a lot of hardware and likely more than many buying a budget case would possess, so those with more modest array of hardware should find enough space to meet their needs. Lastly, my Noctua NH-U12P SE1366 cooler barely had enough clearance for the left panel to fit on but thanks to the mesh screen which bulges out slightly, it fit just fine. If you have anything taller than this, it may be a problem so its something to keep in mind.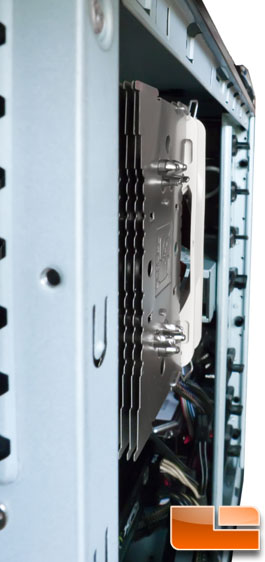 At the bottom, there was ample room to mount my 1000w PSU with room to spare.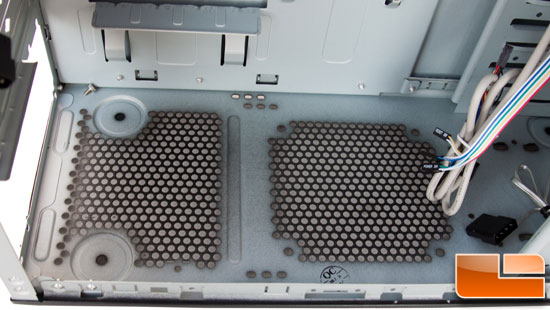 As mentioned, the expansion slot covers remove permanently, twisting off of the metal frame except for two replaceable covers. There is a metal bracket secured with a single screw that covers the space where expansion devices screw in to secure their placement.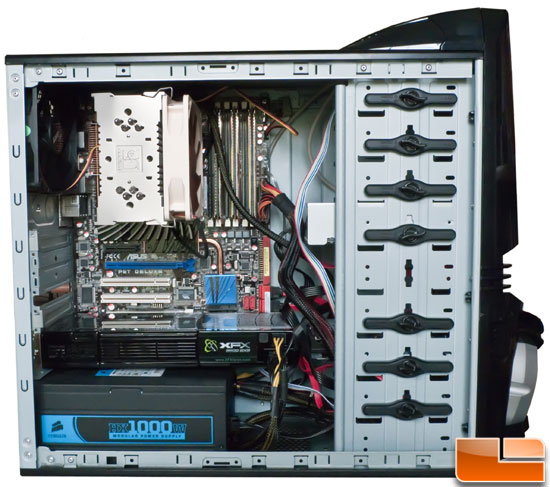 This is a new design to me and I didnt find it to be a bad design, although a screwdriver is required for removal. The USB and audio cables were plenty long to reach their destinations, even if an indirect path was used, but absent was a case speaker for that pleasant beep we all like to hear when booting up.